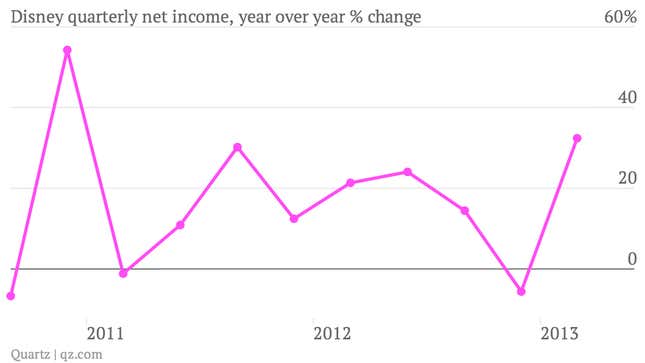 The numbers: Pretty good. Revenue rose 9.6% from the prior year period, to $10.55 billion. Net income increased 32.4%, to $1.51 billion. Shares rose after hours.
The takeaway: Disney's numbers suggest US consumers are holding up alright. Operating income at the theme parks unit, which people watch as a proxy for the US consumer spending, was robust, rising 73% over the same quarter one year earlier. Revenues rose 14%, to $3.3 billion. "Higher operating income at our domestic operations was primarily due to increased guest spending and attendance at both Walt Disney World Resort and Disneyland Resort, the addition of the Disney Fantasy cruise ship, which launched in March 2012, and higher occupied room nights at the Walt Disney World Resort," the company said in its earning statement.
What's interesting: The company's multi-pronged attempt to figure out streaming video. It is a co-owner of streaming site Hulu, which it put on the block a couple years ago, and then promptly yanked off.  At the same time, it's working on subscriber-only "watch" apps that could render Hulu kind of useless. And it's also striking deals with outside streaming providers like Netflix. Clearly, the Mouse likes to keep its bases covered.