The world's largest hotel company is taking a cue from social media's "like" buttons.
Marriott Hotels has turned its 446-room hotel in the city center of Charlotte, North Carolina, into a lodging laboratory where the company will test new amenities, designs and procedures out on guests.
Around the hotel, Marriott installed 19 black and red "like" buttons about the size of hockey pucks, so that guests can press one when they are pleased with facilities such as the fitness center, restaurant, and rooms.
The strategy provides the hotel company with the instant feedback it needs to compete as it faces more competition from Airbnb, a hotel building boom that's flooding the market with more rooms, and guests that have become harder to impress.
Marriott isn't the only hotel company to turn one of its hotels into a laboratory. It's competitor, Hyatt, in the early 2000s created "lab hotels" where it would test out new concepts, but now it conducts experiments across its properties.
For example, Hyatt recently invited randomly-chosen guests at the Hyatt Centric The Loop in Chicago to vote on iPads on their favorite bath amenities. Previous Hyatt studies have showed guests like salon-quality hair dryers (something that rings true for Airbnb guests, too) and eco-friendly bath products.
Instead of poring over spreadsheets and conducting focus groups, the guest feedback from Marriott's new technique is a shortcut for Marriott executives to get a sense of what delights fickle guests, particularly lucrative business travelers, these days.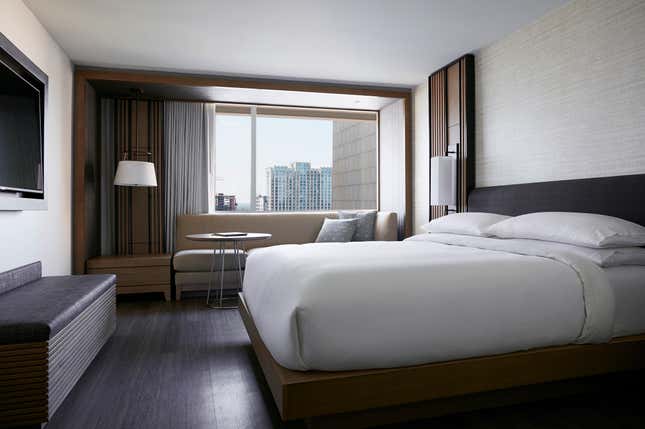 The revamped hotel, which opened in mid-October, takes some risks, attempting to ditch the staid layout of many large hotels, and to cater to guests' appetite for thoughtful design and technology.
Carpets in guest rooms were removed, for hardwood floors. The bathtubs were replaced with showers. Guests can stream Netflix on in-room televisions and order room service from a tablet. The hotel's new restaurant, Stoke, has an open kitchen and has food tastings. The fitness center offers on-demand classes. Marriott also added a wine shop where guests can purchase bottles at regular retail prices (instead of exorbitant mini-bar prices). Guests can check in through the company's mobile app, bypassing the traditional front desk hassle.
There isn't a lower room rate for providing feedback, the hotel said. Rooms at the hotel go for about $300 a night. The guinea pig guests might have one early suggestion: a lower rate for testers.