Socks—yes, socks—are an incredibly popular holiday gift. According to research firm NPD Group, they are the item of clothing given the most to men or women in the US for Hanukah or Christmas.
Admittedly, socks might not stir our passions the way expensive jewelry or electronics do. But maybe that's because when we give them, we prioritize the wrong qualities. We think of them as a necessity rather than a luxury. But the real gift that socks can offer, if you buy the right ones, is amazing comfort.
Look past the fun or kitschy designs and pay attention to what they're made of. You need to skip the cotton versions that fill most drawers and choose socks made primarily from wool or other fabrics with performance qualities that cotton doesn't have. The difference is all in how they feel. They're better at keeping your feet dry and comfortable over a long day, especially for anyone who stands or walks a lot. They're a gift that will keep your friends and loved ones comfortable, one they'll use frequently, and appreciate each time they put them on.
The catch is that wool socks, especially the fancier varieties, can be expensive, often costing more than $15—and well beyond—for a single pair. But that's also part of what makes them a great gift. You may be reluctant to splurge on a pair of socks for yourself, but to receive a pair feels like a luxury. At the same time, they're affordable to give, they're something everyone uses, and they generally don't require knowledge of the recipient's size and style. Clothes are the most returned or exchanged holiday gift because they're so difficult to buy for another person—except in the case of accessories such as socks.
So if you want to give a great pair of socks this holiday season, check out the guide below (tips apply for men or women).
The merino sock
Even if outdoor treks aren't your thing, hikers have a lot to teach anyone about socks. Because they endure long, strenuous hours on their feet, hikers regard socks as a piece of equipment, and know what makes a good pair. If you check out guides on how to pick hiking socks, such as this one from REI, or this from Eastern Mountain Sports, you'll see a common theme: Merino wool is a great sock material.
That's because merino is insulating, which helps your feet stay warm when it's cold out, and it's moisture-wicking—it pulls sweat away from the skin to keep your feet dry. That quality also makes them great in the heat. "Miraculously, the same tiny crimped merino wool fibers that keep you warm in winter also cool you in sweaty conditions through the process of 'evaporative cooling,'" Eastern Mountain Sports' sock guide states.
When you sweat in an average pair of cotton socks, the cotton will soak up the moisture and hold onto it, making for unpleasantly damp conditions in your shoes that can leave you cold if it's chilly out and lead to blisters if you're walking a lot. A low percentage of cotton can be comfortable in warm weather, since it is light and breathable, but merino generally performs better, which is why there are many impassioned testimonials about the glories of wool socks. To wear a pair of merino socks feels like wearing your most comfortable sweater on your feet.
Plenty of outdoor-gear makers sell merino socks for both women and men but two perennial favorites include SmartWool and Darn Tough, which offers an unconditional lifetime guarantee on its socks. Each makes a variety of styles for different uses whether it's hiking or dressing for work. Even if you want to give socks that read more city than country, they have you covered. (I have several pairs of SmartWool's classic ribs socks, which run about $18 per pair, and wear them year round.)
One other benefit of wool is that it fights odor better than cotton. If odor is an issue you'd like to subtly address with your gift, consider Corrymoor socks, made with wool from angora goats. The brand discovered from numerous customer testimonials that its mohair socks were amazingly effective at neutralizing smelly feet. One buyer said he hadn't washed his pair in a year.
The upscale sock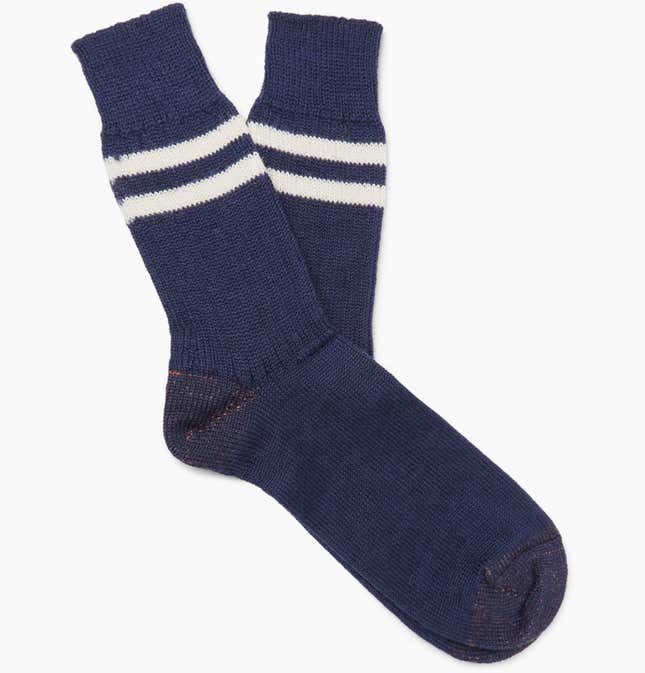 For something with more emphasis on style, a number of of high-end brands offer wool socks with the same benefits in a more refined package. Pantherella, an English label that specializes in men's socks, has lightweight merino pairs available at retailers such as Mr. Porter for $30 each. Italian label Marcoliani sells men's argyle socks in a merino blend for $35 per set.
For women, Falke, a German brand known for high-quality socks, sells wool options in different lengths, such as this pair that reaches midway up the calf and costs €21 ($23), while this two-pack of knee-highs is $70.
These socks aren't necessarily designed for the same hard wear, but they still feel great. I tried the unisex wool-blend socks that luxury brand Baja East made as part of its collaboration with underwear label Related, and found them to be ideal for casual use. (Disclosure: Related provided me the set to try.) They were comfortable, warm, and effective at wicking moisture. A set of three pairs, available at select retailers, costs $45.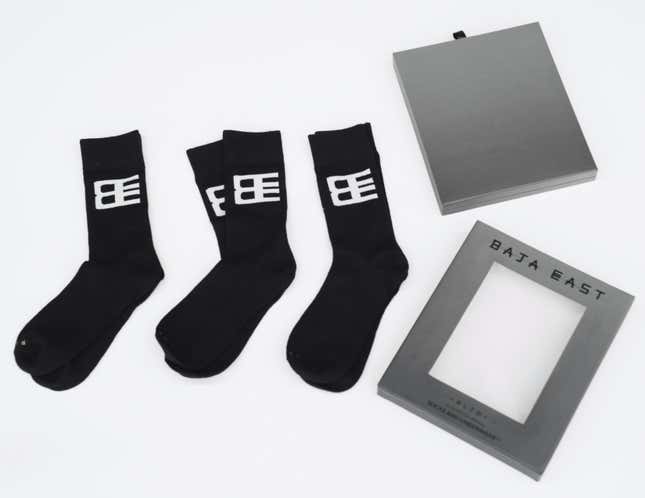 If a thicker, more casual option is what you'd like to give, the popular Japanese sock brand Anonymous Ism offers plush wool socks at $30 a pair, while Junya Watanabe has sporty socks in navy wool for $40.
The performance sock
Wool isn't the only option. Synthetic fibers can also be breathable and moisture-wicking, which is why athletic brands like Nike have used them for years in their their Dri-FIT socks—a nice gift if the recipient is a runner.
For men's socks that are more work-appropriate, Ministry, which makes office clothes designed to perform like active wear, offers sweat-wicking socks with extra padding in common pressure points and coffee-infused fibers that eliminate odor. They don't strictly avoid cotton, but use it strategically. The socks are composed in layers: a synthetic one next to the skin that pulls moisture away, and a cotton outer layer that acts like a reservoir to hold it.
The brand's "Smarter Dress Sock" for men costs $15 per pair, and according to co-founder Aman Advani, it's their second-biggest seller (behind their men's dress shirts). "The customer-repeat rate of people who buy our socks is insane," he says. "People don't buy socks because they're excited about them, but they buy them again because they are."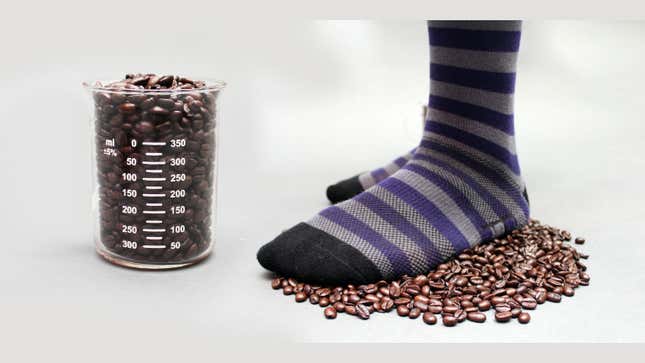 Ministry provided me with a pair and I found them to be about as effective as wool in keeping my feet comfortable and dry under various conditions.
Outdoor brands have relied on synthetics in socks for years. REI's sock guide lists durability, moisture-wicking, and the ability to dry more quickly than wool among their advantages. Synthetics also tend to cost less. Outdoor Gear Lab tested five leading hiking socks over three months and chose Wigwam's Hiking Outdoor pro, made from polypropylene, acrylic, and other synthetics, as its "Best Buy." (Its other two top picks, unsurprisingly, were made with merino.) The socks were tough, breathable, and did a great job handling moisture.
Japanese basics brand Muji also makes its well-fitting right-angle socks in a blend of synthetics and wool. They're about $10 or less per pair, for women and for men.
(If you or your recipient are passionate about preserving the environment, you may want to choose socks without any synthetic component at all, whether they're predominantly wool or not.)
Beyond the pairs listed, there are plenty of other good options. Just look for the qualities mentioned, and your gift will be one that makes a difference in the everyday comfort of the person getting them. And if you're unsure, pick up a pair yourself first, and test them while you walk around to do all your holiday shopping.