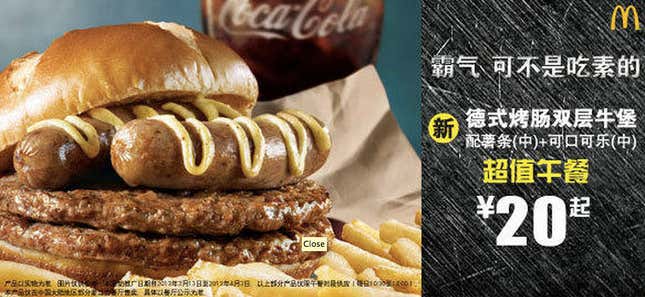 Reports trickling in since the end of March about a new wave of bird flu in China have been hitting the country's KFCs, chicken stands and poultry exporters (whose goods are now banned from other Asian markets). McDonald's, KFC's main competitor in China, announced that global same-store sales fell 0.6% in April, "reflecting the impact of Avian influenza, primarily in China."
The upshot for McDonald's is that it's faring better than KFC, which expects its China sales from April to have dropped by as much as 30%. The discrepancy partly reflects the relative size of the two companies in China (there are about 4,000 KFCs in the country, compared to McDonald's 1,720) and lingering wariness among Chinese customers about the safety of chemically enhanced chickens used by KFC.
Also, McDonald's, the world's biggest burger chain, depends less on fowl and more on beef than KFC. The chain has been rolling out more non-chicken items tailored specifically to Chinese customers, like the extra-meaty Sausage Double Beef Burger (two beef patties, topped with two sausage links), which debuted at the beginning of March, weeks before the first bird flu cases were reported. The timing may be coincidental, but as we've reported before, local Chinese and East Asian food retailers that do a better job catering to local tastes are gaining market share.
Still, McDonald's sales in Asia, Africa and the Middle East (APMEA) fell 2.9% in April, the most of any region. (The company doesn't break out its China sales.) The Golden Arches may have to invent a few more extra beefy burgers to stave off the bird flu jitters.