This morning Eric Trump proudly announced on Twitter that he had voted for his father, Republican candidate Donald Trump. In this tweet, he included a photo of his ballot (which is illegal in the state of New York).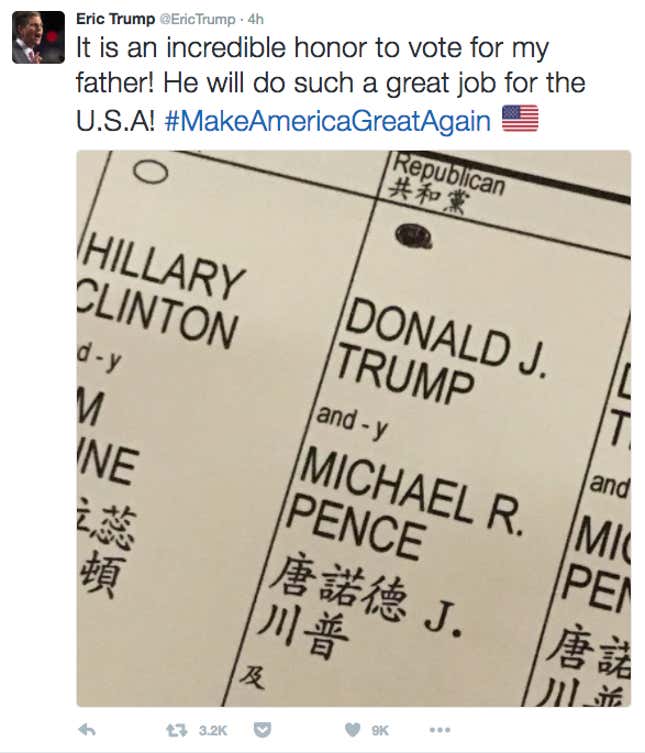 The photo revealed something other than the Trump's lack of familiarity with state law: The way New York renders "Donald Trump" in Chinese characters.
New York's preferred transliteration of Donald J. Trump is "唐諾得 J. 川普." (A transliteration only attempts to approximate the sound of a word from another language, not the meaning.) This is pronounced Tangnuode J. Chuanpu. Here is a recording of me pronouncing that:
There are often multiple ways to transliterate an English name into Chinese, though. I tracked down a Chinese sample ballot for Los Angeles County—which offers them in 10 different languages—and discovered that they have a different way of writing Trump's name. LA went with 唐納德 J. 特朗普, or Tangnade J. Telangpu, as did San Francisco. This is what that sounds like:
Both the New York and California renditions of Trump are used pretty widely in the Chinese-language media, though the California version seems to be more common. It is also more formal-sounding. The Chuanpu, or "Trump," in New York's version feels a bit like a nickname, or someone just pronouncing "Trump" with an accent. While not a real Chinese name, LA's Telangpu sounds more like one.
New York also chose a less-common transliteration for "Hillary Clinton." The majority of mentions of the Democratic candidate in the Chinese media use 希拉里, or Xilali, for "Hillary." New York, however, uses 希拉蕊, or Xilarui. This version appears to be more common in the Taiwanese media, less so in mainland China. Both New York and California use the same rendition of her last name, 克林顿 (Kelindun).
What about other cities? I surveyed Chinese-language sample ballots from various other cities with large Chinese-speaking populations, including Chicago, Seattle, and Houston, but none of them included transliterations, writing the candidates' names in English only.
Eric Trump may have voted for Chuanpu, but it remains to be seen whether America will choose him or Xilali.