One year ago today, a terror attack on Paris sent the whole world reeling.
At least 130 people were killed and 300 wounded in a series of six explosions and shootings across the city on Nov. 13, 2015. The worst violence occurred at a sold-out concert at the Bataclan in 11th arrondissement, where 90 people were murdered by gunmen before police stormed the building.
Last night, Nov. 12, the Bataclan re-opened with a concert by Sting. "Nous ne les oublierons pas"—"we will not forget them"—the British singer said in French, continuing:
Ce soir nous avons deux tâches à concilier : d'abord se souvenir de ceux qui ont perdu la vie dans l'attaque, ensuite célébrer la vie, la musique dans ce lieu historique.

In re-opening the Bataclan, we have two important tasks to reconcile. First, to remember and honour those who lost their lives in the attack a year ago, and second to celebrate the life and the music that this historic theatre represents.
Members of the California rock band Eagles of Death Metal, who were onstage during the 2015 massacre, were reportedly turned away from the concert because of lead singer Jesse Hughes' unpopular earlier allegations that Muslim security staff were complicit in the massacre.
"They came, I threw them out—there are things you can't forgive," said Jules Frutos, the Bataclan's co-director, in the Telegraph. Hughes has denied that his band tried to enter the concert.
The Paris attacks were committed by Belgian and French nationals, and claimed by Islamist terror group ISIL. Shortly after, France launched an intensive series of airstrikes on ISIL targets in Syria.
For many, the Paris attacks have come to symbolize the insecurity of an increasingly diverse world, fueling anxiety and distrust toward both local Muslims and the millions of refugees and migrants at Europe's borders. One of the songs Sting performed at the Bataclan's re-opening addressed this anxiety directly: Inshallah (Arabic for "God willing) from his new album "57th and 9th," is written from the point of view of refugees seeking safety in Europe.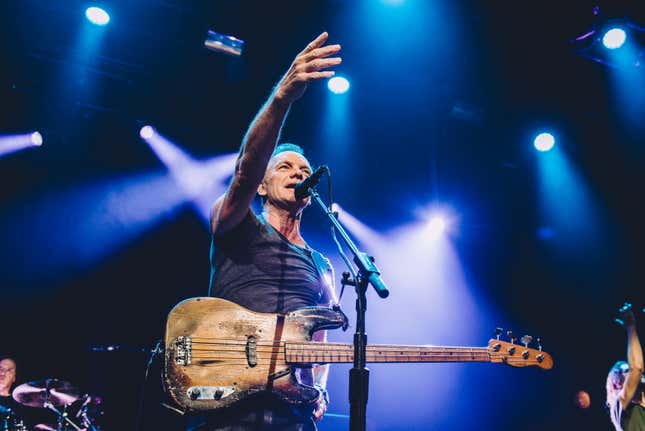 Victims of the Paris attacks were citizens of more than a dozen nations. Many French and international leaders spoke out today in solidarity with the city of light.
Paris has unveiled six plaques at different sites, and memorial services took place across the city today.