Journalists are known to pepper their copy with code words. These are the clichéd metaphors that have become so ingrained, we deploy them without thinking. Interventions are always "last-ditch." Villages are usually "sleepy." When is speculation anything other than "fevered"? (One British journalist has gone to the trouble of amassing some of the worst offenders.)
Here's another that's becoming more common in our political climate of razor-sharp tensions and vociferous populist rhetoric: "firebrand." It's often used (including by this reporter) to refer to politicians and commentators whose views might fairly be called extremist.
Here are some of those very characters, with some of the actions that got them labeled "firebrands."
Nigel Farage, interim leader of UKIP
"Britain's Brexit firebrand meets Trump in New York," read one headline above a story of the interim leader of the UK's right-wing party UKIP and the US president-elect Donald Trump, who met at Trump Tower on Nov. 12.
Nigel Farage might, by his own admission (paywall), wince at some of Trump's more brazen rhetoric, but he too has been criticized for stoking anti-immigrant sentiment during the angry Brexit campaign. He spoke frequently of the UK's immigration being "out of control," and on the day of the Brexit result he declared: "We've got our country back."
Among the more severe examples of Farage's views was this UKIP poster, unveiled just days before the EU referendum in June, which was likened to Nazi propaganda: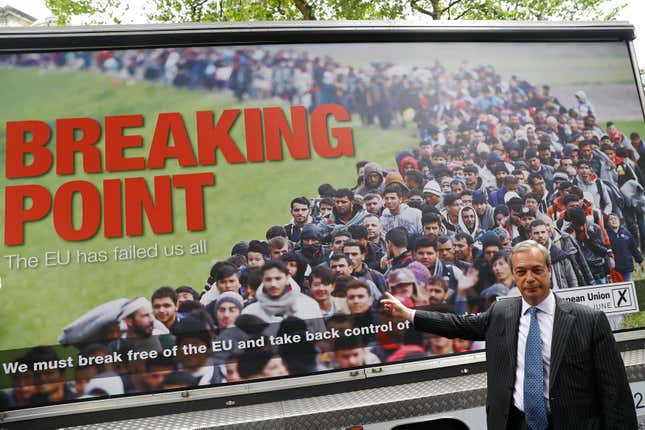 Steve Bannon, Donald Trump's newly-appointed chief strategist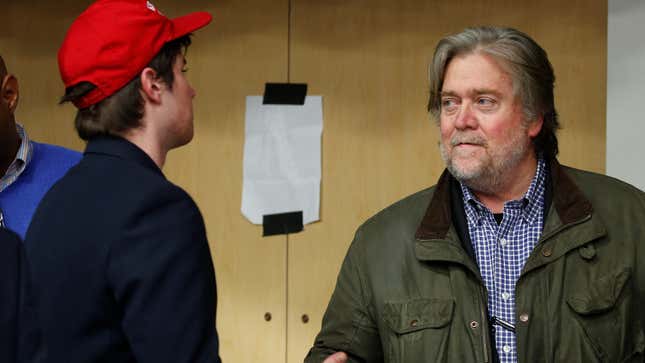 On Nov. 13, it was announced that Steve Bannon, the "media firebrand" and hero of the so-called "alt-right" (another loaded term), heading up the radical conservative news site Breitbart News, would be made Trump's "chief strategist and senior counselor." He ran Trump's campaign from mid-August up to the tycoon's victory in November.
Under Bannon's leadership since 2012, Breitbart News has published a swathe of incendiary stories targeting women, immigrants, and the LGBT community. The site contains a section dedicated to what it calls "Black Crime."
Speaking to a Daily Beast reporter in November of 2013, Bannon made his anti-establishment views clear: "Lenin wanted to destroy the state, and that's my goal too. I want to bring everything crashing down, and destroy all of today's establishment."
Milo Yiannopoulos, senior editor at Breitbart News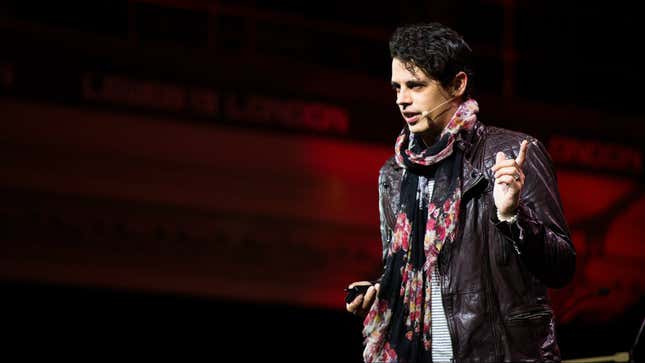 The 32-year-old is something of an icon of the alt-right movement, and has a chequered history of annoying and harrassing a lot of people. Milo Yiannopolous told the Sunday Times (paywall) that Donald Trump's presidential victory on Nov. 9 would have been "much narrower" without him and his help in driving the pro-Trump youth vote.
Among his mobilizing efforts were the talks he gave as part of his "Dangerous Faggot Tour" at various US universities this year, many of which were interrupted or banned in some way. Elsewhere, he has dismissed the "moral panic" around rape culture on college campuses, and claimed that Donald Trump would be the "first real black president." In July, he was "permanently suspended" from Twitter after claims he incited his followers to bombard Ghostbusters actress Leslie Jones with racist and misogynistic tweets.
Geert Wilders, Dutch politician
"Populist," "firebrand," "anti-Islam," "anti-immigration." These are some of the terms leveled at Geert Wilders, the founder of the far-right Freedom Party in the Netherlands. The Dutch go to the polls to elect a new leader in March 2017. Wilders' party has said it wants to close all refugee centers, mosques and Islamic schools, and ban the Quran—and his campaign has taken inspiration from a familiar playbook:
Wilders is currently caught up in a hate speech and discrimination trial (which he refused to attend), with prosecutors demanding he pay a €5,000 ($5,352) fine for inciting racial hatred at a 2014 rally. During the march, he led demonstrators who chanted that they wanted fewer Moroccans in the country. He replied, "we'll take care of that."
Wilders was briefly banned from entering the UK in 2009, while facing separate charges of inciting hatred in the Netherlands for, among other things, comparing the Quran to Mein Kampf. He was acquitted of that charge in 2011.
Rodrigo Duterte, president of the Philippines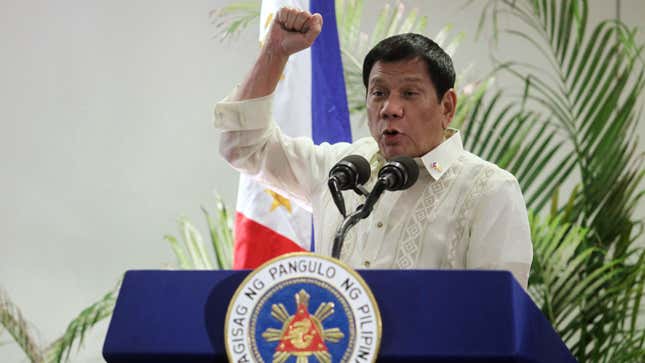 If you're going to call both Barack Obama and the Pope a "son of a whore," say "fuck you" (twice) and give the middle finger to the EU, and label the UN secretary-general a "devil," then you might well be dubbed a "firebrand politician" by the press. Indeed, we've done it.
Duterte assumed office in June, and the first five months of his presidency have provided no shortage of controversy. On his watch, police have reported thousands of drug-related killings, with many being carried out by hitmen and vigilantes. In September, the UN's top human rights official said Duterte had "a striking lack of understanding of our human rights institutions and the principles which keep societies safe."
Viktor Orbán, prime minister of Hungary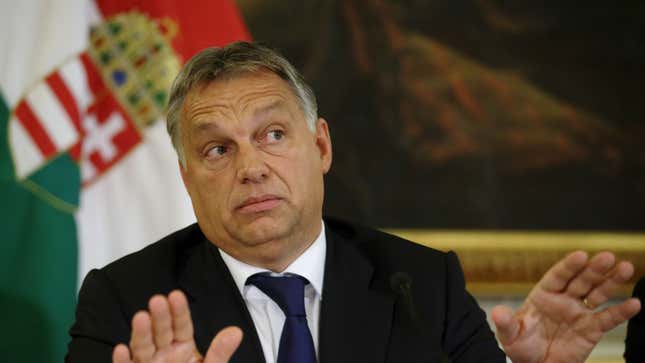 The far-right leader of Hungary has issued many sharply-worded anti-immigration statements since the height of Europe's refugee crisis last year. Viktor Orbán has called migrants a "poison" and that his country doesn't need any, and said they should be "rounded up and shipped out."
His style of "firebrand nationalism," to quote Politico, has not gone down well with some other EU leaders: in September, Luxembourg's foreign minister, Jean Asselborn, said (paywall) Hungary "should be excluded temporarily or if need be forever from the EU" for its anti-refugee stance.
Julius Malema, South African opposition leader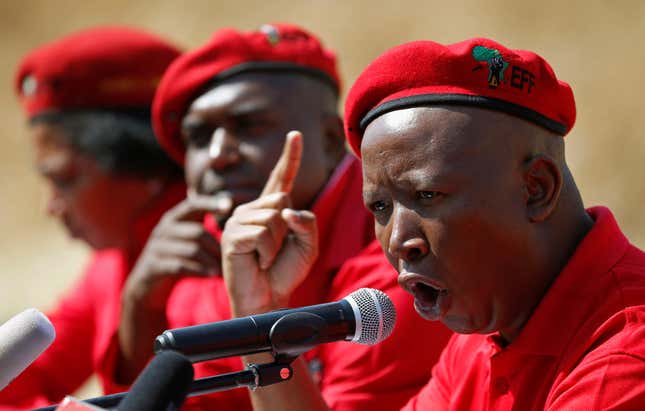 The leader of Economic Freedom Fighters has not shied away from controversy since the party's formation in 2014. The party is, nonetheless, South Africa's fastest-growing opposition movement.
Speaking ahead of municipal elections earlier this year, Julius Malema said that "part of the revolutionary duty is to fight, and we are not ashamed if the need arises for us to take up arms and fight." He went on to say: "We'll run out patience very soon and we'll remove this government through a barrel of a gun."
As my colleague Lynsey Chutel wrote in April, "where some see political gaffes, others see a leader willing to tell the truth in an uncertain political and economic climate."
In 2010, Malema was found guilty in a hate speech trial and ordered to pay 50,000 rand ($6,700) to a center for abused women, after saying the woman who had accused president Jacob Zuma of rape must have had a "nice time." Zuma was acquitted.