You may someday have another participant in your group messaging chats: Siri.
An Apple patent application published Nov. 17 describes how Siri could be pulled into iMessage chats to help with scheduling and making payments. Any of the participants in a conversation can choose to bring in Siri to assist people with tasks, the filing with the US Patent and Trademark Office says.
When summoned to a message thread, the AI assistant uses semantic analysis to decipher which messages are meant for it. Once users direct a message toward Siri, it will be able to carry out tasks like checking people's availability on their respective calendars or estimate how far people are from each other by using their locations. In one instance, a user asks, "Siri, when are we all free to grab lunch?" and Siri responds by scouring their calendars for matching availabilities and presenting a poll of possible times.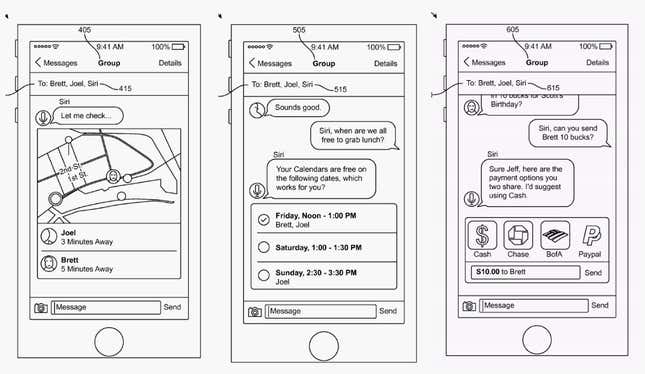 With iOS 10, Apple announced Siri would support a myriad of third-party apps, including payment apps like Venmo, Paypal and Square Cash. In renderings included with the application, the outlined technology appears to allow for peer-to-peer payments from within the conversation. In an example, a participant says, "Siri, can you send Brett 10 bucks?" The assistant then pulls up a range of payment apps to choose from, and asks for fingerprint authorization before making the transfer.
At any given time, participants can choose to deny Siri access to their personal information.
Apple's latest patent filing echoes functions already available in Google Assistant, which makes similar in-conversation contributions within Google's text chat-only app Allo. Google Assistant's functionality is more extensive than what's described in the Apple patent, which only gives examples of scheduling and payments. Google Assistant can scour for addresses, movie showtimes, restaurants, flights, and hotels from within the app, as well as report on news, weather, traffic, sports, and more.
That said, it's worth noting that Apple filed for this patent in April 2015, well before Google's Assistant made its debut last month. And the trend toward using machine learning to help virtual assistants better serve users is on the upswing across the board: consider Amazon's Alexa, Facebook Messenger bots, and Samsung's acquisition of a Siri-like assistant called Viv.
Apple's concept is still just a patent application, which is not an indication that the technology will be deployed—now or ever.