One business in China is learning that a play on words can get it in trouble with the government.
A fast-food fried chicken chain called Call a Chick is currently under investigation in Shanghai because its name happens to be a suggestive Chinese slang phrase.
In early November, the mother of an eight-year-old boy reported the restaurant to local industry and commerce officials (link in Chinese) in China's southern city Chengdu, where one of the franchises is located. The woman, whose last name is Chen, said her son asked her to explain the restaurant's name, and though she told him it was just a fried chicken restaurant, he repeatedly used the phrase "call a chick" in the following days, forcing her to "deal with it."
In Chinese, the term chick, or ji in Mandarin, is often used to refer to female prostitutes, and the last two words in the Shanghai-based restaurant's name, Jiao Le Ge Ji, informally refers to getting a prostitute.
The restaurant cheekily applied the play on words to its slogan: "A restaurant specializing in making chicken" can also be read as "A restaurant specializing in providing prostitution." Its menu also included an item called "a chick without sex life."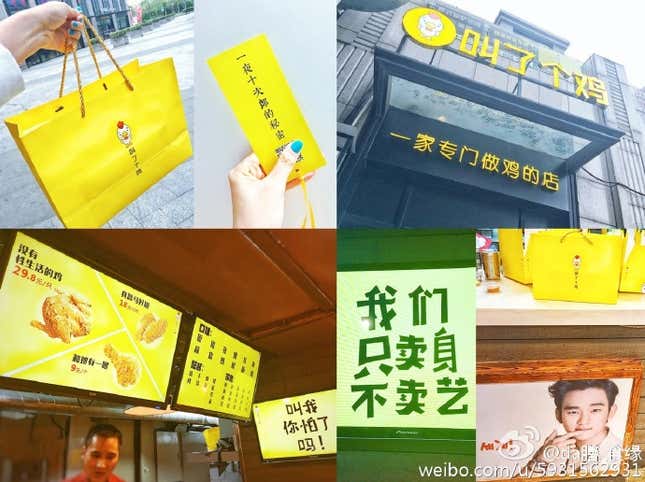 The complaint got the attention of Shanghai Industry and Commerce Department. An official said (link in Chinese) that the restaurant's advertisement, slogan, and menu were suspected of breaking China's advertising law (link in Chinese), which specifies that advertisements "hindering societal public order or violating good social conduct" and "containing pornographic, sexual, superstitious, terrorist or violent contents" are forbidden.
"We specialize in making fried chicken and use virgin chicken as materials," said the restaurant on a Nov. 18 statement (link in Chinese). "Our target customers are 18 to 28 so we set our slogans and advertisements catering to the group." The chain said it would change its slogan, menu, and ads, but did not admit any involvement in prostitution.