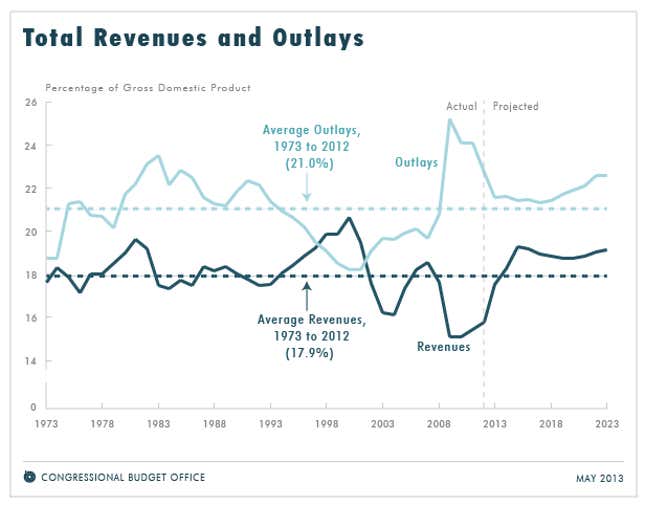 The Congressional Budget Office had a surprise for us today: The US deficit is set to shrink by 24% more than expected this year, to 4.0% of GDP or about $642 billion. That's almost $200 billion less borrowing than the agency predicted in February—quite a change over a period of several months. Even better, the deficit is expected to reach 2.1% of GDP by 2015, a level many economists consider fairly healthy.
The reasons for the change are two-fold, but both can be traced to the housing markets. First, as reviving housing markets help along the US recovery, people are doing more business and making more money, which has lead to a 15% increase in  tax revenue. Second, falling delinquencies at Fannie Mae, the mortgage finance company taken under government control after it nearly failed in 2008, have buoyed its funds, while rising housing prices have improved its investments. As a result, it returned $59.4 billion to the US Treasury this year. 
The pessimist's take: Expenditures and revenues are expected to diverge after this decade, and debt, while it will shrink from 76% of GDP next year to 71% in 2018, is still far from pre-crisis levels. That leaves more work to be done on long-term budget policy. But some observers fear lawmakers will keep kicking the can down the road if deficits are falling. Another bout of anemic economic growth would make the situation worse.
The optimist's take: Forecasters miss upturns just as they miss downturns, which we saw the last time the US had a surprise budget surplus in 1998—years before lawmakers expected it. Hopeful analysts at Potomac Research predicted last week that this year's deficit would be less than 5% of GDP, and they were right. They also predicted that the US could see a budget surplus by 2015.  That may be overly ambitious. But policymakers have managed to balance reducing the debt with growing the economy, which leaves more room to enact long-term budget reforms. In that case, today's report could be an early sign of fiscal victory.