As wildfires that have already killed four sweep across Tennessee, Airbnb is helping thousands affected find homes, free of charge.
Airbnb said today that it had activated its disaster response tool, Urgent Accommodations, in areas devastated by the fires. The dedicated page on Airbnb's site lets people select whether they need a place to stay or can offer up their space for free. The company says it is waiving fees for these rentals from Nov. 28 to Dec. 13. (Technically, since Airbnb makes money by taking a cut of each booking from its hosts and guests, any share of a free listing would be $0.)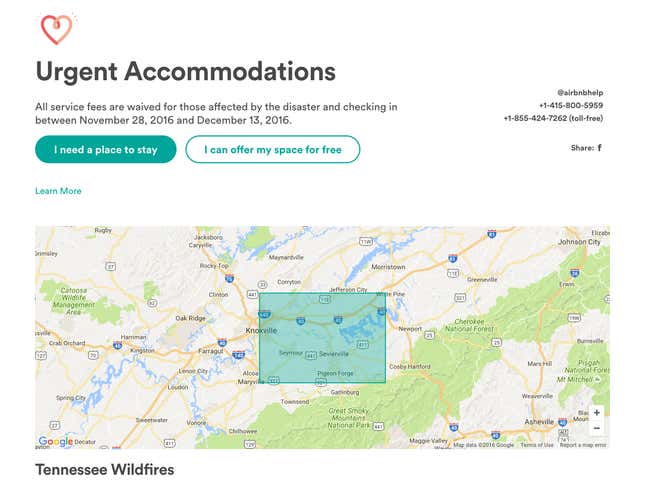 Already, dozens of listings with a price tag of $0 are available on the site. More than 150 homes and businesses have been destroyed in the fire in Gatlinburg, Tennessee, and more than 14,000 residents displaced, the local paper reported. Some 2,000 have been placed in local emergency shelters, and another 500 evacuated from neighboring Pigeon Forge.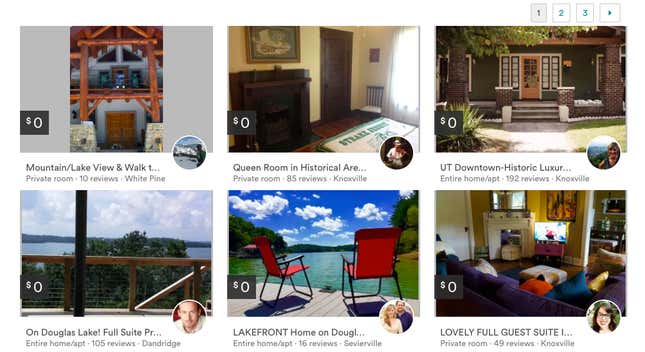 Airbnb has also activated Urgent Accommodations in Costa Rica, where at least nine died and thousands remain in shelters after Hurricane Otto passed through last week. So far there are 12 free Airbnb listings available there, according to the company's webpage.
Urgent Accommodations dates to Hurricane Sandy, when Airbnb says more than 1,000 hosts in New York opened their homes to people stranded by the storm. Last year, the company brought on Kellie Bentz, a crisis management expert, to head its global disaster response and relief program, and announced that it was working with the Federal Emergency Management Agency to teach its hosts about preparing for, and responding to, emergencies.
While Facebook has made strides with Safety Check, a feature that allows people to mark themselves as "safe" during an emergency, startups like Airbnb and Uber are better positioned to help out in times of crisis. Both companies have large, diffuse networks of users that they can rally and deploy at the touch of a button. Airbnb can coordinate free housing when shelters are overwhelmed. Uber has offered free or subsidized rides to people in urgent need of transportation. Disaster response might not be a pillar of the sharing economy, but it's hard to imagine a situation for which on-demand services are better suited.