Donald Trump's elite address on Fifth Avenue has become a headache for New Yorkers. Added security for Trump and the steady flow of high-profile visitors braving the crowds to get some facetime with the homebody president-elect has created pedestrian and vehicular bottlenecks, vexing commuters and retailers.
One real estate broker sees the champagne flute half full.
"Fifth Avenue Buyers Interested in Secret Service Protection?" said the subject line of an e-mailed advertisement from Douglas Elliman shortly after Trump won the election, Politico reported.
The broker went on to tout the taxpayer-funded security agents: "The New Aminity [sic] – The United States Secret Service," according to the report.
A listing on Douglas Elliman's site for a $2.1 million, one-bedroom, 1.5-bathroom apartment on the 31st floor of Trump Tower boasts that 721 Fifth Avenue is "the most secure building in Manhattan." (Sorry, New York Stock Exchange.)
Trump's wife Melania and their son Barron are expected to continue living in New York City until the end of the school year in June, while Trump is expected to visit New York City often after he takes office on Jan. 20.
The Big Apple is seeking up to $35 million in federal funds to cover the cost of protecting the native New Yorker.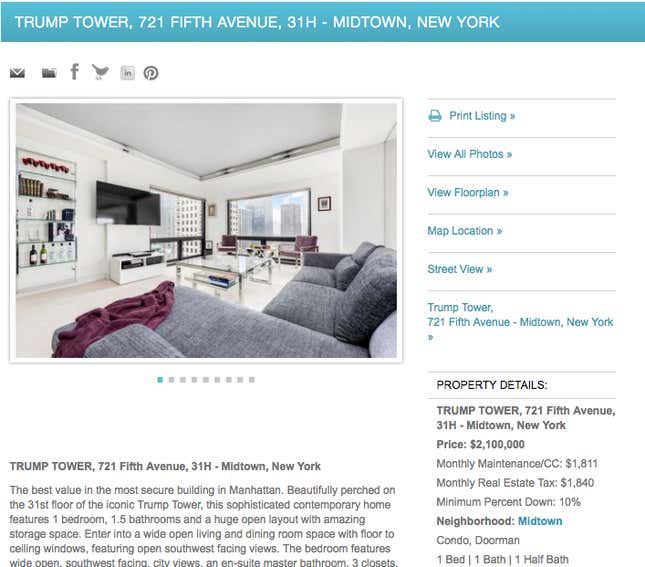 Trump developed the tower, completed in 1984. The 263 condominiums inside have (or could have, depending on how successful Elliman's push is) individual owners, Politico said.
Secret Service or not, Trump isn't always a selling point. There are 16 units listed for sale in the tower, and six of them have already been reduced in price.