Silicon Valley's most vaunted executives were summoned to Trump Tower in New York City this morning, and almost all came. The Dec. 14 meeting with president-elect Donald Trump, billed as a "Strategic and Policy Forum" to discuss jobs, tax reform, and investment, gathered the leaders of more than a dozen of the world's most powerful technology companies.
The tech executives riding up Trump Tower's gold-accented elevators included Apple CEO Tim Cook, Alphabet CEO Larry Page, Microsoft CEO Satya Nadella, Amazon CEO Jeff Bezos, Tesla CEO Elon Musk, IBM CEO Ginni Rometty and Intel CEO Brian Krzanich. Twitter's executive team was allegedly excluded due to its refusal to allow an emoji for #CrookedHillary during the campaign.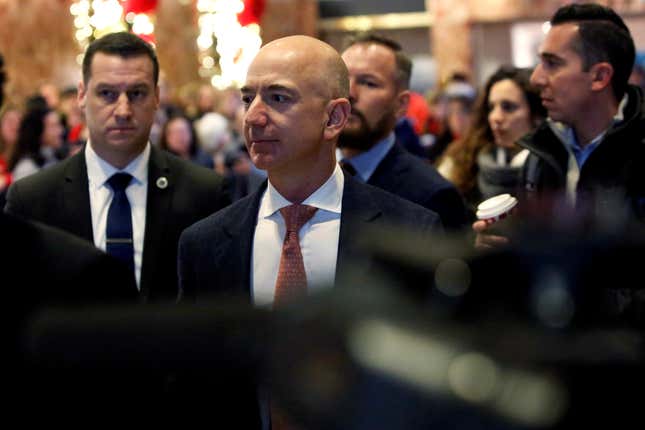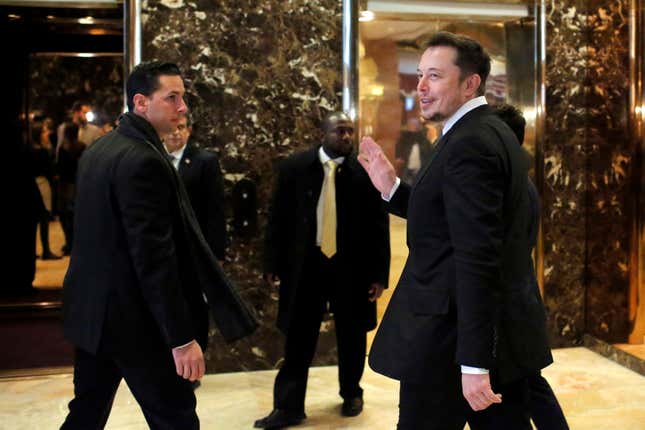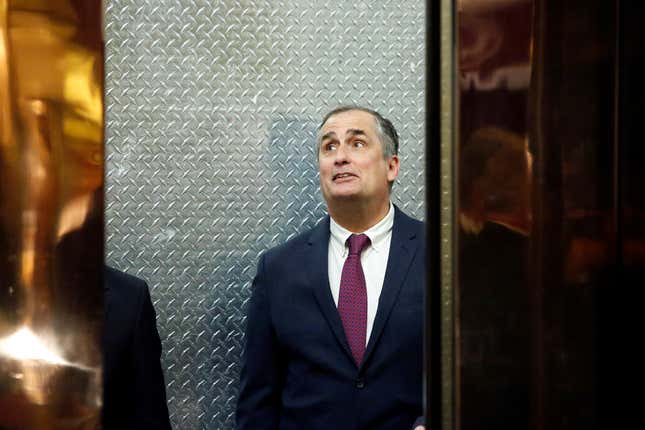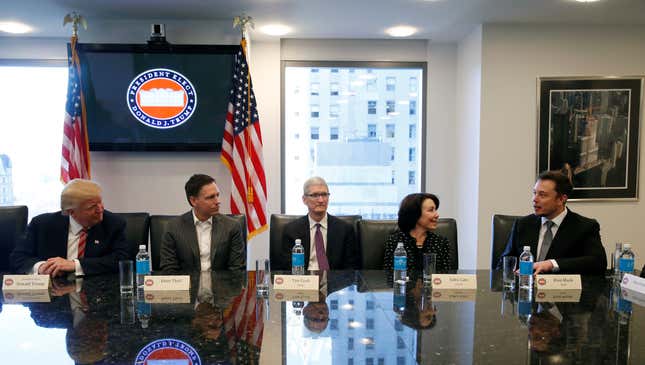 Trump struck a conciliatory tone at the event. "This is truly an amazing group of people," he said at the start of the two-hour meeting. "I want to add that I'm here to help you folks do well."
The message broke from Trump's derisive campaign rhetoric needling Jeff Bezos over ownership of the Washington Post, bashing Facebook CEO Mark Zuckerberg over immigration reform, and promoting a boycott of Apple when the company refused to help the FBI break into the iPhone of one of the San Bernardino shooters. Instead, the president-elect gushed praise for Silicon Valley's most influential figures. "There's nobody like you in the world," Trump said during the meeting. "There's nobody like the people in this room. And anything we can do to help this go along, we're going to be there for you."
Trump offered an door policy for the technology industry that would give them direct access to the White House. "You'll call my people, you'll call me," he said. "We have no formal chain of command around here." The meeting was a family affair, and included Trump's daughter Ivanka, son-in-law Jared Kushner, and sons Donald Jr. and Eric.
Trump also walked back some of the statements he made on trade during the campaign and more recent comments about manufacturers moving their factories outside the country. "We're going to make it a lot easier for you to trade across borders," Trump told the group of tech execs.
No specific policy announcements were made during the talk, although Musk and Uber CEO Travis Kalanick were added to Trump's Strategic and Policy Forum earlier in the day.