Donald Trump held a meeting today with a group of Silicon Valley giants, including Amazon's Jeff Bezos, SpaceX and Tesla's Elon Musk and Alphabet's Larry Page. While the meeting's seating chart might offer a clue as to how much influence each tech exec will have on the president-elect, Trump's praise and body language clearly singled out one favorite among them: billionaire Paypal founder Peter Thiel.
Thiel stood out from the crowd of typically left-leaning US tech CEOs back in July, when he gave a speech endorsing Trump's candidacy at the Republican National Convention. Today, he was given a seat of honor on the president-elect's left, while vice-president-elect Mike Pence took the right-hand man position. Unlike Trump's recent closed-door meetings, the press was given access to the "Trump Tech Summit."
"I won't tell you the hundreds of calls we had asking to come to this meeting," Trump said early on, acknowledging Thiel's advisory role. "Peter was sort of saying, you know, that company is sort of too small."
"I want to start by thanking Peter," he continued, "because he saw something very early, maybe before we saw it, and of course he's known for that in a different way," perhaps in reference to Thiel's early support of his candidacy.
Thiel, he added, is "a very special guy."
This was all prelude to an unusual double-fisted handshake, in which Trump grasped Thiel's palm with both hands. "[Trump] not only grabs the palm of [Thiel's] hand, he grabs the outside of his hand, and he pats it…he's caressing it," says Lillian Glass, a body language and communication expert based in Beverly Hills, California. "It shows that he really likes this guy."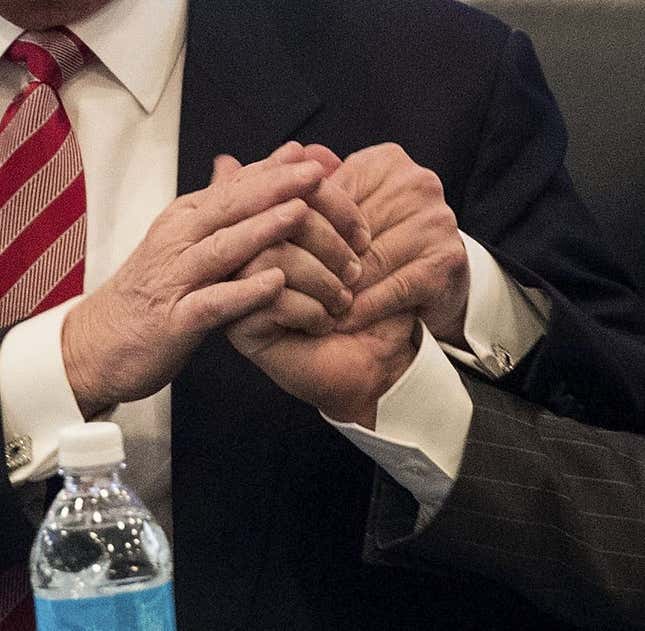 In video of the meeting, Thiel appears to crack an embarrassed smile at the handshake-caress. Vice-president-elect Mike Pence looks on frowning and smiling at the same time, a posture that Glass described as "uptight," but "impressed."
Trump's body language in photos has consistently shown he has a talent for warming up others, says Glass. That's a powerful negotiating tactic: "He's a real bonder," says Glass. "He does great male bonding, and that's going to be great for a president, because I think you need to have a connection with other men you're going to be working with. He's not afraid to show affection."
And that affection isn't likely to come across as a weakness to others, either, she notes. "He's the one taking charge of the affection. Usually the person taking charge of the affection is the one taking charge, by putting both hands over."
Correction Dec. 15, 2016, 8AM EST: Glass is based in Beverly Hills, California, not Florida.