It started innocently enough, or so Beijing wanted the world to believe. In the mid-1990s, China built a small structure on stilts over a coral reef in the South China Sea, just 217 km (135 miles) from the coast of the Philippines' Palawan island. At the time Beijing reassured Manila that the structure at Mischief Reef—a platform topped by four octagonal structures, with a Chinese flag waving overhead— was merely a fishermen's shelter (paywall).
It's obvious now it was planning something much larger. This week a US think tank—the Asia Maritime Transparency Initiative (AMTI) at the Center for Strategic and International Studies—released satellite photos showing just how far things have progressed on the reef, part of the Spratly archipelago. According to the AMTI the reef now features "large anti-aircraft guns and probable close-in weapons systems." (The latter, CIWS, detect and eliminate short-range incoming missiles or aircraft.) Below is the latest image, dated Nov. 15. The squares indicate the locations of the defensive systems.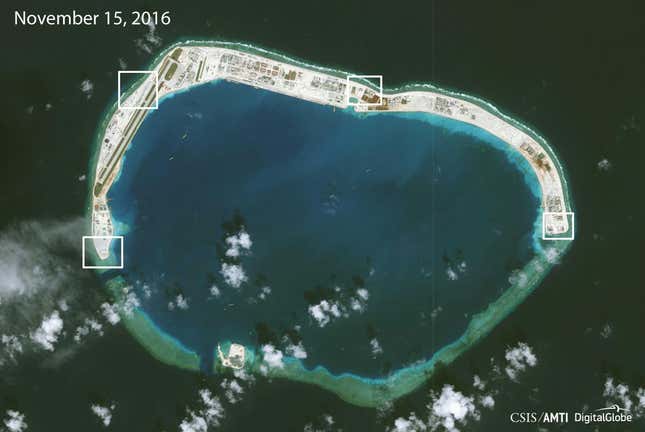 China controls six other reefs-turned-islands in the Spratlys, and the latest images show that similar defensive systems have recently cropped up on those, too.
"This is militarization," AMTI director Greg Poling told Reuters. "The Chinese can argue that it's only for defensive purposes, but if you are building giant anti-aircraft gun and CIWS emplacements, it means that you are prepping for a future conflict."
Mischief Reef is especially interesting. It's well within the exclusive economic zone of the Philippines, and in July an international tribunal ruled that it and a few other reefs in the area were legally considered (pdf, p. 63) to be "low-tide elevations that do not generate entitlement to a territorial sea, exclusive economic zone or continental shelf, and are not features that are capable of appropriation by occupation or otherwise."
That makes Mischief Reef a prime candidate for a freedom-of-navigation operation by the US Navy. Whatever China's territorial claims—and they include nearly the entire South China Sea and everything in it—under international law non-Chinese warships can get as close as they'd like to Mischief Reef and stop. There's no need to make "innocent passage" through a territorial sea around the "island," because legally it isn't even an island, despite the runways, hangars, and anti-missile systems.
Indeed in its natural state Mischief Reef is submerged at high tide. Below is what it looked like in early 2012. Note the color difference with the above image, in which underwater parts have become solid ground.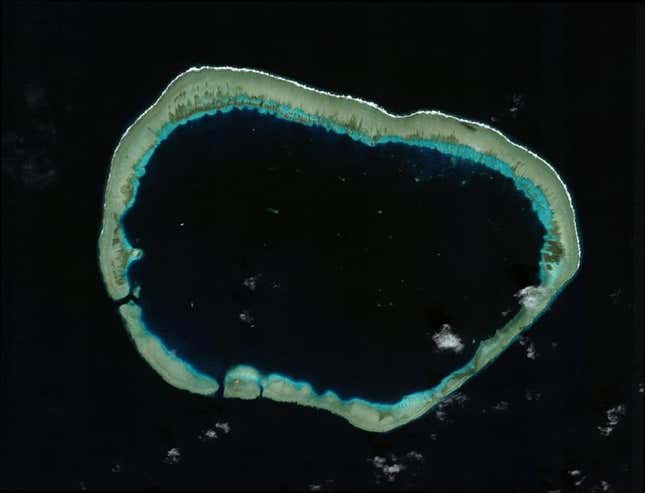 There wasn't much manmade on the reef in early 2012. Zooming in, a Chinese platform can be seen here: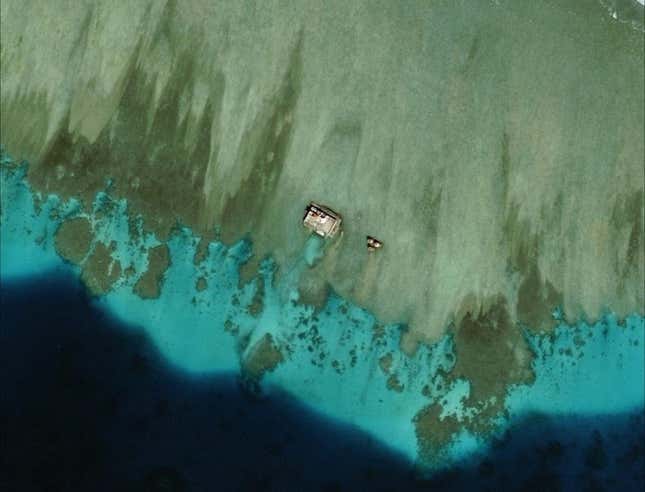 That quickly changed. The images below hint at the progression.