If you are a fan of large, round numbers, the Dow Jones Industrial Average has one for you: The benchmark US stock index hit 20,000 for the first time during early trading today. That's good for a gain of around 20% over the past year, with the rally really picking up steam since the Nov. 8 US election. (The index is up nearly 10% since election day.)
The Dow, which launched in 1896 and first reached the 100 level around 20 years later, is crossing big, round-number milestones more quickly these days, since that's easier to do as the index gets bigger. The latest 1,000-point gain took only two months.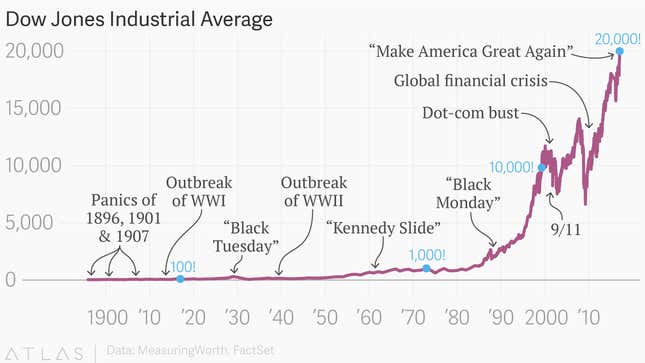 The Dow gets a lot of attention considering it's an unrepresentative jumble of just 30 companies. That's because of history, and also because it features many household names, including Apple, Boeing, and Disney. The companies in the Dow now have a collective market value of about $5.6 trillion, which pales in comparison to the more widely tracked S&P 500 index, which has a market value of $19.5 trillion.
Donald Trump's contribution to Dow 20,000 is clear. Goldman Sachs contributed around one-third of the initial rally after the Dow crossed the 19,000 mark. The investment bank's share price climbed as Trump appointed several high-level current and former Goldman staff to his cabinet and promised to reduce financial regulation. Also, the president-elect's spending plans have stoked inflation expectations, leading to higher interest rates that should further pad the bank's profits.