David Stewart, The Balvenie's master of malt, and the longest-serving master blender in the Scotch industry, claims that roughly 70% of whisky flavor comes from wood. Over the last half of a century, he has discovered, through trial and error, just how different types of oak containers can drastically shape the profile of a whisky. Now, Stewart is taking all that he has learned—and distilled—over the years to create some of the highest quality, rarest Scotch ever produced. And while the drams can be described in myriad ways, "affordable" isn't one of them.
One such example is Chapter Two of the Balvenie's DCS Compendium, the five-chapter series commemorating master blender David Charles Stewart's 50 years at the distillery. This chapter, a set of five single-cask whiskies from the 1970s through the early 2000s that retails for $27,500, specifically highlights "the influence of oak"—incidentally, the variable that most directly permits distillers to charge thousands of dollars for a single bottle.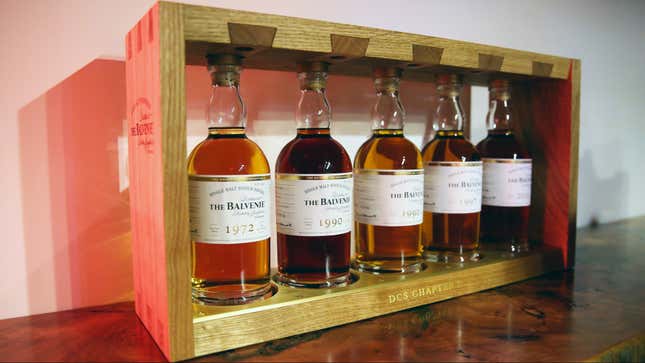 Sixty years ago, distillers wouldn't have even considered marketing single malt whisky (that is, whisky made solely from malted barley at a single distillery), much less a product in this price range. Since the 1500s, Scotch whisky was almost always a blend of the work of multiple distilleries. But with the rise of single malt Scotch in the 1960s, it was only a matter of time before the best of the older barrels—never marked or shuttled off for blending—would emerge as solitary presentations. Thus, ultra-luxury lineups such as the DCS Compendium are a relatively brand new phenomenon for Scotch, a 500-year-old beverage. And perhaps no one man has done more with wood to get us to this point than David Stewart.
Stewart started at William Grant & Sons (Balvenie's parent company) in 1962, just one year before (Balvenie's sister company) Glenfiddich would export the first single malt Scotch outside of Scotland. When Stewart started as an apprentice, a cask could be "whatever you could get a hold of," he recalls. "It had to be oak. But it could have held pretty much anything really: wines, fortified wines, other spirits, rum, whatever you could get from cooperages."
Whisky barrels were almost always of European origin until the 1950s or so, when the industry began focusing on aging whisky in American oak—namely bourbon barrels, which can contribute bold vanilla, butterscotch, or marzipan flavors. Stewart estimates that 90% of the Balvenie's whisky is now aged in American oak, as he prefers the "rich, honeyed sweetness" it provides the house style. (In the past, the distillery has even brought in beekeepers to help Stewart select specific vintages for special releases.)
However, the ultra-luxury Scotch revolution truly began in the 1980s, when distillers began aging whisky in wood for longer than ever before, and Stewart became one of the first to experiment with the process of "finishing" whisky. Re-casking the Scotch in Oloroso sherry casks after it had reached maturity added subtle flavors of dried fruit, nuts, and caramel to an already complex spirit. Stewart explains his radical decision to do so as nonchalantly as someone describing TV channel surfing: "I wondered what would happen if we were to re-cask some whisky from American oak into European oak," he says. A quiet, humble man, Stewart has none of the swagger or showmanship of some whisky luminaries like The Dalmore's Richard Paterson.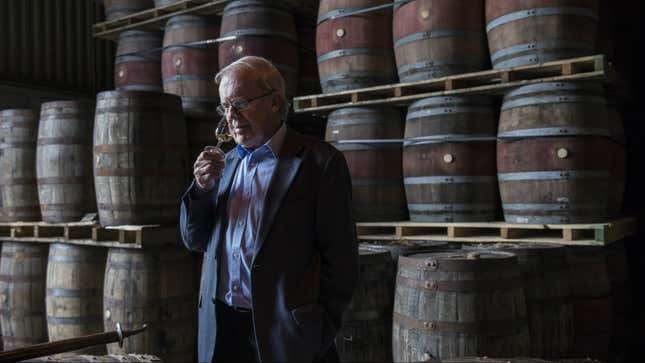 But despite Stewart's modesty, the innovative 12-year-old sherry-cask-finished "Balvenie Classic" that launched in 1983 would, ten years later, inspire Balvenie's most famous expression, the rebranded DoubleWood 12 Year Old. In the years since, dozens of other renowned finished whiskies would emerge from competing distilleries such as Glenmorangie Port Wood Finish (1994) and the Glenlivet 30 Year Old American Oak Finish (2001). Surely, others were employing sherry casks in the 1980s, (perhaps most famously, Macallan, which exclusively used sherry barrels until 2004, when it began aging in American oak as well), but Stewart's finishing technique was especially influential.
Not that Stewart hasn't had his share of failed experiments. "We brought in a few maple casks, once," he remembers. "When we went to check one a few months later, the cask was empty—it had leaked. It was obviously porous and didn't hold whisky." In another botched trial, a red wine barrel from California dominated a batch of whisky, drying it out; white wine barrels didn't improve the flavor, either. "We're always looking ahead with bringing in casks that are offered, and putting some whisky into them with the hope that it might produce something [good] for the future. That's produced some of these limited editions in the past, by just trying things."
Gambling often leads to great success; and when Stewart is right, the result can command serious dollars. "We went through a series of 17 year old limited editions which were all finishes as well," he says. The lineup included whisky aged in a peaty Islay cask, new wood, old wood, and casks that had previously held Madeira, rum, and—yes—even sherry for 17 years. While all originally retailed for around $100, they now easily fetch three-to-five times that amount on the secondary market.
By aging whiskies in specific types of barrels for anywhere from 15 to 43 years, and packaging the one-of-a-kind products together as a limited edition five-bottle collection, the Balvenie can ask for even more for releases like the DCS Compendium. And the $27,500 set is just the tip of the iceberg: the distillery's 50-Year-Old whisky, released just two years ago, came with a suggested retail price of $38,000. That's for a single bottle.
Balvenie certainly isn't the only distillery locking into this exorbitant market. Macallan's recent 62-year-old whisky release was valued by the brand at $35,000—perhaps as much for its Lalique crystal decanter as the liquid it contains. Glenfiddich releases only 50 bottles of its 50-year-old Scotch annually, for a cool $29,000 each. And Gordon & MacPhail's Generations Mortlach 75-Year-Old Single Malt retails for about $25,000 (a bargain if you're going by age alone).
Which begs the most important question: how are these prices justified? Scotch distilleries would argue that the price is due, in part, to the length of time the whisky barrel must be stored—the longer it sits, the more costly the upkeep. After soaking in oak for up to 50 years, the whiskies are imparted with a relatively richer, more complex flavor and aroma profile, and thus a much steeper retail value.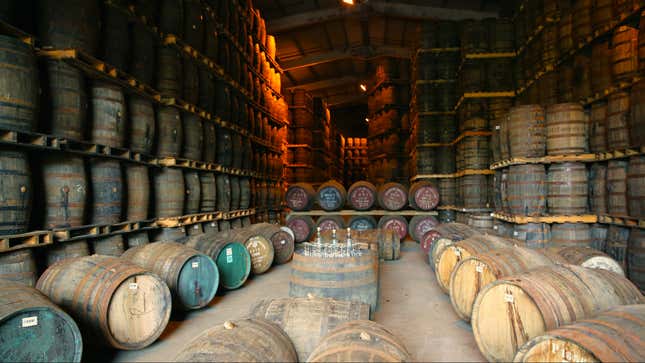 Compounding this value is a generally unstable barrel market. The rise in Scotch and the demand for bourbon barrels in particular has made them increasingly difficult to source. "The bourbon barrels go to Canada, Japan, all over the world—not just to Scotland," David Stewart explains. "So from time to time, the wood supply can get tighter." (Though he says that Balvenie has strong contracts with bourbon distilleries and American cooperages, generally enabling them to get what they need.)
The other major factor in price is that these are single cask whiskies, rather than blends of multiple barrels. Whisky from a single barrel is bottled undiluted, at cask strength, between 50-62% ABV, rather than the standard 40-45%. Moreover, that the concentrated liquid in every bottle all comes from a single barrel means each is a more unique product that can never be duplicated in the future.
But ultimately, no one factor plays more into the seemingly absurd price of any bottle of whisky (or five) than sheer supply and demand. A distillery will set prices that it feels are fair, but they can't control what people will actually pay for products at auction or future releases, as fervor for Scotch continues to pick up steam. The distilleries are warranted in charging as much as people are willing to pay for a product—and the older and more exclusive the wood used to make it, the better. Case in point: Chapter Two of the DCS Compendium is already sold out.
Many purchase luxury whiskies to experience something unique that very few others will ever get a chance to taste. Others believe that they are making legitimate investments on artifacts that should increase in value. And of course, at the very top of the consumer pyramid, there are those wealthy collectors who will buy the most expensive releases simply because they can.
The youngest whisky of the Balvenie DCS Compendium's second chapter is the 2001 European Oak: a 15-year-old whisky aged in Pedro Ximénez sherry butts. As one-fifth of the $27,500 collection, the bottle is valued at $5,500. Is the liquid's absolute value—in terms of inherent quality—actually 110 times greater than that of Balvenie's entry level Doublewood 12 Year Old, which can often be found for around $50? Surely not. But the rich, sticky, dessert whisky—layered with beautiful, intense flavors of candied fruit, vanilla, and brown sugar—is also too damned good for no one to ever taste it.