Last week, Hsinchu Kuang-Fu High School, a private high school in Taiwan, was relatively unknown; by the weekend, its name was splashed across the world.
The sudden fame arose from a parade the school held on Dec. 23, in which students dressed as Nazis complete with uniforms, swastika banners, and cardboard tanks. According to a homeroom teacher, a group of students had been asked to commemorate a historical figure of their choice; after two rounds of voting, they settled on Adolf Hitler.
Photos of the event spread rapidly across social media, prompting outrage—from countries all over.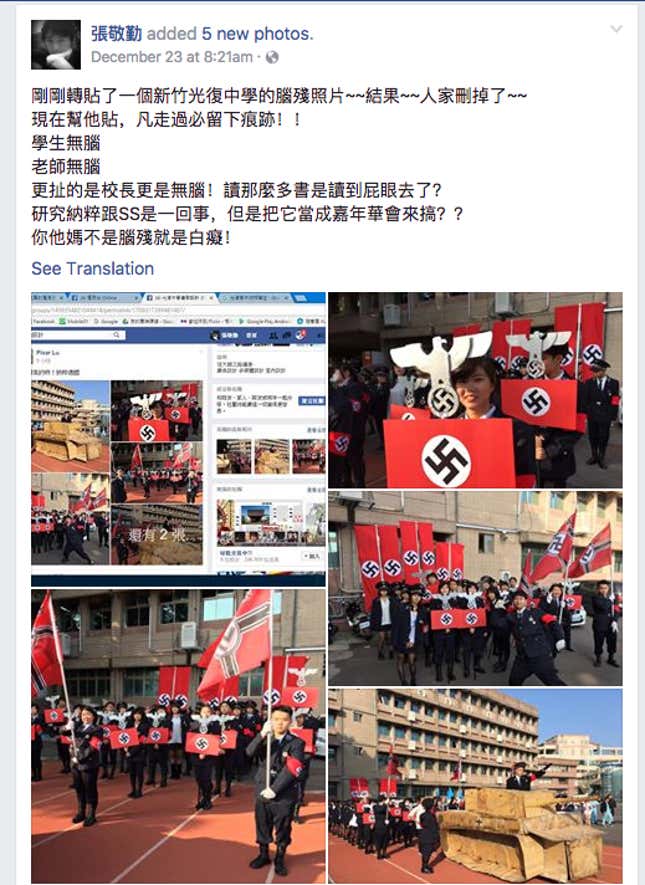 Reports the Taipei Times:
Some students said they thought their creativity would make them the focus of the parade, adding that Hitler being responsible for the death of millions of innocent people had not crossed their minds […] Others said they chose Hitler because they could easily convert their school uniforms into Nazi uniforms by making minor changes, which meets the criteria for a cosplay event.
The Israel Economic and Cultural Office in Taipei called the parade "deplorable," "shocking," and "outrageous," and Taiwan's education minister publicly apologized for the event.
"We made a mistake," said the school's principal Cheng Hsiao-ming, who resigned this weekend over the incident. "I apologize to the victims and the public."