When the US government stepped up enforcement of anti-money laundering rules against Mt. Gox, the world's largest bitcoin exchange, experts recalled a 2009 episode when another online exchange, E-Gold, was shut down for similar violations. Get ready for deja vu all over again: Two of the men convicted in connection with the E-Gold investigation were arrested last week as the Manhattan US Attorney (cooperating with law enforcement in 17 countries) prepared to indict a third digital currency trader, Liberty Reserve.
The Manhattan US Attorney is alleging that Liberty Reserve is a $6 billion money laundering scheme and has been authorized to seize its outstanding funds.
In the indictment, prosecutors call Liberty Reserve "the bank of choice for the criminal underworld." By simply providing an e-mail address, Liberty Reserve customers could convert euros or US dollars into Liberty Reserve Dollars or Liberty Reserve Euros and transfer those funds to other real and digital financial institutions without a paper trail. Prosecutors say the company has moved funds associated with crimes including credit card fraud, identity theft and narcotics trafficking.
A public service warning for criminals and others in the financial industry: the government is capable of monitoring your communications.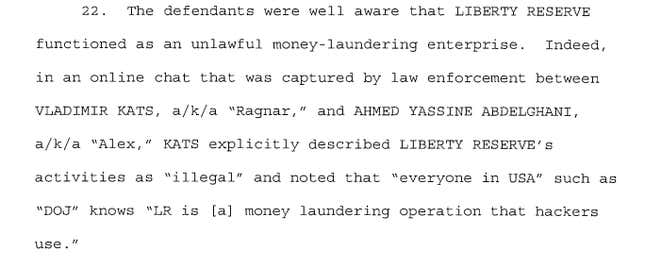 Failing to comply with money transmission rules—which require almost any company that sends money to know their customers and monitor large transactions—is a civil violation. But flouting the rules specifically to facilitate criminal activity is far more serious. No doubt Liberty Reserve account names like "Russia Hackers" will make the prosecutors' task easier. But it's unclear from the indictment whether they have enough incriminating evidence; during the E-Gold prosecution, some criminal charges were eventually dropped.
Liberty Reserve's founder, Arthur Budovsky, was convicted of violating money transmission rules at a company connected to E-Gold in 2006. Prosecutors allege that he sought to build a new underground financial network in Costa Rica, where he went to found the new company almost immediately after his conviction. In 2011, he relinquished his US citizenship in an attempt to avoid legal entanglements there.
When Costa Rican authorities declared his company in violation of money laundering rules in 2011, the entire company went "underground," according to the indictment, creating a computer portal that fed false data to the country's regulators while continuing to move millions through shell companies in Malaysia, Russia, Nigeria, Cyprus, Hong Kong and Australia.
Liberty Reserve was a popular way to exchange bitcoins, but its closure shouldn't affect the spread of the controversial digital currency. Other competitors, including online payments company Dwolla, are licensed to transmit the currency.
The crackdown on Liberty Reserve suggests that governments around the world won't tolerate the use of digital currencies for illicit purposes. But the breathtaking scale of the enterprise shows just how far online money transmission has come.