All around the world, Chinese people are cleaning their houses, shopping for new clothes, and queuing up at banks for crisp notes.
There's much to take care of before the Lunar New Year arrives, as the Chinese follow a number of traditions leading up to and during the new year to help usher in good luck and fortune.
To compile this Chinese New Year checklist, I turned to my 80-year-old grandmother, the matriarch of my family and most knowledgeable person I know about such matters, for advice on how best to prepare for the spring festival.
Clean the house
We saw farewell to the old year by sweeping the dust away and discarding things we don't need anymore. The Chinese also tidy beforehand because they avoid cleaning for at least the first three days of the new year, believing such actions will "sweep" or "wash" away their good luck.
The Cantonese designate the 28th on the last month of the lunar calendar as the day to clean because of the saying 年廿八 洗邋遢 (loosely translated to "On the 28th, clean the dirt"). In 2017, the day of cleaning falls on Jan. 25 on the Gregorian (solar) calendar.
Get a haircut
Just like cleaning one's house, many people will clean themselves by getting their hair cut before Chinese New Year. It's considered very unlucky to get a haircut during the new year. Though Lunar New Year is usually observed for a week, some Chinese people will avoid cutting their hair for at least a month.
Go shopping
New year, new things.
For the Chinese, new shoes and clothes symbolize a new beginning. In my family, we will wear these things after taking a bath on new year's eve. My grandmother also firmly believes people should not buy new shoes during the week of Chinese New Year because shoes ("haai") in Cantonese sound like sighing.
Many people also purchase flowers for the new year since flower blossoms are believed to bring fortune, according to the saying 花開富貴  ("blossom flowers bring wealth"). In China, Hong Kong, and other Asian communities, the new year flower markets usually open a week before the new year and closes after new year's eve. These are some lucky plants that are popular for the new year:
Tangerine tree: Tangerines are considered lucky because they sounds like "luck" in Cantonese.
Pussy willow: The plant, usually sold in stalks, is popular for its yellow and white colors, which represent gold and silver.
Branches of cherry blossoms: The pink flower is believed to help one find love.
Narcissus: The gold-colored flower represents fortune and money.
In general, shopping for the new year also means buying gifts for friends and family, including cookies, apples, tangerines, and pomelos.
Prepare red envelopes
Red envelopes containing money (hong bao in Mandarin and lai si in Cantonese) are given out by married people during the new year. Lai si, which sounds like "good for things" in Cantonese, is believed to bring good luck to the receiver. Many Chinese people will queue up at banks for crisp notes to put in their lai si. It's tradition for people to wait until the seventh day of the new year before opening their lai si. It's also very impolite to open the lai si in front of the giver.
In recent years, apps like WeChat have popularized "virtual hong bao," but my grandma still wraps each lai si up for new year. I also prefer the real thing, keeping her red envelope in my wallet to preserve the blessings.
New year paintings
New year couplets are paired phrases, usually of five or seven Chinese characters expressing blessings, written on red paper in calligraphy. People usually hang the couplets on the side of their doors on new year's eve to replace the ones from the year prior. On the center of the door, many households will have a red sign with the character 福, which means luck or blessing. The sign is often hung upside down because it's thought to help luck arrive ("upside down" in Cantonese sounds like "arrival").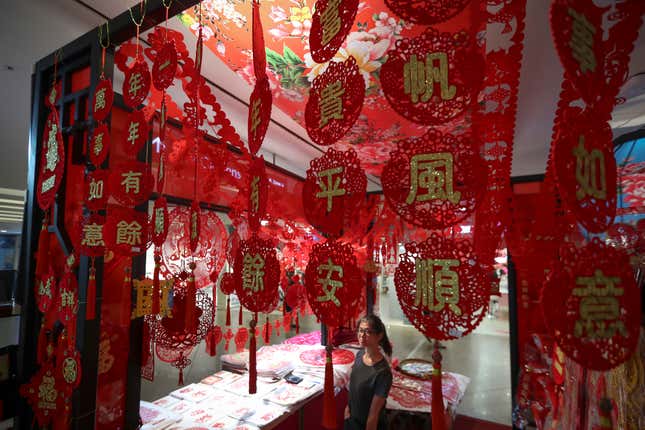 Beside couplets are "door gods," symbols for blessings like health and fortune. The door gods are usually scowling or holding weapons to drive evil away. Some families, however, have opted for more modern symbols, such as the female and male cartoon figures of the zodiac for that year (in 2018, that's the dog).
Light incense
My grandma never seemed particularly religious to me, but on every new year's eve, she lights up incense to worship our ancestors. Before the new year's eve feast, our family would hold joss sticks and pray for a better, more healthy new year.
Prepare a feast
The dinner on new year's eve, also known as a reunion dinner, is one of the most important feasts of the year.
Fish and chicken are found on virtually every dinner table because of what they symbolize: In Cantonese, fish sounds like "well off," and chicken sounds like luck. Both the fish and chicken are served whole. The fish should not be picked clean, however, as leftover fish represents a surplus at the end of the year. Here are other popular (and symbolic) dishes served during the new year.
Stay up late
Families will stay up until the clock hits midnight to welcome the new year and say goodbye to the old one.
Good blessings
You'll hear many repeated phrases during the new year, said to friends, family, and even strangers to wish them wealth, health, high grades, and other good things. Some common expressions include:
恭喜發財, gung hei fat choy, which means "wish you more wealth"
身體健康, san tai gin hong, which means "wish you good health"
學業進步, hok jip zeon bou, which means "make improvements on your study"
萬事如意, maan si jyu ji, which means "everything goes well as you wish"
大吉大利, dai gat dai lei, which means "great luck and fortune"
步步高升, bo bo go sing, which means "rise step by step" (suggesting promotions ahead)
鴻運當頭, hung wan dong tau, which means "great luck lands on one's head"