Museums across the US are offering refuge for those who want to temporarily block out or process the reality of Donald Trump's presidency on inauguration day.
Many institutions are offering free or pay-what-you-wish admission on Friday and several are transforming their galleries to agoras for political expression. In New York City, the Whitney Museum will offer artists, writers and activists a stage to release their agony and idealism. The museum is also hosting a participatory discussion about identity, immigration, race, and democracy, drawing inspiration from the museum's contemporary art collection to kindle dialogues. The Brooklyn Museum will host a daylong reading of Langston Hughes's 1935 poem "Let America Be America Again."
The Baltimore Museum of Art is hosting a "nonpartisan" event—with readings, tours and performances. The museum is at pains to stress the nondiscriminatory nature of their programming. "We want everyone to know the BMA is a safe haven for the city during a time of change," said the museum's director Christopher Bedford in a press statement.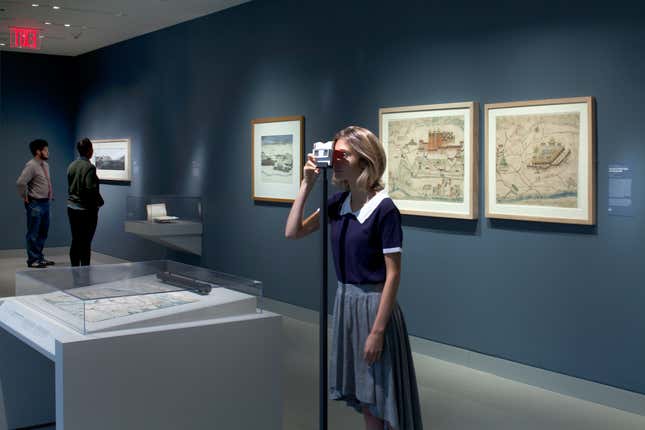 The Rubin Museum has designed an inauguration-themed event to allay the psyche. Using wrathful deities in their collection of Himalayan art, guides will help visitors explore the themes of fear and vigilance. "Especially during times of political division, our art can provide insight on themes like the search for wisdom, interdependence, and compassionate action," explains Patrick Sears, the museum's executive director. "Our role is to serve our visitors and greater community by providing access to our art and serving as a place of contemplation." The Rubin is also hosting a meditation and yoga workshop aptly called "Swear In, Breathe Out."
Except for the National Museum of the American Indian which will be closed because of its proximity to the inauguration stage, all Smithsonian museums in Washington, DC will be open during inauguration day. The newest museum on the mall, the National Museum of African American Art and Culture, will be the venue for CODEPINK's Peace Ball, a bacchanal for many groups Trump has insulted and marginalized.
The museums' special programming on inauguration day follows the spirit of J20 Art Strike, a petition from a group of artists to reject the "normalization of Trumpism" on Jan. 20. Though some galleries have interpreted the call literally and are shutting down for the day, Princeton University professor and J20 signatory Hal Foster explains that the strike is actually a non-prescriptive call for action. "The idea was to use the term 'strike' for its rhetorical force," clarifies Foster. "They [museums and galleries] can close, reprogram, open for free, host different events related to the political crisis—it's a very broad call." The point is "business should not proceed as usual in any realm," as their call-to-action states. 
Over 740 artists and critics including art world darlings Richard Serra and Cindy Sherman are joining the so-called "act of non-compliance" on inauguration day. The Queens Museum's galleries will be closed on Jan 20, but the New York borough museum where Trump was born, invites the public to come in and participate in "Sign of the Times," an afternoon of making posters, banners, and buttons in preparation for upcoming protest marches and actions. Expert silkscreen printers will be on hand to teach participants about production techniques.