Thousands of Americans arrived in Washington, D.C. today to watch the inauguration of Donald Trump as 45th president of the United States. On the way to the National Mall, they were met by protestors representing a wide range of issues, from environmental issues and racial injustice, to the rights of women and African Americans.
Interactions between crowds were mostly peaceful, but police and protestors clashed in one neighborhood, and over 90 people were arrested.  A tense mood has dominated the nation's capital this week.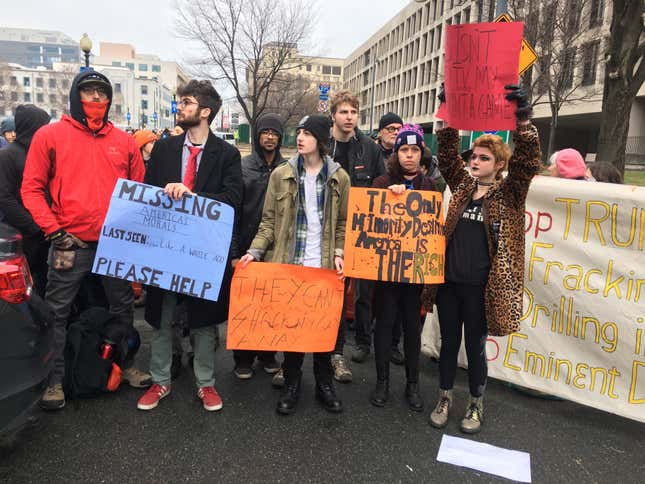 At a police checkpoint by the Judiciary Square metro station for ticketed inauguration attendees, a few blocks away from the Mall, crowds of Trump supporters and protesters converged. As inauguration attendees poured out of the station throughout the morning, the escalators stopped intermittently under their weight. They were met with protesters chanting, "Say it loud, say it clear, immigrants are welcome here."
"We are the popular vote," chanted another group nearby.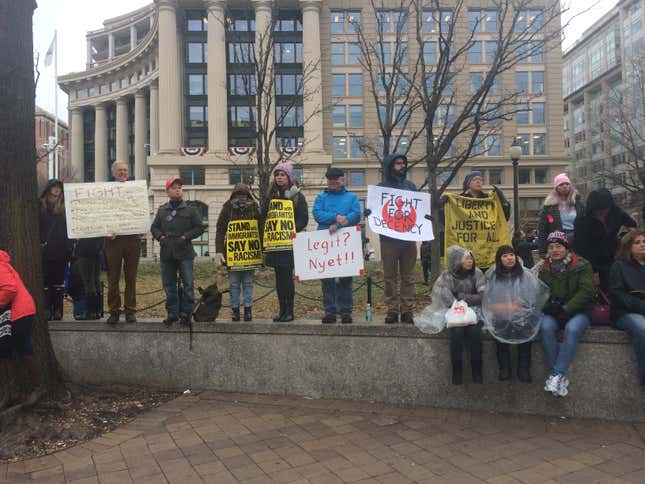 The protesters in Washington, D.C., today had varying agendas: Some said they want to block access to the inauguration. Others, wearing teal tape on their arms, called themselves "de-escalators" and said they were assisting ticketed attendees get to the right place. On Pennsylvania Avenue, near the National Archives Building and steps away from the Mall, hundreds were gathered, carrying signs and occasionally chanting "F-ck Trump." "[Trump] is going to do whatever makes him the most money," said Ethan, a paralegal carrying a sign that said "Golden rule, not golden showers." He did not want to give his last name.
Several protesters expressed frustration over Trump's ties to Russia, and allegations that the country influenced the elections. Brian, a computer engineer from Northern Virginia who declined to give his last name, is a lifelong Republican but described Trump as "under the influence of Russia," and called the circumstances of the election "unprecedented." "I'm on the other side, I can't believe that I am here," he said. "I don't foresee him lasting longer than a few months."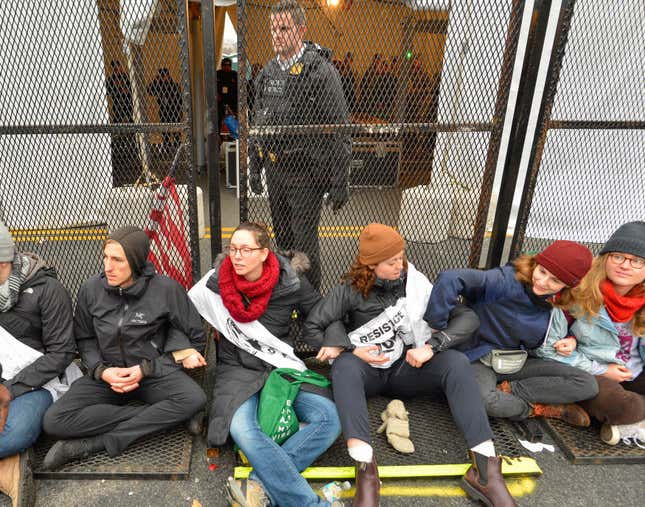 Neither did Amber, who was in D.C. with her husband from New Hampshire, where they own a hospitality business. She also declined to give her last name. "The person we have in the Oval Office is under the influence of a foreign power," she said.  "Hopefully he'll get impeached."
Fouad Zeton, a Syrian businessman from New Orleans and Trump supporter, said he hoped that Trump would push for an end to Russian intervention in Syria, where a civil war is dragging into its sixth year. "Putin will respect Trump, he did not respect Obama," Zeton said.
Another Trump supporter, who did not want to identify himself but said he had moved to the US from the Phillippines almost 50 years ago, said Trump would "give confidence to America, insurance that we are on the right track and taking care of the US before anything else." He added that he flew in to watch the inauguration from California on the same plane as four women planning to attend the Women's March on Washington planned for Saturday. "They can protest, but I think their agenda isn't mine; I think their number one priority is abortion and I am pro-life," he said.
On K and 13th street, several blocks from the National Mall, police and protestors clashed, as protesters were arrested for "destroying property," acting police chief Peter Newsham told local news stations. Protestors chanting "no trump, no KKK, no fascist USA" were pushed back by a line of police, who set off stun grenades and sprayed pepper spray to disperse them.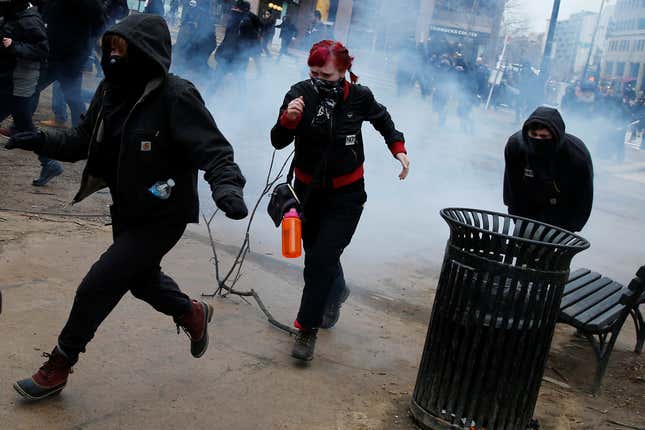 Not all interactions were tense. Some groups even engaged in some friendly banter, chatting and laughing. "He had the Democrat against him, the Republican against him, and he still won!" one person said. "Because of the Russians!" came the response. "Oh quit it with the Russians, all they did was hack some emails; I love that."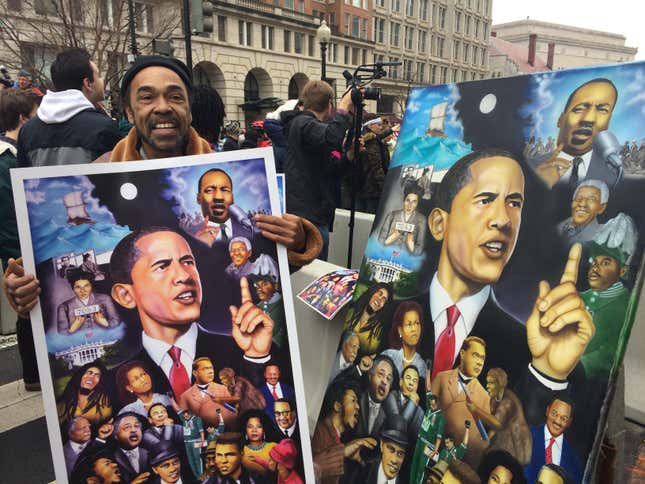 At noon, as Trump was sworn in, many people were still on line, watching the proceedings on a livestream under intermittent rain as they waited to get into the Mall. Chants of "USA! USA!" could be heard, interspersed with the national anthem and excited supporters shouting, "He's in, he's in!"
Protestor Terry Wilson, from Indianapolis, Indiana, carried a painting titled "Forward we march.". "I'm here to see my Barack Obama get out of office, and see what America is turning into," Wilson said. "Judging from this, it'll be a mess, but I am used to struggle, because I am black. Now half of America is going to see what it feels like."