Updated at 4:00pm ET with White House comment on the freeze.
On his first full day in office, US president Donald Trump announced a hiring freeze for the executive branch—outside of military personnel, national security, and public safety positions—and pledged to reduce the size of the federal government through workforce attrition. The federal government is the largest employer in the US, and the executive branch employs nearly 2.1 million civilians. Many are white-collar professionals, and the move seems designed to appeal to Trump voters rather than insure improvements in the US job situation as a whole.
Unions and veterans groups say the federal hiring freeze would make the government less efficient, and make it harder for the US military personnel to find jobs when they leave the service. (About a third of all federal hires are military veterans, although if they're working security positions, for example, they may not be affected).
The freeze could also take off the table thousands of well-paying jobs for US citizens with higher education and specific skills.
Listed on the Federal jobs website as of Jan. 24, for example, were nearly 800 nursing positions, many of them for the Department of Veterans Affairs and the Department of Health and Human Services (and therefore outside the exception for military jobs), which pay anywhere from $40,000 to over $90,000 for experienced nurses who would be managing large departments. While Trump said on the campaign trail that jobs that affect "public health" would not be included, his memorandum does not make that exception.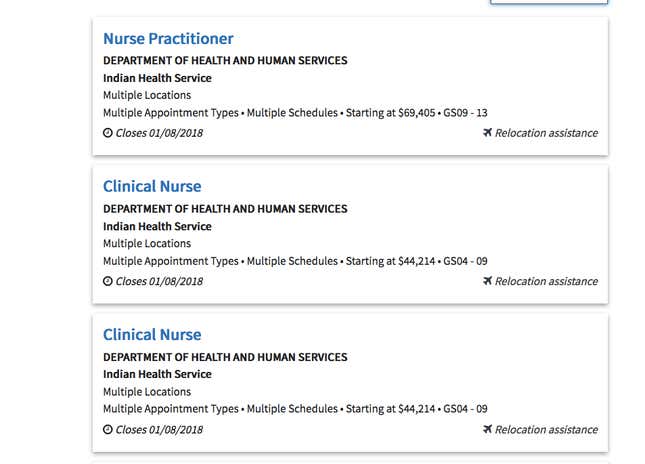 The hiring freeze includes VA jobs, White House spokesman Sean Spicer confirmed today (Jan. 24) during a briefing. "Hiring people when you have a system that is not working doesn't seem to be the most efficient way to solve the problem," he said.
Also listed are more than 60 civil engineering jobs, many of them with the Federal Highway Administration, that pay from $40,000 for recent graduates to over $90,000 for experienced engineers. A freeze on hiring highway engineering jobs as the administration is trying to rebuild the US's infrastructure could be counter-productive.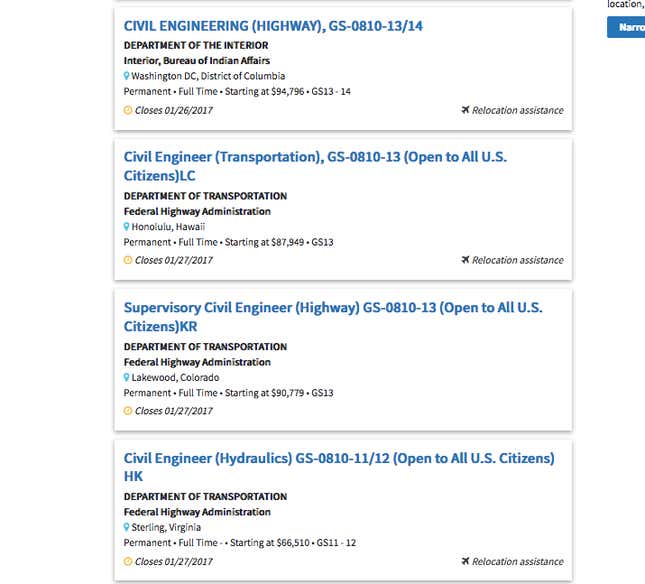 Along with 265 information technology positions (some of those are in the legislative branch or the Army and therefore would not be subject to the executive order), the jobs site list dozens openings for computer scientists, with salaries ranging from about $80,000 to $130,000, and for biologists and natural resource scientists with the Department of Agriculture and the Department of Commerce's National Oceanic and Atmospheric Administration, whose future is in doubt.
Federal hiring freezes have been imposed in the past, including by presidents Jimmy Carter and Ronald Reagan. But there's little hard evidence they have value. A 1982 report by the US's General Accounting Office found that "government-wide hiring freezes have not been an effective means of controlling Federal employment," and, while they provide an "illusion of control" on spending, they can disrupt agency operations and, in some cases, increase costs.
White House press secretary Sean Spicer said the hiring freeze is to counter a "dramatic expansion" of US government workers in recent years. While there was a slight uptick in federal workers overall (including military) as a percentage of overall workers in the early years of the Barack Obama administration, as US companies struggled with the global financial crisis, overall this percentage has been dropping for decades, as Quartz reported earlier.
By raw numbers, civilians in the executive branch dropped significantly in the past few years: