Facebook has bet big on personalization—as part of a March 2013 news feed overall, CEO Mark Zuckerberg said his intention was "to give everybody in the world their very own personalized newspaper.
By last year, Facebook had clearly accomplished just that. A Pew survey in May found that 66% of American Facebook users and 44% of all US adults got their news on the site. And during the US presidential election in November, Facebook ranked behind only Fox News and CNN as the "main source" of news for voters.
Today Facebook has a different message: "Trending," a collection of popular news topics that the social network curates for users, is about to get depersonalized.
Facebook on Wednesday announced three changes to the trending section. First, an article headline and publisher name will now appear below each trending topic. Second, Facebook will factor into its algorithm the number of news sites publishing about a topic, making it tougher for a single viral post to appear there. Third, where trending topics have traditionally been tailored to each person's interests, everyone in the same region will now see the same topics.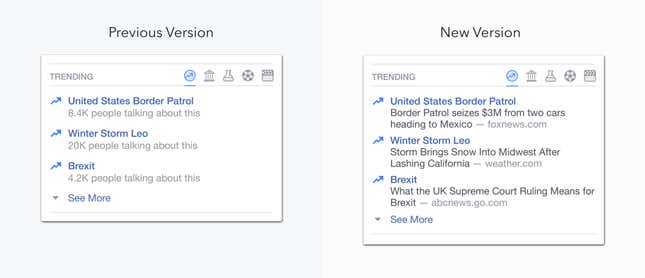 The changes are the first Facebook has made to trending since August, when the company laid off the section's entire editorial team in favor of making it more automated. That overhaul was seen as an effort to eliminate human bias after Gizmodo reported that the trending team had routinely suppressed conservative news. This time, the tweaks seem designed to counter claims that Facebook is an incubator for "filter bubbles" and "fake news." The company has been criticized for spreading hoaxes and misinformation, and for fostering echo chambers by favoring content that reinforces users' existing views. Last month, Facebook outlined other steps it is taking to combat fake news.
Facebook said today's changes aren't a direct response to criticism of its platform, but rather that personalization hadn't been working for trending, which is meant to show a sampling of what's popular on Facebook at any given moment. Still, the company acknowledged that depersonalizing the section is a directional change for a platform that has long leaned toward increasing, rather than decreasing, customization for its users.
The updates to trending began appearing today and will be available to all US users in coming weeks. The company is scheduled to report earnings for its fourth quarter on Feb. 1.