You've probably seen some of the weird anime "drawings" of celebrities—including of Beyoncé, Mark Zuckerberg, and Donald Trump—flooding social media in recent weeks. The images come courtesy of a new "hand-drawn" feature introduced this month in Meitu, a popular Chinese app for selfies and photo-editing.
Though criticized for its handling of user data, the app has enjoyed a surge in popularity in the West since the feature's introduction. That's good news for the company behind it, Xiamen Meitu Technology, which went public in Hong Kong last month and hopes it has a global hit on its hands, having already enjoyed major success in China.
Two things to keep in mind about Meitu: First, it has better uses than making Trump adorable. Second, while it does offer many useful features, no single app can meet all the needs of die-hard selfie enthusiasts.
China is known for its obsession with selfie apps that make it look as if you've just had plastic surgery. Meitu is just one of them. There are so many others used in China, including ones made in Japan and South Korea, that it can quickly become bewildering.
With that in mind, I asked the most dedicated selfie-takers among my Chinese friends to recommend their must-have apps, and tested them out myself. To be sure, these apps can't compete with the all-purpose photo-editing apps that are the mobile equivalents of Photoshop. But they are free, handy, and fun to use—and they can easily make your snaps stand out on your social media feeds.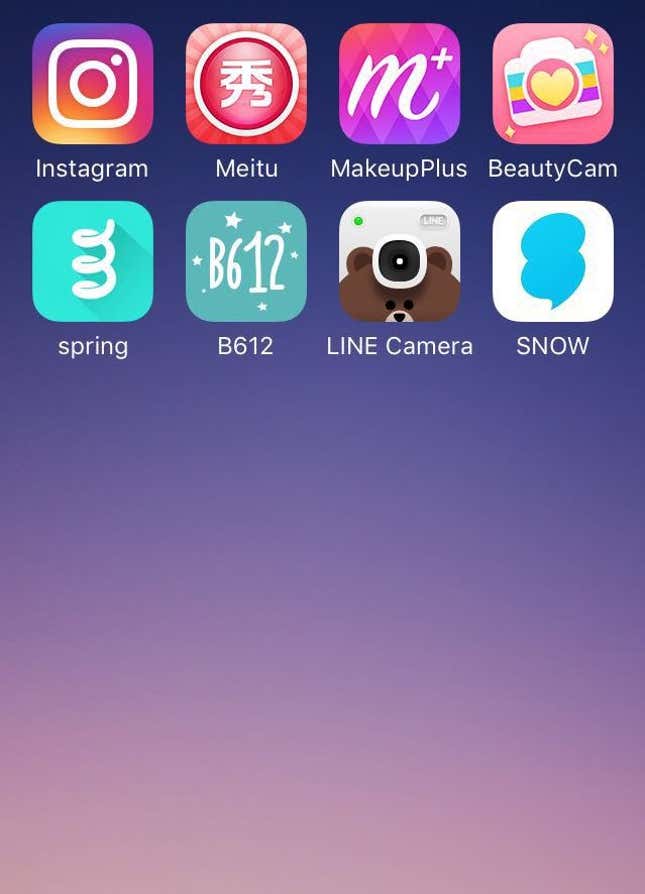 Meitu
Meitu (iOS/Android) is, first of all, a photo editor for basic tasks such as cropping, collage-making, and exposure correction. It also offers a great selection of filters for food, portraits, scenery, and other objects. Of course, you can turn yourself into an anime character (or the stuff of nightmares) with the new "hand-drawn" feature, but the essence of the app is to make plastic surgery happen—without the pain or expense of actual surgery.
The app's "retouch" feature helps you get rid of acne, wrinkles, and dark circles, and makes your face slimmer, skin whiter, and eyes bigger. Many such enhancements can be done at once with a single press of a button. See what Meitu did to me: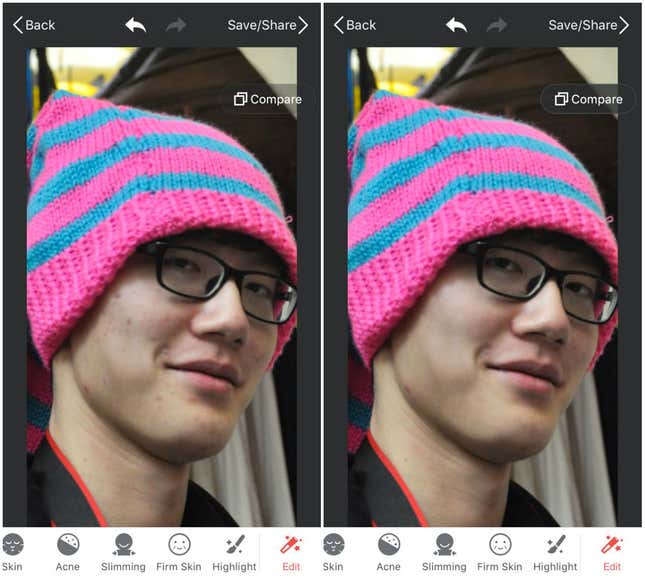 If you want to devote more time to perfecting your face, the effort will pay off. The so-called "awl-shaped face" is a new beauty trend in China, so I made myself one with a few swipes: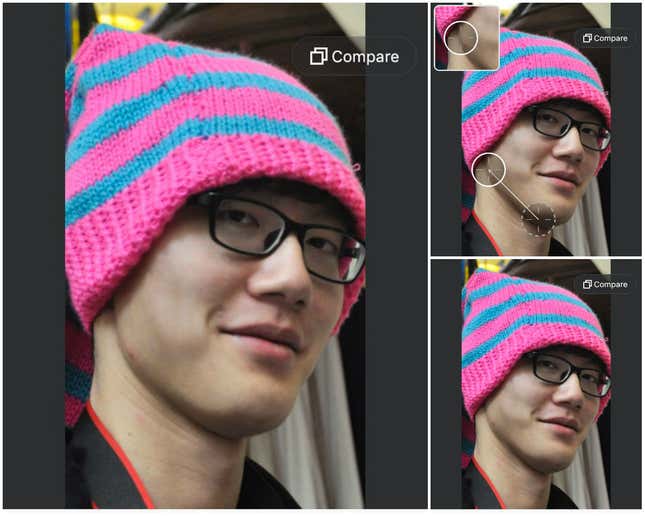 MakeupPlus
MakeupPlus (iOS/Android) is also developed by Xiamen Meitu Technology. As the name suggests, it can turn your bare face into one with makeup.
The app offers two major features. One lets you wear a full face of makeup in real-time when you turn on your camera, so that you can check out your look before taking a shot. You can choose from dozens of types of makeup bundled in themes such as "Exotic" and "Daily Chic."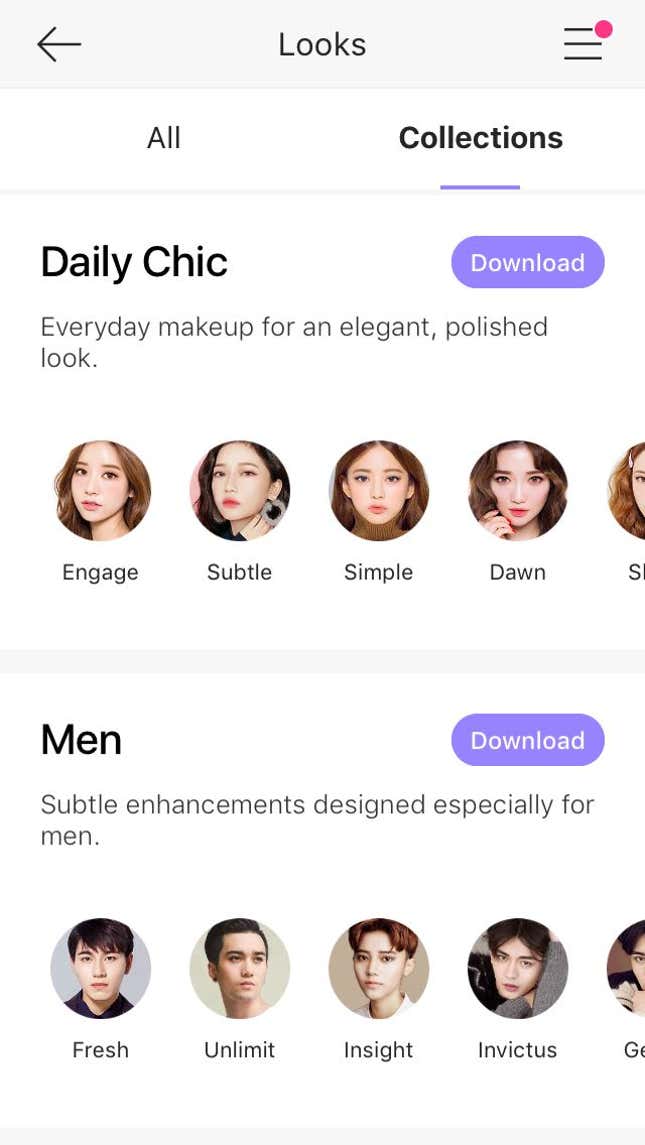 The other feature allows you to put on makeup—step by step—using a photo from your camera roll. There's a wide range of choices when it comes to foundation, lipstick, blush, eyeshadow, and even hair dye.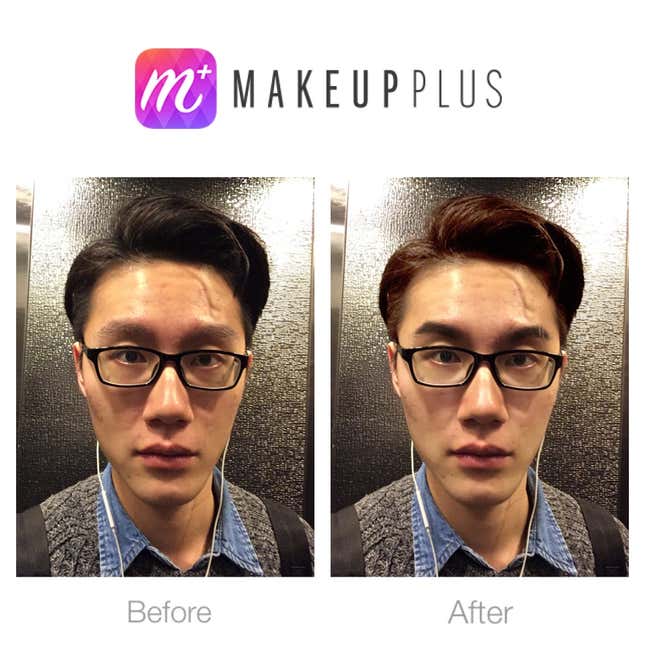 Xiamen Meitu offers another option for selfie-enhancing called BeautyCam (iOS/Android). Sharing some features with Meitu and MakeupPlus, it aims to automatically perfect your face in every photo you take.
Spring
Use Spring (iOS/Android) if you crave longer legs, a slimmer silhouette, or a head that's sized just right in proportion to your body. Actually these are the only three functions the app has. Korean developer Lee Kwon Su launched the body-altering tool in 2014, inspired by his ex-girlfriend (link in Chinese) always asking him to stretch her legs in Photoshop.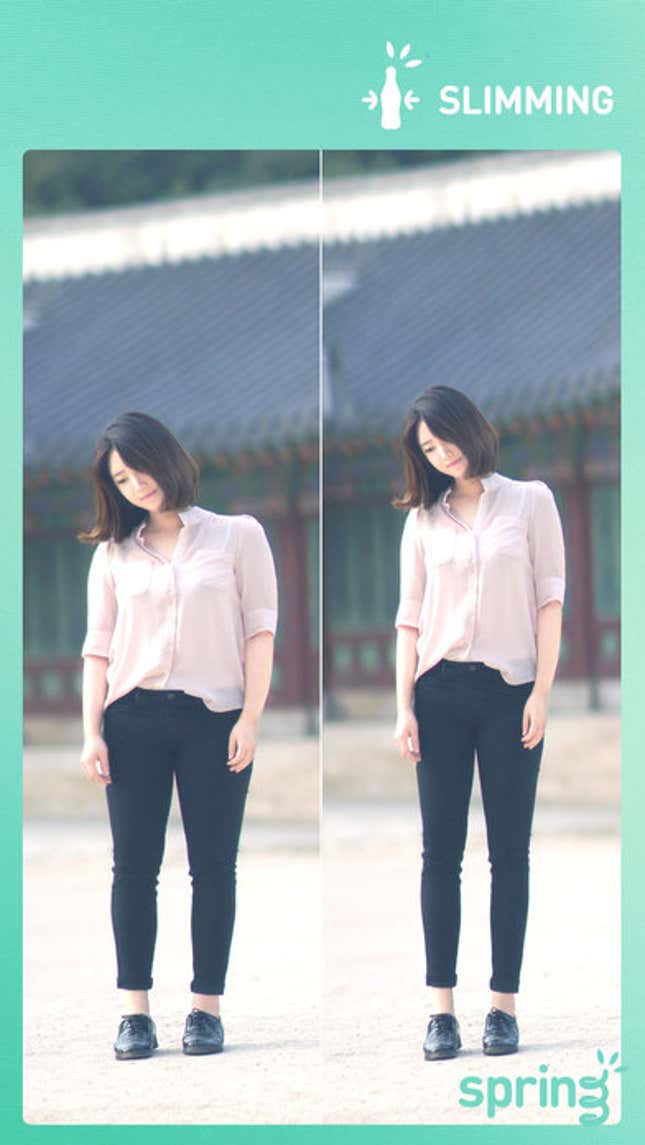 Meitu has since borrowed the idea of body slimming and stretching for its own app, but Spring's offering is still easier to use. More importantly, I found its head-resizing function useful for my annoyingly big head.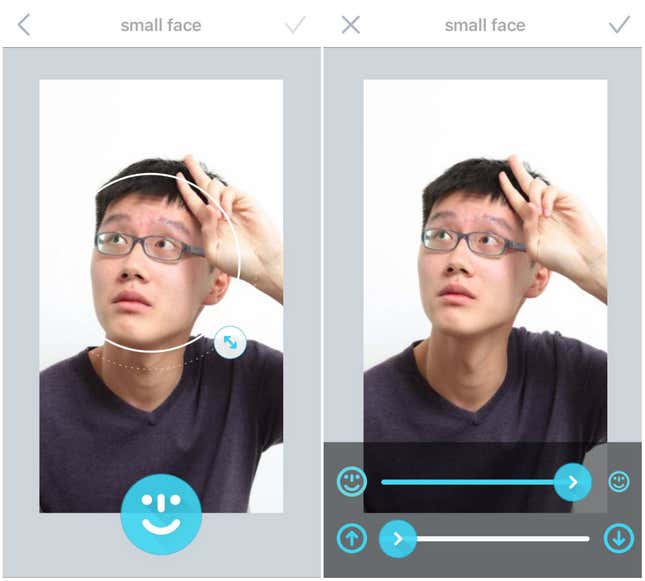 B612
If you are not looking for any facial or body enhancements, then B612 (iOS/Android) is for you. The photo app, named after a planet from the novella Little Prince, is owned by Japan's Line Corp. Although Line, the popular chat app, is blocked in China, B612 has made big headway in the selfie-addicted country.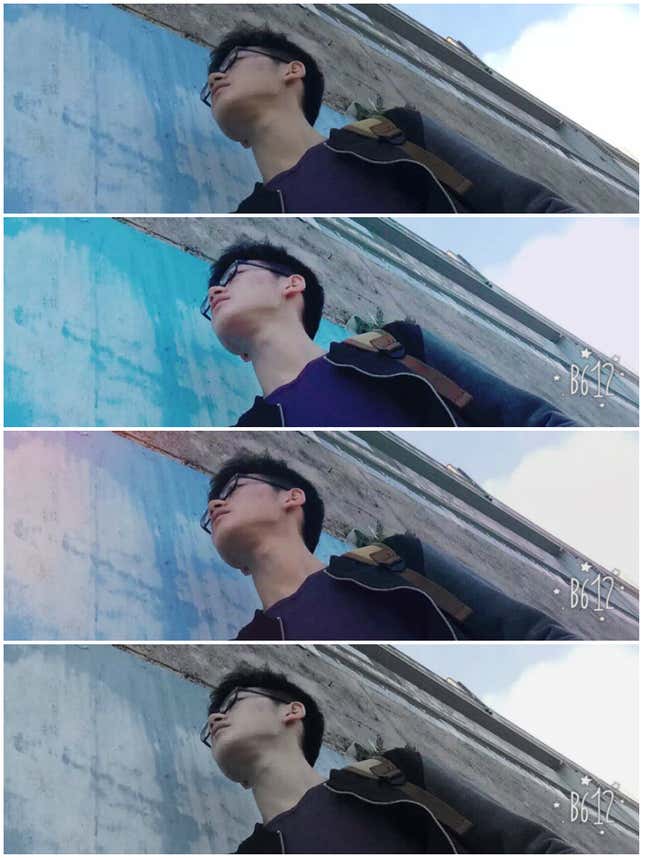 B612 has a clean interface that takes you no time to get familiar with. It provides more than 100 filters that look quite different from the ones on Instagram. Equally abundant are animated stickers—ranging from bunny ears to chicken heads—that you can play around with.
Speaking of stickers, Line's bevy of cuddly characters has turned another photo app, Line Camera (iOS/Android), into a hit in China. Users can play around with stickers of Brown the bear, Cony the bunny, and other cute "Line Friends" when editing photos in the app. Here's a common scenario of using these stickers: When your friends are not satisfied with their looks in a group selfie, you can just cover their faces with bears and bunnies, and post the photo on your social feed anyway, just like this: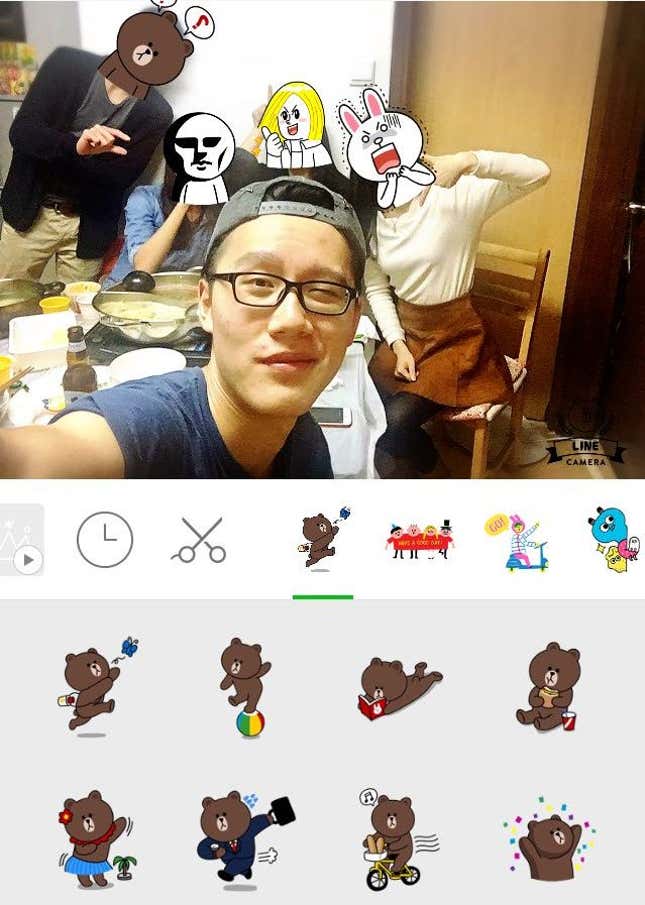 Snow
Snow (iOS/Android) is a Korean photo- and video-sharing app similar in concept (and interface) to Snapchat. It offers many of the same photo-editing features, including adding emojis, text, and drawings to your shots, and allows your friends to view your video messages only once.
If you decide to focus on the weird side of this app, it won't let you down. Many of its filters are just disturbingly fun.