China is dumping more electronic waste per year than any other country around it, but when it comes to e-waste per capita, Hong Kong takes the cake.
Electronic waste in east and southeast Asia rose by nearly 63% in the five-year period between 2010 and 2015, according to the United Nations University's E-waste monitor, which sampled 11 countries. Overall, the region dumped 12.3 million metric tons (13.6 million US tons) of electronics—TVs, computers, mobile phones, refrigerators, etc.–in 2015 alone, courtesy of its "increasingly affluent population that demands the latest gadgets and appliances."
The biggest culprit, by far, was China: At 6.7 million metric tons (7.4 million US), it generated the most electronic waste by far in 2015.
China's e-waste output more than doubled during the five-year period studied, a time frame during which its population grew to 1.38 billion from 1.34 billion. China is the world's largest consumer of computers and mobile phones, so it stands to reason that it would dump more electronics than its neighbors.
Things are a little different in Hong Kong. At 7.2 million, its population is nearly 200 times smaller than China's. Yet in 2015, people in Hong Kong generated an average of 21.7 kilograms (about 48 lbs) of e-waste each. That's higher than any other country in the region, a dubious honor Hong Kong has held since at least 2009.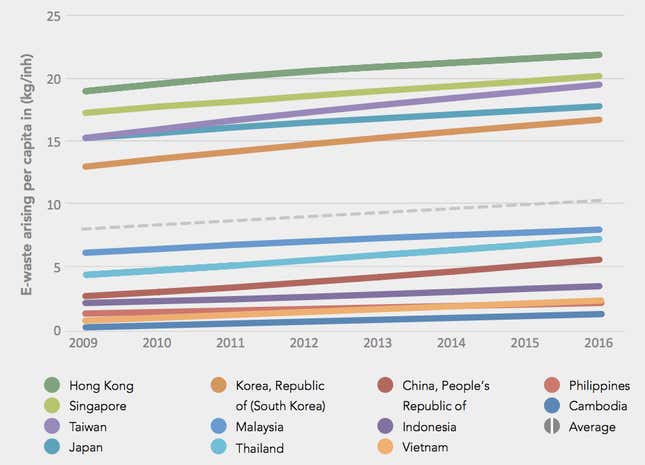 Hong Kong does love its gadgets: According to the World Bank, there are more than two mobile phones for every person in the country. But that affinity has stretched Hong Kong's landfills to the limit; all of them are expected to be full by 2019.
Nor is the problem really local. Since 1970, Hong Kong's Waste Disposal Ordinance has prohibited the import and export of hazardous waste (including electronics) without explicit permission from the local government. But one investigation (pdf) concluded that more than 18% of the United States' electronic waste is ending up in Hong Kong, which the study labeled "the global center for e-waste importation." Wrote the authors of the study, "Hong Kong authorities appear to have not been diligently enforcing against such imports and subsequent toxic recycling operations, despite clear signs of illegal importation, damaging pollution, and illegal labor practices."
Short of asking everyone to keep their electronic trash in their own country thankyouverymuch, Hong Kong can't fix its e-waste problem without recycling. Right now, the territory's recycling market is mostly compromised of informal individual collectors, many of whom actually use "open burning" to dispose of electronic goods or "backyard acid baths" to recover gold, silver, palladium, and copper. None of these techniques are much improvement, environmentally speaking, over dumping old phones and TVs into landfills.
There are some voluntary drives to promote reusing and recycling electronic goods, but unlike in Japan, South Korea, and Taiwan—each of which has had a device collection and recycling system in place since the 1990s—Hong Kong doesn't have any formal legislation on the books. In fact, it only recently started building its first integrated recycling facility.