In 1951, political theorist Hannah Arendt published The Origins of Totalitarianism. The tome traces the rise of two 20th-century totalitarian governments—Nazi Germany and Stalinist Russia—to their roots in colonial imperialism, World War I, and decades of anti-Semitism. As of today, it is out of stock on Amazon.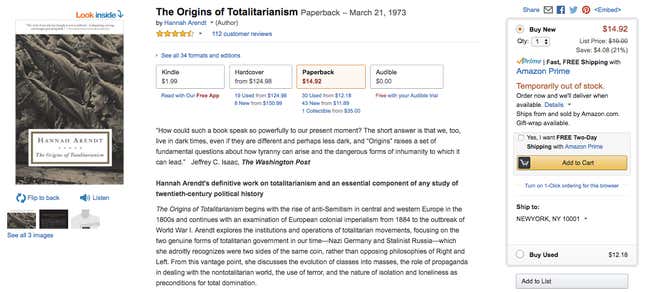 The Origins of Totalitarianism is one of several seminal works on tyranny and oppression that have recently gained popularity among readers. George Orwell's 1984 shot to the top of Amazon's bestselling books list this past week and continued to occupy the no. 1 slot on Sunday. "Crimestop," "reality control," and other key concepts of Orwell's dystopia seem suddenly and eerily real in the current political climate of "post-truth" and "alternative facts."
It Can't Happen Here, a 1935 novel by Sinclair Lewis about a fascist takeover of the US, ranks fourth among Amazon's best-sellers. A review in the New York Times by historian Beverly Gage earlier this month called it "the classic novel that predicted Trump."
What Americans read around different presidential inaugurations provides an interesting window into the national preoccupations of the time. When John F. Kennedy was inaugurated in 1961, critiques of consumerism and upper-class society topped The New York Times' bestselling nonfiction lists. Ahead of Ronald Reagan's first term, Carl Sagan's Cosmos and a book on investing during a crisis led the list.