Under Armour is mostly a brand for jocks. The company started in 1996 with founder Kevin Plank making sweat-wicking shirts that football players could wear under their pads. In the 20 years since, it has grown into a $4.8 billion business selling products in more than 60 countries around the world.
Still, most of its products are performance apparel, and the buff mannequins at the company's retail stores suggest a muscle-bound clientele. Even the brand's signature sneakers for NBA star Stephen Curry have had trouble crossing over to a non-athletic audience.
The company has seen galloping growth, doubling its sales every three years since it went public in 2005. But today the brand's stock price took its biggest tumble in nine years on news that its sales forecast for 2017 came in lower than analysts' estimates—coupled with poor last-quarter results and a leadership shuffle. The company is expecting sales to grow just 12 percent this year, to nearly $5.4 billion.
The drop in valuation in itself may not be that alarming—Under Armour is arguably overvalued compared to its peers. Still, it's a wake-up call: The company must accept that it can't rely solely on its performance wear. The sportswear landscape is shifting, and customers no longer want athletic clothes just for working out. They want stylish athleisure—clothes fashionable enough that they can also wear them out to a movie or dinner.
If Under Armour is to compete with brands such as Nike and Adidas, that's one area where it needs to do better. "We need to become more fashionable with the products we have out there," Plank admitted on a call with investors today, looking back on its tough end to 2016.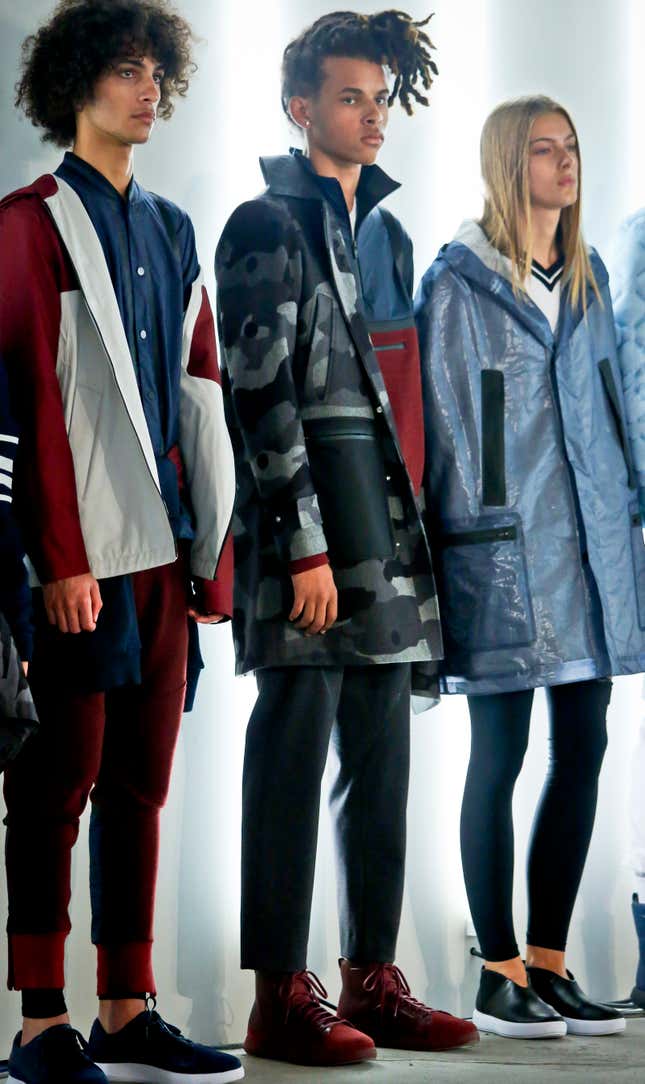 If UA can truly crack athleisure, there's potential for huge rewards. Sportswear is currently outpacing sales in the global apparel industry, but what's really driving growth is sports-inspired clothing. Adidas has recently nailed this mix of sport and fashion, and enjoyed an impressive streak of sales throughout 2016.
Under Armour, however, is still figuring it out. The company has been investing in expanding its lifestyle offering for years, and recently upped its commitment through a fashion-centric line with New York designer Tim Coppens in the second half of 2016. But it hasn't done it well enough to make up for the dip in sales its core product—performance apparel—recently suffered.
The company had delivered sales growth above 20% for 26 straight quarters, but in the last quarter of 2016, sales grew only 12% overall, and just 6% in North America, Under Armour's biggest market. (International sales, though strong last year, are just 15% of the company's business.) The company's stock took a major hit this morning from investors who saw it as an end to the UA's runaway growth streak, putting shares down a full quarter at the market open.
Part of the reaction from Wall Street is due to the fact that Under Armour's valuation is seriously bloated (paywall). Its shares cost more than 40 times its projected earnings over the next 12 months, making it far more expensive than its peers. Any hint that the Under Armour cash cow is sick sends investors into a panic. But Under Armour also announced the departure "for personal reasons" of CFO Chip Molloy, who was only on the job for a year—not a reassuring sign.
Plank said the company is fully aware of where it needs to focus in the year ahead. Its budding sneaker business grew 50% to top $1 billion for the first time last year, and international sales were strong in China and Europe. The company will invest more in those businesses, and in its direct-to-consumer channels, especially e-commerce, as the retail industry's upheaval continues. (The recent bankruptcies of big sports retailers, such as Sports Authority, have also hurt Under Armour's sales.)
"But we need to become more fashion," Plank also said. "The consumer wants it all." That consumer may still sometimes work out like a jock—but he (or she) wants to look good doing it.