It is unclear how often the "Women's Council" that US president Donald J. Trump and Canadian prime minster Justin Trudeau started on Feb. 13 will meet, or what, specifically, it will do, although Trump said it aims to "ensure that our economy is a place where women can work and thrive."
What is clear is that Ivanka Trump is involved.
Ivanka sat in between Trudeau, who spoke about the "significant barriers that exist" for women in leadership roles, and Dawn Farrell, the CEO of electricity company TransAlta and a 30-year veteran of the energy industry.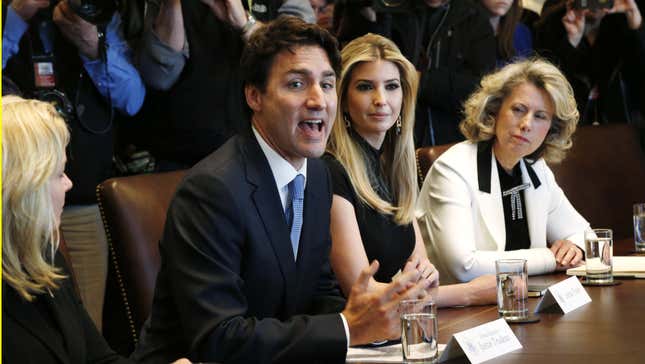 Later, she tweeted a photo of herself between the two leaders, apparently from the Oval Office:
But her presence on Monday highlights, yet again, the Trump family's conflicts of interest and how specious Ivanka's women's empowerment agenda really is.
As an executive in the Trump Organization, Ivanka was a key decision maker, responsible for acquisitions and design, Forbes reported in 2013. She led the purchase of the Doral Resort & Spa in Miami, and the renovation of Trump International Hotel in Washington, D.C., which has become one of the family's most glaring conflicts.
Though she has no official role in the White House, Ivanka pledged to separate herself from the Trump Organization, and her own business, but she was still listed as the manager on several golf clubs and resorts in early February, ProPublica reported. And her father took to Twitter last week to decry Nordstrom's decision to stop carrying her clothing line, while his employee even gave the line a "free commercial" from the White House.
While Ivanka claimed in September that the Trump Organization's hotels offer their employees all paid maternity leave, that is not true, The Huffington Post reported.
Employees at the Trump SoHo, New York and Miami hotels, as well as the Mar-a-Lago Club in Florida, all said that they do not offer workers paid maternity leave. Instead, they said that the company complied with the Family and Medical Leave Act, a federal law that requires companies to give employees up to 12 weeks of unpaid time off for the adoption or birth of a child.
The company that designs the Ivanka Trump clothing line, G-III Apparel Group, doesn't offer paid maternity leave, the Washington Post reported in August. Ivanka's own company does offer paid maternity leave, but only after employees fought for it, her former marketing manager claims.
So far, Ivanka's influence hasn't inspired her father to do more for women than offer round tables and photo ops. Trump's cabinet is overwhelmingly white and male, with fewer women and minorities than the cabinets of Barack Obama, George W. Bush, Bill Clinton, or George H.W. Bush. Trump's attorney general voted against funding women-owned businesses and opposed widening domestic violence protection.
But Trump does have a policy to offer women, reportedly thanks to Ivanka.
Trump made a campaign promise to give women six weeks of paid maternity leave as part of a late attempt to attract more women. He wound up successful in getting 52% of white female voters.
Since he took office, Trump has rolled out sweeping executive orders and memorandums on everything from crime to immigration, claiming that he's just keeping his promises—but there's been nothing on new mothers getting paid time off of work.