Uber last week debuted a new "vehicle solution" for drivers in the Boston area: renting by the hour through Zipcar. The rates start at $12 per hour and drivers also pay a monthly Zipcar membership fee of $7.
The good news? Those rates include unlimited mileage, gas, and insurance. The bad? Since the typical Uber driver in Boston makes about $20 an hour, per Uber's own data, the most anyone could reasonably expect to make from this arrangement is $8 an hour. In Massachusetts, that's well below the $11 minimum wage.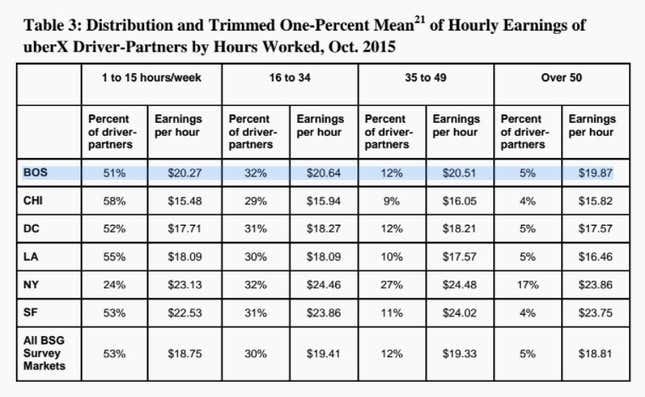 Minimum-wage protections, of course, don't apply to Uber's drivers; the company classifies them as independent contractors, not traditional employees. But it's still striking that you could reliably earn $3 more an hour working in a local McDonald's than by using a Zipcar rental to drive for Uber.
Keep in mind that for a typical driver, that's the best-case scenario. Less fortunate participants could get hit with a bunch of other fees, which Zipcar buries at the bottom of its online FAQ. There's a "late return fee" (starting at $50 an hour), a "low gas fee" ($30 if you return a vehicle with less than a quarter of a tank), and a "tickets/violation processing fee" ($30 on top of any tickets or moving violations received while using the car). The insurance Zipcar provides also carries a $2,000 deductible paid by the driver, so accidents aren't cheap.
For now, the trial is very small—just 10 designated Zipcars—and being marketed by both companies as an easy way to try out driving for Uber. There's also no money changing hands between Uber and Zipcar yet. "This unlocks the opportunity for Zipcar to offer a new use-case for its vehicles and lowers the barrier for prospective Uber drivers to try out the service," Zipcar spokeswoman Lindsay Wester told Quartz in an email. Uber, for its part, admitted to Quartz that you might not make that much money through the Zipcar "solution," but said flexibility is the real point of the arrangement.
Driving for Uber: You can't have it all.