Couples eager to join the mile-high club can pay for membership.
Flamingo Air, a small airline and flight school based in Cincinnati, Ohio, offers couples the chance to get busy in the back of a single-engine Piper Cherokee 6 as it soars over southern Ohio, exactly one mile up in the air.
Where does the flight go? "Who cares?" said Flamingo Air's president David MacDonald.
The cost is $475 and the plane comes equipped with large cushions, and MacDonald said couples can "get creative."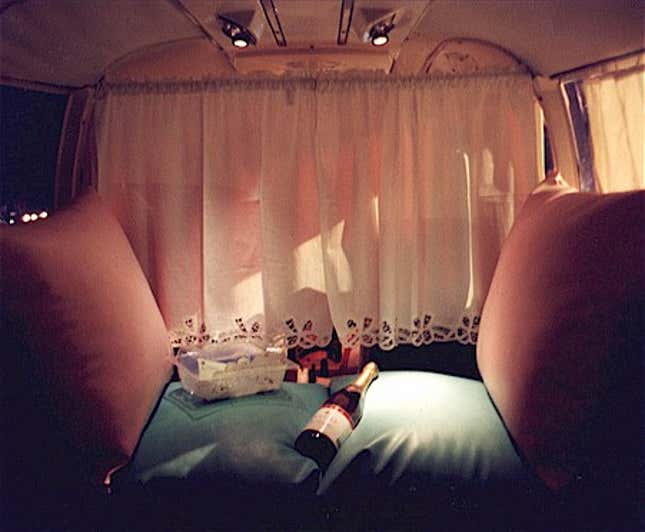 The week of Valentine's Day is the busiest time of year, MacDonald said; on some days, there are 10 flights booked. "Father's Day is a pretty big one as well, as is Mother's Day."
Passengers are often married couples looking to rekindle the romance in their relationship. MacDonald said his company also works with a few religious groups that offer couples' therapy for worshippers.
The plane seats seven people plus a pilot, but while MacDonald said the airline has hosted a few threesomes, beyond that number it can get cramped and "awkward."
Planes won't take off if there is inclement weather or significant turbulence—but a few bumps here and there can be fun, MacDonald said. Under federal law, passengers must wear seat belts for taxiing, takeoff, and landing but once the plane has leveled off, the pilot—separated from the lovebirds by a curtain—has discretionary power to tell them they're free to move about the cabin.
Flamingo Air isn't the only US company offering these sorts of flights. In Las Vegas, couples are flocking to Love Cloud, which prides itself on the wholesomeness of business.
"I've even saved some marriages," said president and founder Andy Johnson. Passengers are generally adults over the age of 35, Johnson said. "It's not a brothel in the sky."
Love Cloud charges $800 for a 30-minute ride on a twin mattress in a twin-engine Cessna 421. For $200 more, you can fly for an hour and for $1,400 you get 90 minutes in the sky. Pilots wear noise-cancelling headphones. The route takes a scenic tour around Red Rock Canyon and the Hoover Dam. The company has about 20 flights booked for this week Valentine's Day week—four times more than a typical week of the year.
Most of the flights are booked by women, both companies said.
Both MacDonald and Johnson also made sure to note that they carefully scrub the cabin and upholstery after each flight.
"My plane is cleaner than most hotel rooms on the [Las Vegas] Strip," said Johnson.