Havana, Cuba
Smoke rises overhead, the plumes from marinated chicken sizzling on a blackened grill. A group of teenaged boys torments girls passing by, and a life-sized Mickey Mouse strolls hand in hand with a blonde child. The ground is littered with tattered cardboard boxes, dry bits of fried rice stuck in their corners. If it weren't for the signs proclaiming the joy of literacy, it might be hard to guess this is Cuba's annual book fair.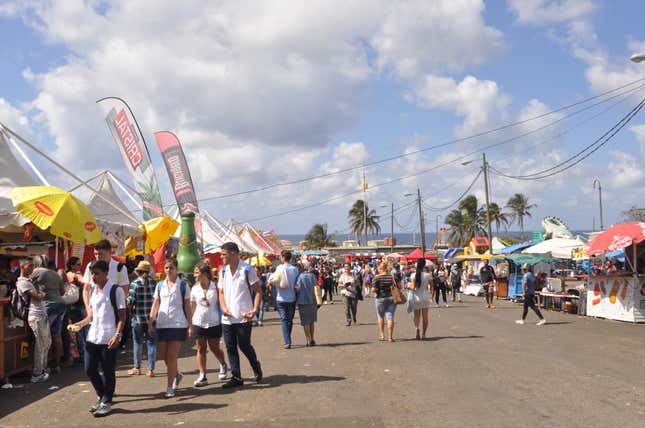 The Havana International Book Fair is now in its 26th year, and it is a massive event. So far, this year's edition has drawn 350,000 attendees. By the fair's end on Feb. 19, organizers expect half a million people to have turned up over ten days. The annual fair has all the usual talks, readings, and stacks of literature. But unlike fairs in Frankfurt, London, Guadalajara, and Beijing, which are held in high-ceilinged expo halls and sprawling conference complexes, the Havana Book Fair's festive tenor has made it one of the nation's most celebrated cultural affairs, a destination for fiction as well as fried chicken.
The taxi drivers I encountered in Havana had a lot to say about the book fair and knew precisely how to take me there—my query, it turned out, was the equivalent of walking up to a person in downtown Manhattan and asking, "Please, have you heard of 'Broadway'?"
Cuba has a nearly 100% literacy rate. But for a city of about 2 million, a turnout of 500,000 people, even over 10 days, is a lot. In New York's one-day Brooklyn Book Fair in September, about 40,000 came out to the stalls and talks. At Frankfurt, the world's largest trade book fair, a combined 400,000 people from the book industry and general public attended last year.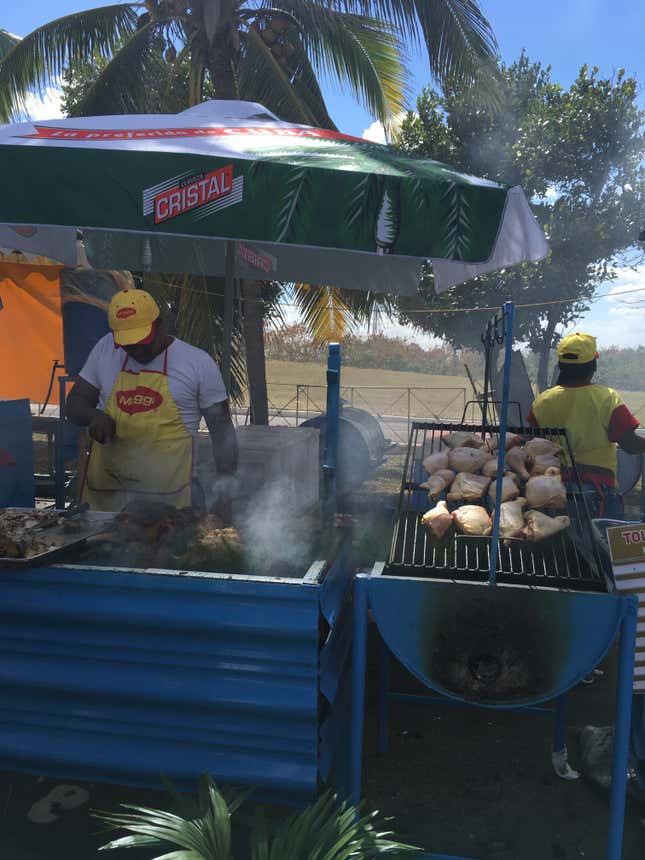 Despite this year's theme, "Reading is growing," the event is about much more than books. The Cuban Ministry of Culture, which organizes the event, has made it into a massive carnival, complete with water rides, a Smurfs-themed bounce house, cotton candy, and mountains of hot food. The item that seemed most popular were laminated posters. Kids clutched their parents' hands, Lionel Messi or Pikachu rolled up tight in plastic bags.
Since 2000, the fair has been held at Fortaleza de San Carlos de la Cabaña and Castillo de los Tres Santos Reyes Magnos del Morro, known popularly as La Cabaña and El Morro. Together the 18th-century fort and 16th-century castle at the eastern end of Havana's harbor constitute a formidable complex that once made Havana one of the most well fortified cities in the region. Along with the old city, they're also a UNESCO world heritage site, a big draw for fair-goers, says Edel Morales, vice president of the Havana Book Fair organizing committee.
"The idea is that the fair should be a place for the Cuban family," he says.
Morales, also a writer, downplays the role of the food and rides at the event, and emphasizes the 700 Cuban books and Cuban editions of foreign books released for the first time at the fair this year. To participate, foreign and domestic publishers are required to present the books they want to officially show to the committee. Besides literary merit, the only other requirement is that the books be available at affordable prices in Cuban currency (Cuba has two: the peso and the convertible peso), says Morales. A title at the fair typically costs about 3 Cuban convertible peso (CUC), or $3, more than a mojito or a pack of cigarettes.
Last year for the first time, the fair's foreign publishers included representatives from the US, after former president Barack Obama restored diplomatic relations between the two countries in 2015. But independent news site CubaNet reports (link in Spanish) that foreign publishers' prices can be a problem for fairgoers.
Books brought to the Cuban market run the gamut—child psychology, self-help, kids' books, history, fiction, and poetry. Among this year's popular literary loot were books by Margaret Atwood, who stopped by the fair with Canada's delegation. The Star of the Sea, a historical novel about the Irish famine by Irish novelist Joseph O'Connor, was also popular, assisted perhaps by Irish president Michael Higgins's visit to Havana this week. Higgins met with president Raúl Castro and debuted the Cuban edition of the book.
Books about Fidel Castro are perennial favorites, says Morales.
Of course, books and ideas don't just fly from outside publishers into Cuba, which has one of the least free presses in the world. Works by critics of Cuba and Castro often aren't available, as well as beloved fiction from around the world which the government says it can't afford to license. Cuban journalist Roberto Jesús Quiñones Haces writes (link in Spanish) that titles like William Faulkner's The Sound and the Fury, Robert Musil's The Man without Qualities have never been published in Cuba, and writers like Albert Camus and Jorge Luis Borges are virtually unheard of.
They don't seem missed; the atmosphere at the fair in the mid-afternoon 30-degree Celsius heat, is jubilant. Sugary fountain soda in hand, fair-goers rest in the shadows of the fort's walls, their gazes drawn to coloring books and cannon balls.
Feli Sánchez contributed translation.