Spare bedrooms just aren't cutting it anymore for Airbnb.
The home-and-room rental site this week announced it is buying Luxury Retreats, a Montreal-based site for luxury vacation homes with a concierge service. The deal is worth between $200 million and $300 million, a person familiar with the agreement told Quartz.
Luxury Retreats lists some 4,000 properties in 100 destinations worldwide, a drop in the bucket for eight-year-old Airbnb, which has 3 million listings in more than 65,000 cities. But what Luxury Retreats lacks in volume, it makes up for in price point.
For $80,000 a night, 33 of your closest friends can crash like a billionaire on Necker Island, which was developed by Richard Branson. All meals are included for guests in the nine houses at the 74-acre British Virgin Islands retreat.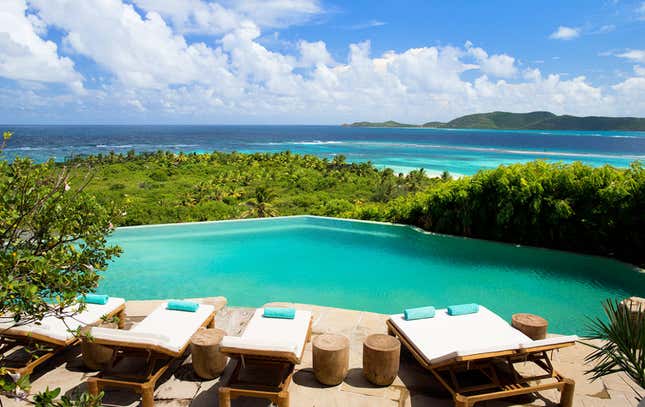 For those traveling on more of a shoestring budget, Luxury Retreats also lists a 32,000-square-foot five-bedroom house in St. Barthélemy in the Caribbean. The house overlooks Lorient Bay, and fetches a $3,571 a night during the off season and up to $15,714 a night from mid-December to mid-January, always with a seven-night minimum. (Pool maintenance is included.) There's also a seven-bedroom farmhouse outside of the Tuscan village of San Casciano that goes for $837 to $1,141 a night with a seven-night minimum.
Some of Luxury Retreats' properties offer services like nightly turn-down service and welcome dinners, making the deal a significant shift for Airbnb, which has made money by standing on the sidelines while thousands of hosts and guests exchange little more than a few emails and a key.
Airbnb said Luxury Retreats will continue to operate as a standalone company for now, meaning guests will need to sign up for the two services separately.
The acquisition further cements Airbnb's new identity as a full-service travel agency, a pivot that seems increasingly important as its core product faces legal challenges. The company has been on an expansion spree as its valuation rose to over $30 billion. Last year, corporate travel agencies American Express Global Business Travel, BCD Travel, and Carlson Wagonlit Travel started offering Airbnb listings to business travelers. In November, it unveiled Trips, its marketplace for everything outside of lodging: day trips hosted by locals, audio walking tours, and restaurant and concert-ticket booking. It also plans to start offering flight-booking on its site and has already teamed up with airline loyalty programs.
Airbnb isn't alone in its quest for well-heeled travelers; even traditional competitors are getting into the game. Accor Hotels announced last week that it is acquiring luxury home rental company Travel Keys, which has 5,000 properties in 100 destinations.