For most expats living in China, ride-hailing has become tougher since Uber quit the market last August.
The company that bought Uber's China unit, Didi Chuxing, removed some key features of the Uber app about three months later: the English-language interface, the option to pay with foreign credit cards, and the ability to work in other countries. As Chinese apps including Didi's tend to not offer services in other languages, most foreigners have essentially been left out of the local ride-sharing market for the past four months.
Now Didi is finally introducing an English-language interface—not for the Uber China app, which it still runs, but for its own app. On Feb. 18, Shanghai-based expat Mathieu Bouchara reported that he was getting an English version of Didi after updating the app on his Android phone. Bouchara detailed his user experience in his blog (link in French), and posted screenshots of the new English interface: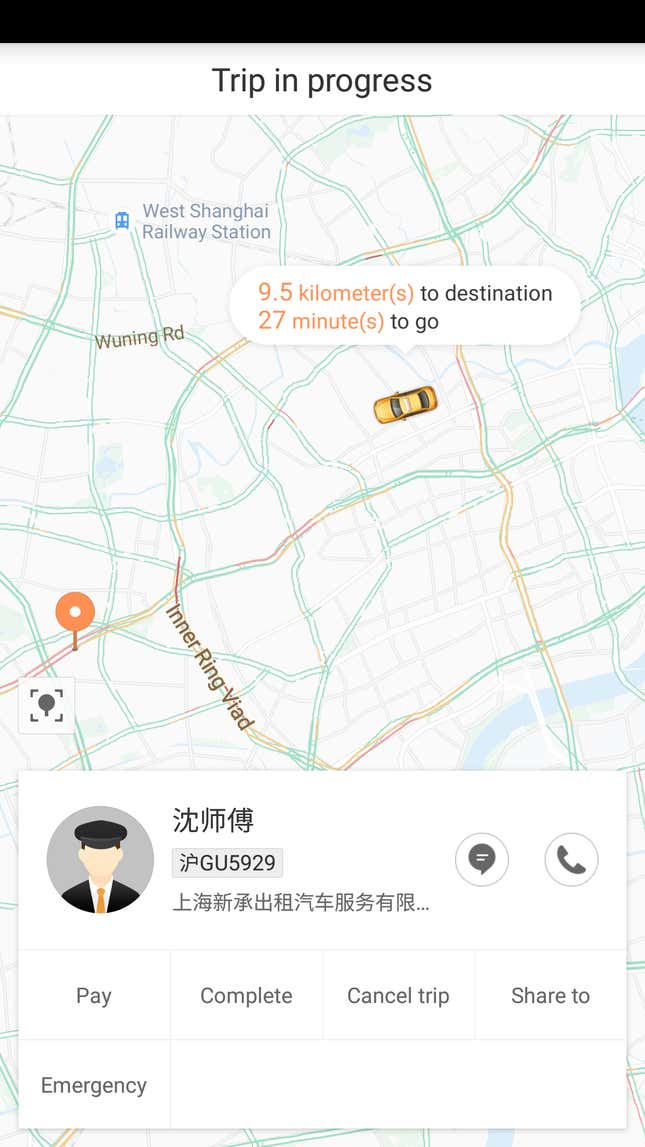 "Not everything is translated yet but most of the interface is," he explained in an email to Quartz. "I guess it will help a lot of expats whom don't speak or read Chinese." He said the app automatically reverted to the Chinese interface this morning (Feb. 21) after he had used the English version for three days. The English version is likely enabled as a beta test for selected users only, he added.
A Didi spokesperson didn't comment on the nature of the app's English version when contacted by Quartz, but said the company is "working on international and multilingual services for broader communities."
Michael Wester, a columnist for the lifestyle blog the Beijinger, said that the English interface will be officially launched in the spring or summer of this year, citing unidentified sources. Didi has offered the option to pay via international credit cards since an earlier update.
Last week, Didi announced that it had set up an international business division, and made "exploring new models for internationalization" one of its top priorities for 2017. Aside from its takeover of Uber's China business, Didi also owns a stake in every major ride-hailing company on the globe, including Ola, Grab, Lyft, and Uber's global unit.
As a result of these investments, Didi users from mainland China can use the app to grab a cab with the equivalent local service when they are traveling abroad. Of course if the company wants foreigners to use the Didi app in their own countries, that could prove difficult considering the already saturated ride-sharing markets in the US, India, and elsewhere.