United Airlines and American Airlines started selling seats today for their least-sexy class of service.
Basic economy is large airlines' version of the type of service found on ultra-low cost carriers like Spirit Airlines and Frontier Airlines. In exchange for a low fare, passengers who opt for basic economy forgo such perks as choosing their own seat, the possibility of an upgrade and perhaps most notably, access to overhead bins. Basic economy passengers also board last.
Do you understand what you're getting into? The airlines want to be, absolutely, positively, 100% sure you do. Before passengers can complete the purchase, they'll see a dedicated a screen with a column full of  red "X"s next to all the perks passengers will not get in basic economy. American Airlines asks passengers, "are you sure?" After acceptance of the new fare on the airline's website, the American again reminds passengers of the drawbacks of basic economy and offers one last chance for travelers to pay up for regular economy.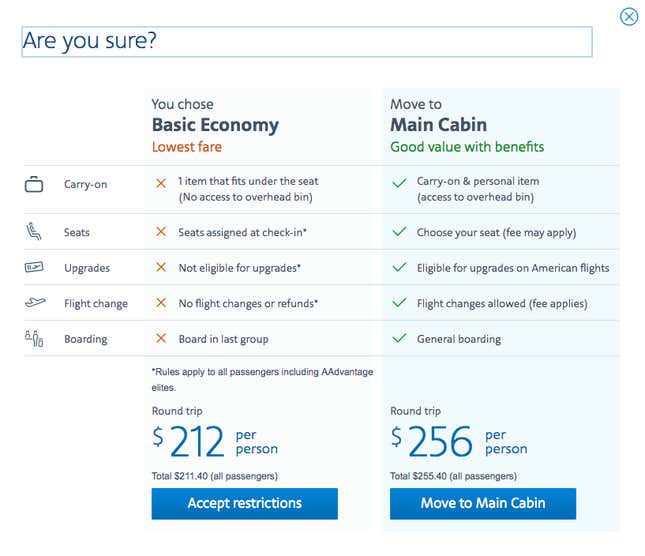 How good is the basic economy deal? A roundtrip ticket on United from Minneapolis-St. Paul to San Francisco in May goes for $370 for basic economy and $465 for regular economy. (United's basic economy service starts April 18). A basic economy ticket between Philadelphia and Miami on American, which starts that class of service next month, was listed as $212, while the regular economy fare was $256 for early March travel.
The tickets may be cheaper, but passengers have to factor in baggage fees, which run $25 a bag, since they won't have overhead bin access. In fact, so confusing have fare classes and their myriad add-on fees become that airfare tracking app Hopper on Tuesday unveiled a new feature, called Fare Bear that spells out all of the hidden costs in tickets.
But if trading overhead bin space for a cheaper fare is worth it, embrace it. Here are some tips:
One word: layers. Wear as many of your travel clothes as possible so your carryon fits under your only permitted storage space, the seat in front of you.
Exercise at the gate. You'll board and head to the inevitable middle-seat last so why not do a few chaturangas while you wait for the call of Zone 5.
Some regular economy passengers may find themselves suddenly smug that they're not in the lowest class of service on the flight. Ignore them. They're needier than you.
Meditate. You were probably planning on doing this anyway if you're traveling in coach.
One other critical piece of information. If you're a frequent flyer, you won't be relegated to basic economy, thus you will still be eligible for the onboard scramble for space in the overhead bins. American, United, and Delta, which also offers basic economy but with bin access, told Quartz that passengers buying tickets with miles won't receive a basic economy ticket, even if they're cashing in the fewest number of miles possible.