Barcelona, Spain
Annoying pauses in your streaming movies are going to become less common, thanks to a new trick Netflix is rolling out. It's using artificial intelligence techniques to analyze each shot in a video and compress it without affecting the image quality, thus reducing the amount of data it uses. The new encoding method is aimed at the growing contingent of viewers in emerging economies who watch video on phones and tablets.
"We're allergic to rebuffering," said Todd Yellin, a vice president of innovation at Netflix. "No one wants to be interrupted in the middle of Bojack Horseman or Stranger Things."
Yellin hopes the new system, called Dynamic Optimizer, will keep those Netflix binges free of interruption when it's introduced sometime in the next "couple of months." He was demonstrating the system's results at "Netflix House," a mansion in the hills overlooking Barcelona that the company has outfitted for the Mobile World Congress trade show.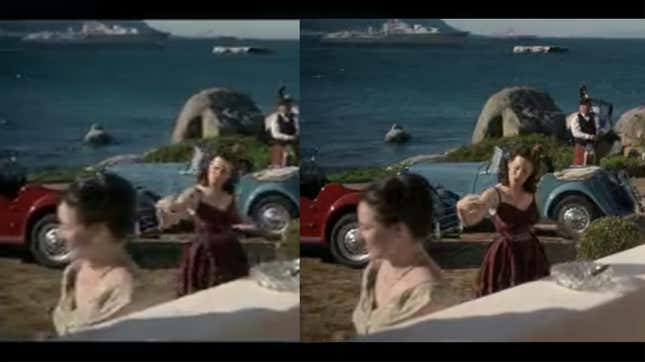 In one case, the image quality from a 555 kilobits per second (kbps) stream looked identical to one on a data link with half the bandwidth. In another case, a Stranger Things stream appeared patchy and distorted on a 100 kbps stream; with Dynamic Optimizer, its quality improved dramatically.
Yellin said Netflix customers in India, Japan, and South Korea watch Netflix on phones and tablets more frequently than on televisions. Their genre of choice, he says: TV dramas. "It's portable, it's like bringing that book you love and carrying it with you everywhere."
The Dynamic Optimizer is the result of a collaboration between Netflix, the University of Southern California, and the University of Nantes. Hundreds of thousands of shots were shown to hundreds of viewers, who rated each shot's various qualities. The results were used to train an algorithm to detect the quality of an image.
That's far more granular than the usual method for encoding online video, which is to compress it all uniformly for a particular connection speed. That means a video for a low-bandwidth connection, which is highly compressed, may have grainy and pixellated images.
Instead, matching the level of compression to a scene's content—for instance, a colorful fight scene from a Marvel action movie gets more bandwidth than the simple animations from Bojack Horseman—can reduce the stream's size while preserving its quality. "We can now optimize [a stream] scene by scene with an almost infinite matrix of possibilities," said Ioannis Katsavounidis, a senior research scientist on Netflix's video algorithms team.
Netflix chief executive Reed Hastings talked up the importance of mobile video in his keynote speech at Mobile World Congress yesterday. The improved compression algorithms will free up capacity on carriers' networks, which will improve Netflix's relationship with them.  "I watched The Crown on mobile, and it was incredible," he said on stage. "When I told the writer Peter Morgan about that, he was aghast."