American Express has unveiled new travel perks for holders of its popular Platinum Card, including $200 worth of Uber rides a year. The catch? The annual fee is now $550, up from $450, the first fee increase on the Platinum card in a decade. Existing card members' annual fee will take effect on their renewal date on or after Sept. 1.
The new benefits, which start March 30, will surely give credit-card perk obsessives something to think about. American Express is increasing the number of airport lounges it operates, and Platinum Card holders will be able to earn five times the number of reward points when the card is used to book hotels and airfare through the AmEx travel site. The company even redesigned the once-plastic card in stainless steel and put the numbers on the back to give it a sleeker look… if you're into that sort of thing.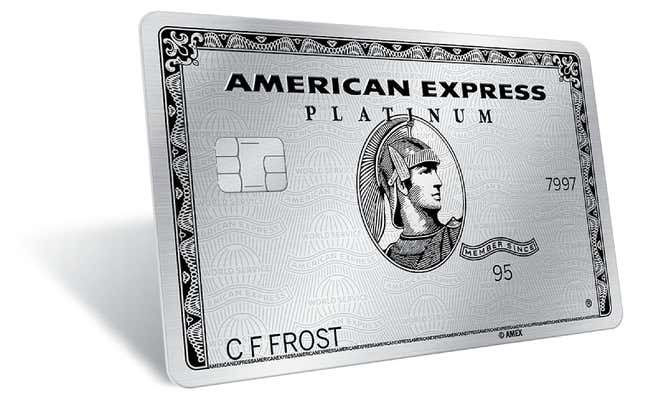 As banks and credit-card companies face cutthroat competition in the world of premium (read: high-fee) cards, American Express is hoping to lure new consumers while hanging onto the ones it already has.
In doing so, the company will have to come up with benefits that are alluring, but not too alluring. The frenzy over Chase's Sapphire Reserve card ($450 annual fee) was so intense that the bank took a $200 million to $300 million hit on its fourth-quarter earnings. Earlier this year, Chase said it would halve the 100,000-point sign-up bonus, worth about $1,500, that it had extended to customers who spent $4,000 in the first three months.
Likewise, American Express has to make sure that "what we bring is sustainable," says Janey Whiteside, who heads AmEx's credit-card benefits department.
Here's how the revamped Platinum Card stands against its competitors: