It's been a heady few months for Israeli social mapping startup Waze. In January Apple was reportedly courting it with a $500 million offer (Corrected: we originally wrote "billion"); last month it was Facebook, for $1 billion. Now Google is planning to offer $1.3 billion, sources have told Globes, an Israeli newspaper.
Neither Google nor Waze would confirm the bid, Globes says. And observers have had reason to doubt acquisition stories out of Israel lately: as well as the collapse of previous bids for Waze, a Pepsico bid for Sodastream was recently reported, then hotly denied. But the search giant's interest in Waze was first reported two weeks ago, and it would make a certain sense.
On the face of it, the purchase for what is effectively a not very big social network looks expensive. Waze is said to have around 50 million users, more than double what it had a year ago; Tumblr, which Yahoo acquired last month for $1.1 billion, has 114 million blogs and more than 300 million monthly visitors and is growing at a roughly similar pace.
Moreover, Google, which is apparently willing to pay a good deal more for Waze than either Apple or Facebook were—and, unlike Facebook, is willing to let Waze keep most of its staff in Israel—isn't getting nearly as much for its money. The Israeli app offers mapping, navigation and traffic reports based on automated data from its users' phones; so does Google Maps. The main difference is that Waze users can actively contribute reports of traffic jams, police checkpoints, roadworks and so on.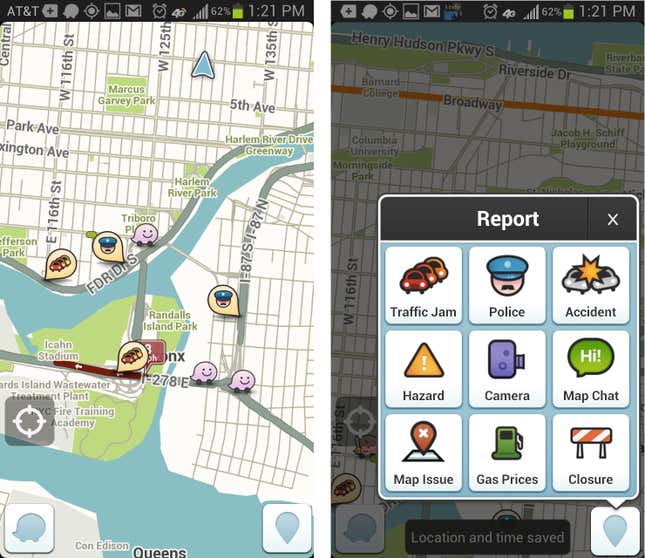 For Apple, adding Waze's social features could have temporarily compensated for the poor performance of Apple's iOS6 mapping app launched last September, and given it an edge over Google while it whipped its own mapping into shape. For Facebook, Waze's user data might have helped it target mobile advertising.
For Google, whose mapping, navigation and traffic data are already a lot better than Waze's, buying up its social features is little more than a way to shut out the competition. But that's not a foolish move; it makes Google Maps virtually unbeatable. Stocktwits founder Howard Linzen summarized the case for Google's acquisition thus: