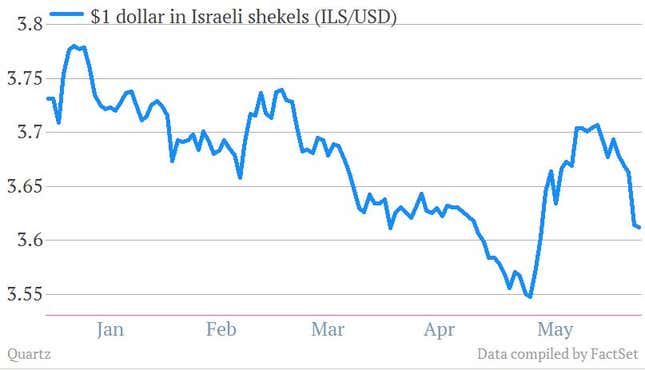 You would think that any country would be thrilled for one of its startups to be courted by Silicon Valley's biggest company. Not Israel. If Google ends up paying $1.3 billion to acquire Waze, an Israeli mapping company, the value of the shekel would rise and hurt Israeli exporters, especially in the tech sector.
Pouring $1.3 billion into the Israeli economy would drive down the value of the dollar relative to the shekel. That would put upward pressure on the shekel-dollar rate, hurting Israeli exporters whose goods would be more expensive abroad.
The shekel already hit a 17-month high in April after Israel began producing natural gas in late March. As a result, Israel will spend less on energy imports (domestic gas production will save Israel some $2.1 billion in imports this year alone) and eventually bring in more foreign currency through energy exports, which drives up the value of the shekel relative to other currencies. Israeli exports have already suffered from the currency's rise. Between December and February, industrial exports were down 6.5% on a year-on-year basis.
Israeli central bank governor Stanley Fischer has been trying to fight the trend. Fischer, who retires at the end this month, made an unexpected 25 basis point interest rate cut on May 13 and announced a US dollar-buying program to offset the effects of gas production on the country's currency. The central bank cut interest rates by another 25 basis points at the central bank's policy meeting on May 27. Those cuts haven't done much yet: the shekel typically trades around 3.75 to the dollar. It is trading at 3.63 today.
The shekel's rise is a blow to Israel's export-based IT sector, which accounts for a quarter of tech exports and 10% of all Israeli exports. With rumors circulating that Pepsi will buy Israel's Sodastream, Israel's central bank is on high alert. Fischer may need to resort to vacuuming up more dollars if the Waze deal goes through.