Nike has announced the launch of a new and highly anticipated product, and it isn't a sneaker.
It's a hijab, made of a breathable, lightweight, sport-ready fabric meant to keep the athlete wearing it cool and dry. Nike plans to release it early next year.
The hijab caters to the many female Muslim athletes who for years have had little choice but to wear hijabs in traditional fabrics to compete in sports. But these fabrics aren't always ideal for a workout. Cotton, for instance, retains water, meaning if you sweat in it, it's going to stay damp on your head.
Nike's hijab addresses this problem by using the brand's power mesh, a stretchy and breathable polyester fabric that wicks moisture. The hijab is made in a single layer of the mesh, and it has an elastic binding that lets the wearer adjust the hijab to her head and her sport. An ice skater, for example, needs a tighter fit for twirling. Nike also made the back of the hijab long so that it won't come untucked during activity.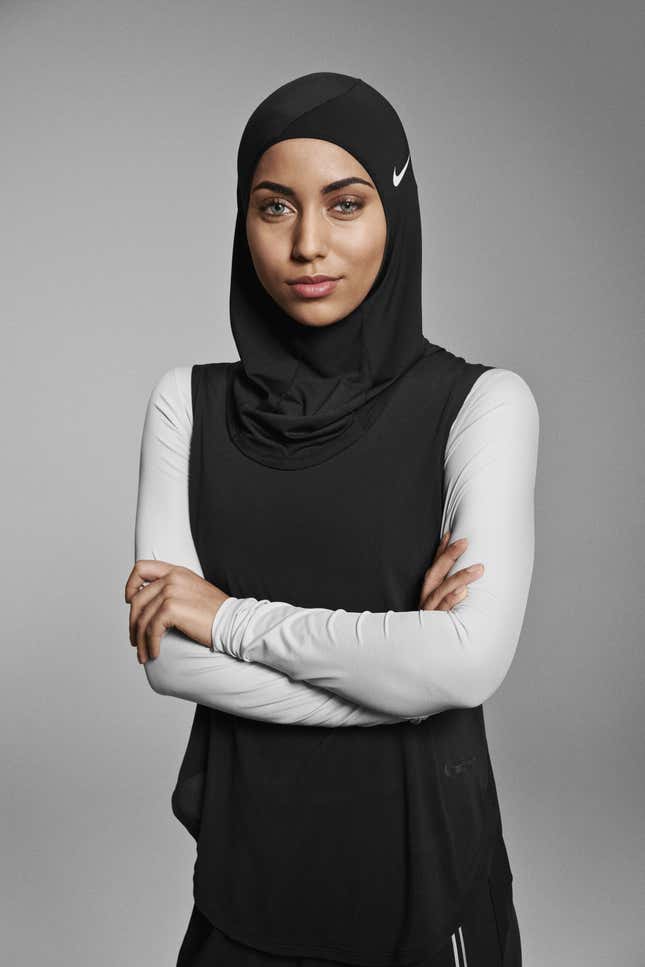 The hijab does double duty for Nike. On one hand, it will make Nike probably the largest player in the market for performance hijabs, which has only just started to emerge in recent years, as smaller, independent brands have looked to technical fabrics to meet the needs of female Muslim athletes.
Nike has also been making a play for Middle Eastern customers in recent years, introducing stores in the region and launching its Nike+ Training Club app in Arabic. Globally, the Islamic market is projected to be worth more than $5 trillion by 2020.
It also reaffirms Nike's inclusive values, which the company has put front and center since the election of US president Donald Trump. "The Nike Pro Hijab has been a year in the making," the company said in its announcement, "but its impetus can be traced much further back to Nike's founding mission, to serve athletes, with the signature addendum: If you have a body, you're an athlete."
Some of Nike's efforts on inclusivity are arguably overdue. It only just launched a plus-size collection for women, for example, despite the fact that women in the US, Nike's primary market, are more likely to be a size 16 than a size 2. And of course, the problem the hijab solves is nothing new: Muslim athletes have needed a better hijab option for sports for years. (Plenty of other brands still haven't made one either.)
"The Nike Pro Hijab was designed as a direct result of our athletes telling us they needed this product to perform better," Megan Saalfeld, a Nike spokesperson, told Al Arabiya English. The Emirati Olympian Amna Al Haddad told Nike during a visit to the company's sports lab in Oregon that she had just one hijab she could wear, and she had to hand-wash it in the sink every night during competitions.
Nike developed the hijab with Haddad and other Muslim athletes, such as figure skater Zahra Lari, and got feedback from advocates and local communities to ensure the design met cultural requirements.
The company says it hopes to inspire more women and girls to get involved in sports. In countries such as England, Muslim girls have much lower rates of sports participation. One reason: the lack of sport-appropriate clothing.