Much of what intelligence agents do is no doubt quite gruesome, but a collection of tips from CIA declassified documents shows that the sinister business of spying can seem cute, too, especially in retrospect.
In January, over 800,000 pages of declassified CIA documents previously only available in a physical archive were put online. All were initially declassified in 2011, though they don't all have their actual date of creation. They are divided into 15 document collections, the most intriguing of which is titled "Secret Writing."
It contains six different documents, totaling 16 pages. Most are typewritten, though the guidance on sealing and unsealing letters without detection is partly scribbled in an indecipherable hand that appears to have been deliberately developed by the writer—an expert on prying—to thwart comprehension. And while most are in English, there are two documents about secret German ink formulas written in French.
Each boasts cryptic tips that are impractical, old-timey, and delightful—they read like noir excerpts from the hard-boiled detective stories of Dashiell Hammett.
Here are some highlights:
Invisible photography and writing, sympathetic ink, etc.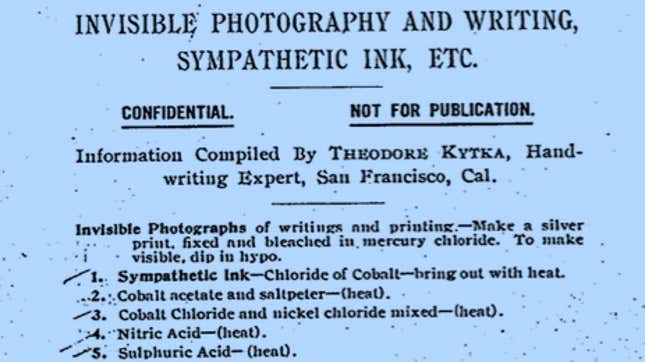 Invisible photographs of writings and printing—Make a silver print, fixed and bleached in mercury chloride. To make visible, dip in hypo [a photography "fixer"]:

1. Sympathetic Ink—Chloride of Cobalt—bring out with heat.

…

19. Letters written with a weak solution of the soluble chloride of platinum or iridium develop black when fumed with mercurial vapor. This ink is used for marking lines and is called indelible. This ink is sold in larger bottles to laundries, etc. It is often used for smuggling across the frontier, when the writing is put on handkerchiefs, shirts, underwear or on paper surfaces.
…

21. Soluble compounds of antimony will develop red writing by the use of hydrogen sulphide vapor.

…

25. Dip a toothpick in common milk and write between the lines of an ordinary letter. The writing will appear by being ironed out with a hot flatiron.
Secret writing
For secret writing can be used:

First: A solution of nitrate of sea and starch in water x/may be carried for example in handkerchiefs or starched collars, starched shirts or anything else starched. These things being laid in this solution and then ironed. The article thus treated is later on again put in water and a solution obtained which can be used for invisible writing.
German secret ink formula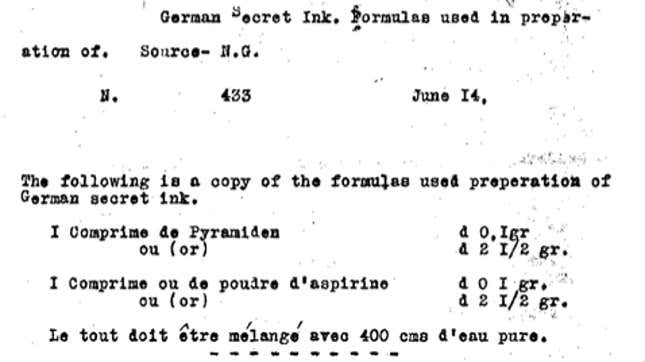 The following is a copy of the formulas used [in] preparation of German secret ink:
Compressed Pyramiden .1 gr.

or Compressed or Powdered aspirin .1 gr.

All of this must be mixed with 400 cms. of pure water

In order to cause the appearance of the invisible ink:
1st:

Slightly camphorated Alcohol 22 grams

Distilled water 50 grams

Nitrate of potash .50 gr.
Acetic acid 27 grams

Chloride of carbonide 20 grams

Must be well mixed and applied with cotton.
Samples most suited to your list (a 1917 memo)
Memorandum for Mr. Frank V. Martenek:
I am transmitting seven samples which seem to the most suitable in the list which you submitted….

Samples 1, 4, and 5 will doubtless exert a very corrosive action on steel pens, and therefore if suitable in other respects would have to be used with a quill pen. If I observe any other samples which seem to possess any particular advantage, I will let you know, or if you will tell me just what characteristics you desire such a product to have, I will try to reproduce it.
How to open sealed letters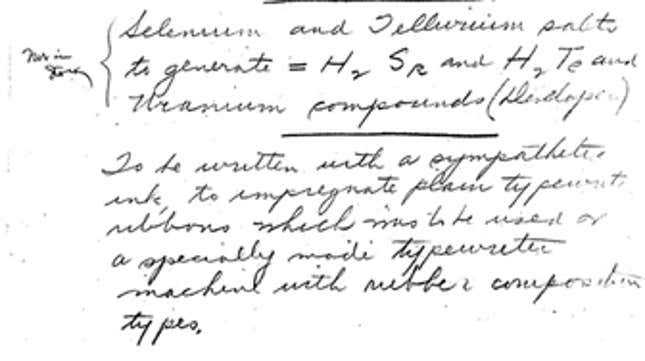 How to open sealed letters without detection.
Mix 5 dragms [sic] copper acetol [sic] arsenate

3 ounces acetone

and add:

1 pint amyl alcohol (fusil-oil [sic])
Heat in water bath—steam rising will dissolve the sealing material of its mucilage, wax, or oil.

Do not inhale fumes.