The branch of the US Environmental Protection Agency in charge of creating science-based clean water standards no longer has the word "science" in its mission statement.
Earlier this year, the stated mission of the Office of Science and Technology at the EPA's Water Office was "developing sound, science-based standards," and "scientific and technological foundations to achieve clean water," according to a copy of the EPA's website archived in January on the Internet Archive's Wayback Machine.
The text of the mission statement has changed; the office's mandate is now to create "economically and technologically achievable performance standards." The word "science-based" and "scientific" no longer appear.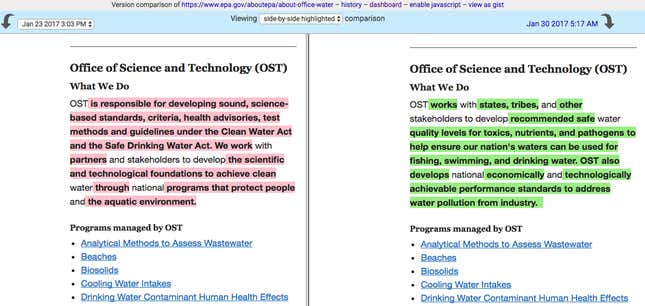 A coalition of researchers called the Environmental Data and Governance Initiative, or EDGI, found the changes. They are monitoring about 25,000 government web pages for any modifications under the new administration, by comparing them to copies archived on the Internet Archive by "data rescuing" events staged by archivists and programmers at universities across the country. (EDGI also plans to track any data sets that are removed.)
EDGI researcher Gretchen Gehrke told the New Republic she worries the switch is not just a linguistic detail—that it may signal a change in policy.
Instead of a science-based approach to clean water requirements—where water must meet quality standards based on peer-reviewed toxicology science, and companies can choose how to meet those standards—calling for "economically and technologically achievable" standards puts greater emphasis on the economic impact of regulation, and may mean companies would install certain technologies determined by the EPA rather than comply with a specific water-quality standard.
The EDGI researchers have found a number of other notable website tweaks: Climate change reports have disappeared off of State Department websites, while a description of a federal fracking rule, and another about a methane emissions rule, have also gone missing from Interior Department web pages.