In its efforts to show off features of its new mobile operating system software known as iOS 7, Apple has imagined a user to populate a virtual device with typical content. Apple calls that user Mieko Haire, and in marketing tutorials describes her as a young woman who has recently moved to Los Angeles, has a pet, and goes to the beach a lot.
Through its promotional materials, Apple offers some indication of who it is targeting with its products. For the release of iOS 6, it depicting a mother emailing and posting pictures of her children to Facebook using the new system.  The iOS 5 release used the story of a business executive on a camping trip. Its original marketing for the iPad Mini focused on women.
However, it turns out that Mieko Haire is a real person—and so are other people listed in Apple's marketing materials for iOS 7. She and the others all have worked at Apple. Real Mieko has not responded to requests for comment, but here is what the materials tell us about the marketing character that shares her name:
Mieko Haire's emails
From Fake Mieko's emails we learn that she just had a great weekend, has been invited to a surprise birthday party, and has been borrowing a bean bag chair.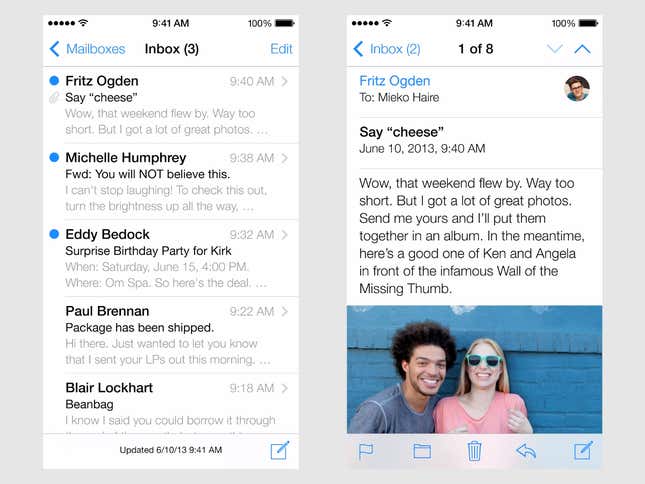 Here are  the LinkedIn profiles of some of the Apple employees that share names with the senders of the listed emails: Michelle Humphrey, Eddy Bedock, Paul Brennan, Blair Lockhart
On June 10, Mieko received five emails in 23 minutes, a pace of 313 emails a day.
Mieko Haire's texts
Mieko texts with Paul Zemanek about Mieko's move to Los Angeles and a mutual friend Tasha. According to the narative, Mieko, Paul and Tasha lived in the same dorm.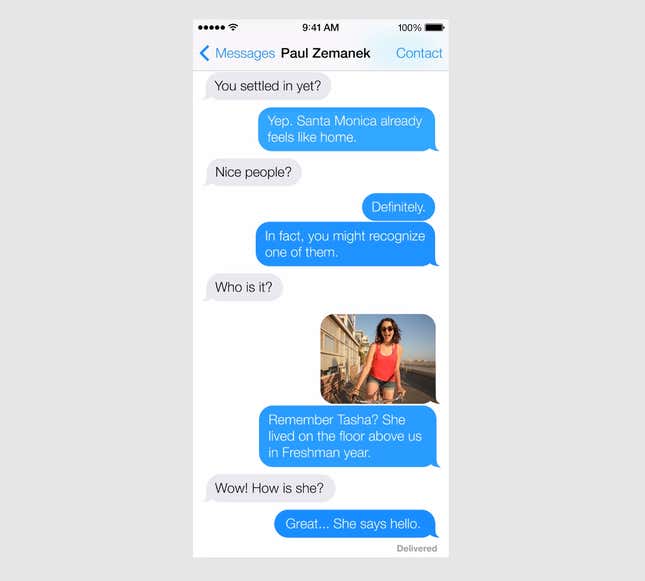 Real Paul Zemanek is an editor at Apple.
Mieko's music, calculator, reminders, and calendar
Mieko's multitasking view, shows a cross section of her life.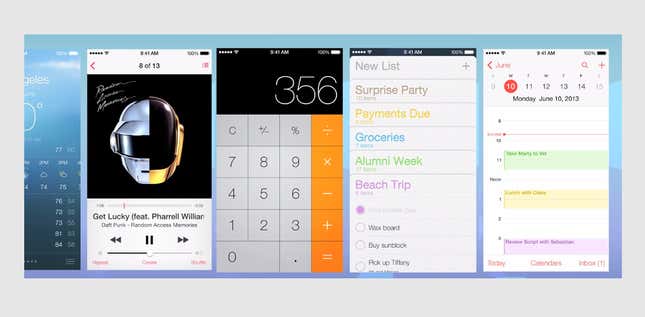 She's listening to Daft Punk's latest album Random Access Memories and is 66 seconds into "Get Lucky," a moment at the beginning of a chorus in the new track featuring Pharrell Williams.
She did some math, and it equaled 356, or perhaps she mis-typed how many days there are in the year.
Mieko has lists for "Surprise Party" (10 items), "Payments Due" (6 items), "Groceries" (7 items), "Alumni Week" (17 items), and "Beach Trip" (6 items).
Her friend Tiffany appears to live a five hour drive away from Los Angeles in San Francisco. There is no "5th and Mission" in Los Angeles, though in San Francisco that is the location of the Moscone Center—the site for Apple's Worldwide Developer Conference being held this week.
Yesterday, Mieko had to take a pet–named Marty–to the veterinarian, have lunch with Claire, and review a script with Sebastian Bauer.
Real Sebastian's LinkedIn profile lists him as a senior manager in worldwide marketing communications at Apple.
Mieko's Game Center
Dave Becker and Olivier Bonnet accepted Mieko's Game Center friend requests.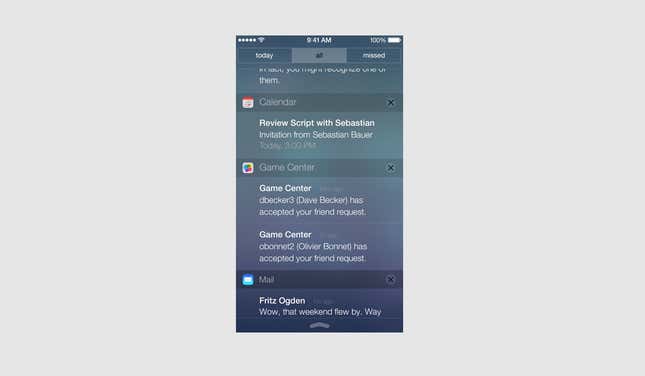 Real Dave Becker is a former editor at Apple, and real Olivier Bonnet is a software engineering manager at Apple, according to their LinkedIn profiles.
Someone's photos, shared with Mieko
The narrative suggests that Mieko was in Santa Monica and Venice, California on April 11-15th, and in Malibu and Santa Monica, California on May 20-22. The photos could be from another friend's trips and shared with Mieko as Mieko received a notification that photos from "Beach Trip" were shared with her. It is unknown if any of those depicted are supposed to be Mieko.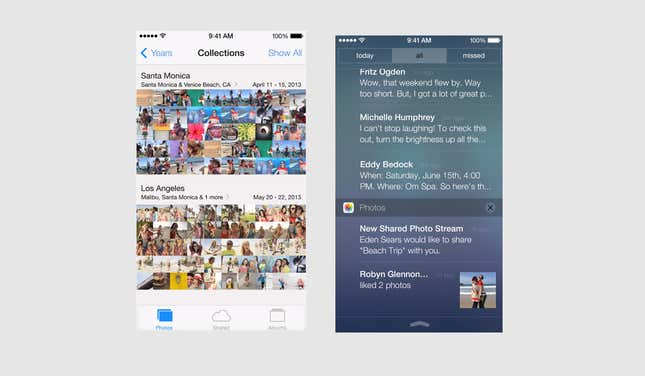 Tasha, from the text message photo, and  Ken from Fritz's email appear in some of these photographs. Mieko was notified that Robyn Glennon liked two photos, including one that is in the Beach Trip album.
Robyn Glennon is listed as Apple's worldwide geo-operations manager on LinkedIn.
Mieko's web browser
Mieko's web surfing habits were revealed in the videos as well. She recently visited or has bookmarks for the websites for eBay, Etsy, Flickr, The Museum of Science and Industry, and Lonely Planet on her iPhone.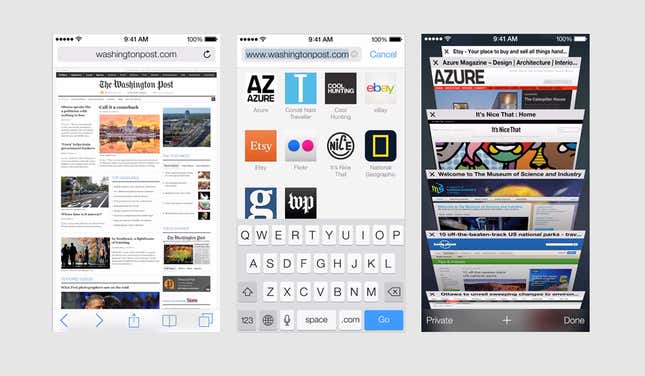 She's also reads a lot in her mobile browser, including content from the Washington Post (but the headlines are from November), Azure, Conde Nast Traveler, Cool Hunting, It's Nice That, National Geographic, The Guardian, and The Globe and Mail.