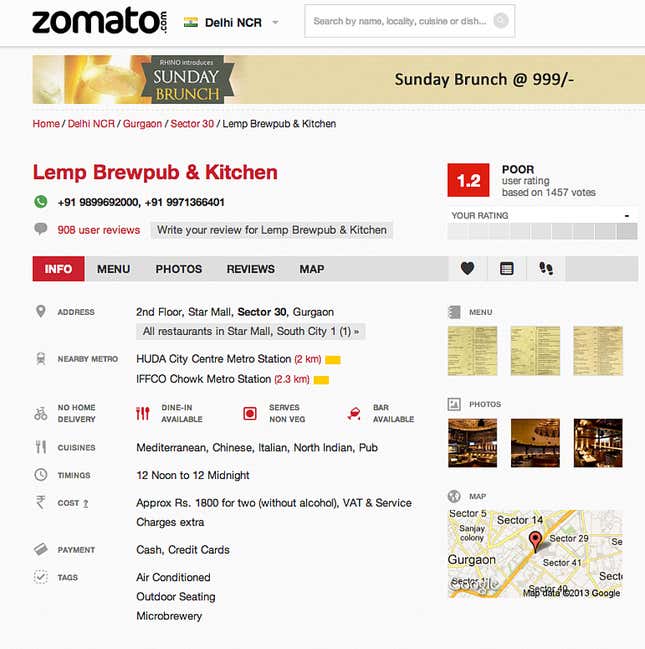 The group of eight Indian youths describe themselves as "working, well educated, aware, well traveled, well spoken." In other words, they are exactly the type of people who live, work, and party in Gurgaon, a Delhi suburb filled with pubs, call centers, restaurants, software companies and gated communities that somehow feel a cross between Miami and New Jersey.
So they showed up this past weekend at Lemp Brewpub, lured by a "Fabulous Hawaiian Sunday Brunch" that promised unlimited food and drink, a Tiki bar and dancing.
They ended up in a police station.
A meticulous blog post (Update: The blog has since been removed, but Scribd has it here) alleges it all began when the food was cold. Then the mojitos never came. There were no dancers; the manager said "customers were the ones supposed to dance." The bill was wrong, then wrong again—and again. So the group called the cops. But this being Gurgaon, where the nexus of business and politics means law and order is null, the police showed up at the same time as the owner. The gang of eight were carted off in a police van to the station, where their parents were called and "forced to drop a few names" in order to collect them.
Before it was taken down, the anonymous blog post went viral, and has forced introspection on everything from the justice system to sorry customer service to what the heck Hawaiian food is anyway. An excerpt:
This 'owner' … even said, "Mera naam kisi se bhi Gurgaon mein check kar lena." ("You can ask anyone my name in Gurgaon and they will know.") He further declares (in Hindi) he will not hear a word against his food or his place or he will get us put behind bars. He goes on to declare that his managers have been running this place for more than a year and they are absolutely right.
This gall is signature goonda Gurgaon, a city in Haryana which makes the Wild Wild West look orderly. And those who have experienced customer service in India—from five-star hotels to Airtel agents—will surely sympathize. But don't miss the real story here: the internet's empowerment of the Indian consumer.
At last.
It's hardly a brand-new phenomenon in the country. In 2001, a video on the investigative news site, Tehelka, forced the resignations of senior defense officials because they accepted bribes in a fake arms deal. And there are many other ways Indians can report corruption, or seek information on elected officials. But the watchdog efforts focus mostly on government.
Indeed, amid India's very serious problems, a bunch of engineers cribbing about their cold food seems trivial. Nonetheless, the institutional accountability created by products like Consumer Reports, Yelp, TripAdvisor has been lacking—and that's why recent startup and homegrown websites such as Zomato have been game-changers. A Quartz piece quotes founder Deepinder Goyal saying the restaurant app strives to be "the Lonely Planet of food."
Oddly, because the Gurgaon group initially heard about the Hawaiian brunch through Zomato, there's been a backlash against the app (along with the restaurant). In a response posted on the company's website today, Goyal responded to requests to rid Lemp Brewpub from its listings:
…delisting Lemp would be the stupidest thing to do. Zomato is a neutral platform where consumers write about their opinions and we respect that. Our job is to tell our users if they should go to a particular restaurant or not. Delisting restaurants defeats that purpose. For restaurants which are very poorly rated, we want our users to see their ratings/reviews and decide not to visit that place.
That's a more powerful message to send to restaurant management and, more broadly, the hospitality sector. Even the anti-Lemp bloggers seem to get this. After their release from custody, they went back onto Zomato and read the site a little more closely—and posted those negative reviews at the bottom of their rant. The next restaurant owner who tries to invoke a "Do you know who I am?" might actually hope the answer is "no."