Trust a designer to throw a proper party.
Ninety-nine years ago today, Herb Lubalin, the widely idolized art director and graphic designer, was born in New York City. Forty years ago, one of his proteges, Louise Fili, schemed an unforgettable birthday party for the ages. There was a tradition among designers in Lubalin's studio to take turns scheming over-the-top birthday celebrations for the design pioneer. For his 59th birthday in 1977, Fili, then the newest designer in the studio, was determined to make it the most special yet.
"What else could you do for a Jew born on St. Patrick's Day?," joked Fili, paying tribute to her late mentor at a March 10 Type Directors Club conference in New York. "The year I was in charge of the event, we stopped at nothing," she said.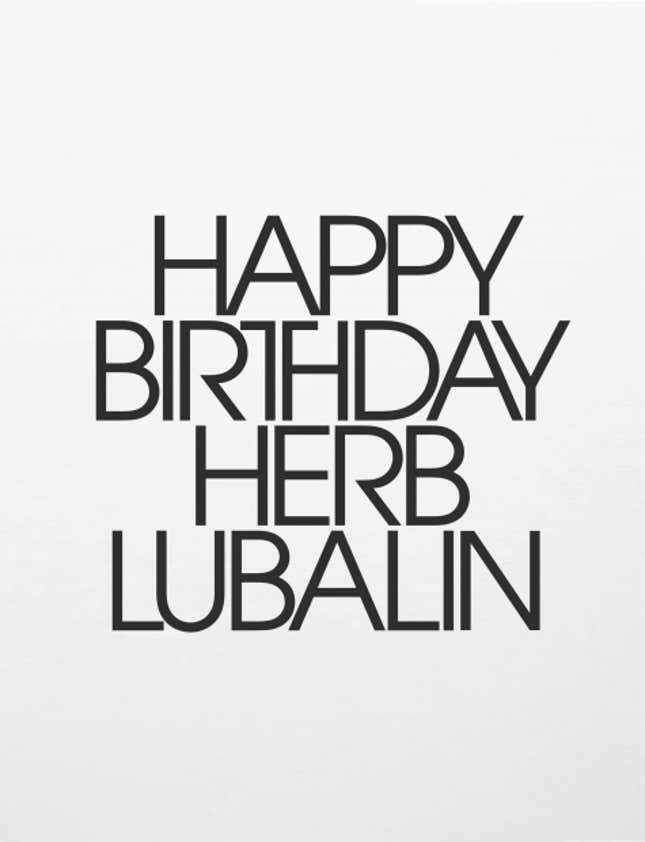 The festivities began the moment her boss stepped out of his house. "The morning of his birthday I set out extra early with a staple gun and a sheaf of these posters—set TNT (tight not touching) in Avant Garde—and covered the route from Herb's house on MacDougal Alley to the studio on East 31st Street," recalled Fili.
And in case Lubalin missed his name on the street, Fili slipped a flyer under the windshield wiper of his car. "Herb was not a morning person, but this actually elicited one of his rare smiles," she fondly recalls.
Fili introduced surprises throughout Lublin's routine. As a hat tip to the days when he was art director of the "taboo-busting" magazine Eros, Fili convinced an illustrator to dress up as a cheeky French maid to bring the celebrant his usual buttered roll and coffee breakfast. "I instructed her to speak to him only in French," adds Fili.
She also also managed to get Lubalin's special day on the front page of New York Times. On the bottom of March 17, 1977 issue, Fili bought a two-line advertisement: "THIS ARTICLE wasn't set in Avant Garde Gothic. Happy Birthday Herb Loobalin," using the phonetic spelling of his name.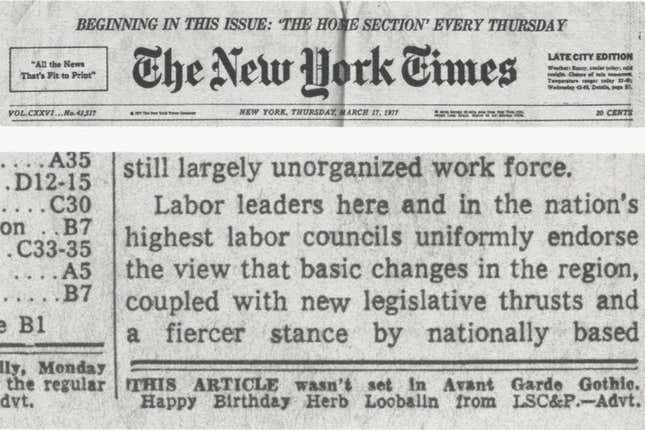 Everyone in the studio wore silkscreened t-shirts with Lubalin's art director mantra,"It stinks!" Later that afternoon, Fili presented Lubalin with a homemade cake in the shape of the star of David, with the words "Happy Birthday to a real Jewish star," in her beautiful calligraphy.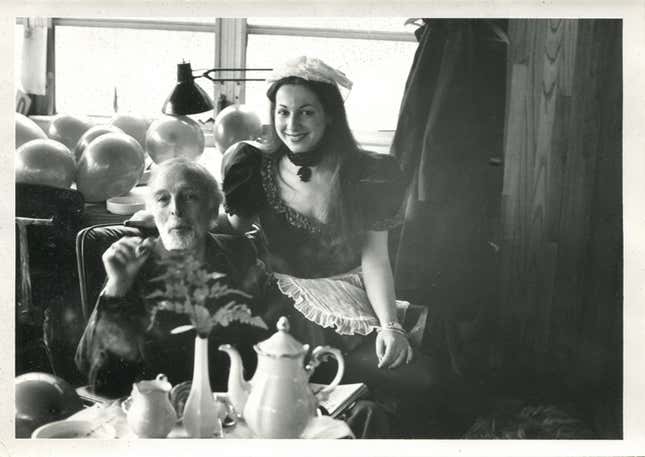 A hyper-prolific designer of magazines, typefaces, and logos, Lubalin was considered to be the "dean of American graphic design" during his time. He pioneered an evocative style called "typographics," and co-founded the influential International Type Foundry (ITC) which made fonts widely available to businesses. In his later years, Lubalin produced the first great magazine for type nuts, U&lc.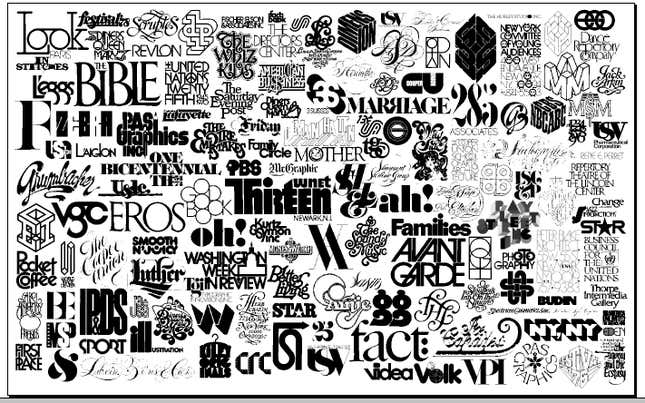 Thirty-five years after his death in May 1981, Lubalin's work is still studied in design schools—his name, along with Paul Rand's, is mentioned at almost every graphic design conference. "He helped redefine the role typography played in design and advertising by moving it out of the realm of mere typesetting to give it center stage," says Alexander Tochilovsky, curator of Lubalin's archives at his alma mater, The Cooper Union in New York City. "His work and the choices he made as a designer and art director still have a lot to teach the contemporary designers."