As the volatility in Japanese markets suggests, the success of Abenomics is far from guaranteed.
The latest update on Japanese machinery orders—a key barometer of future investment by Japanese businesses—fell sharply in April, after posting a surge in March. Core domestic orders dropped 8.8% in April compared with March. (In March they were up 14.2%.) Core orders exclude volatile sectors such as ship-building and power companies, which can post big orders and skew the data. Here's a look: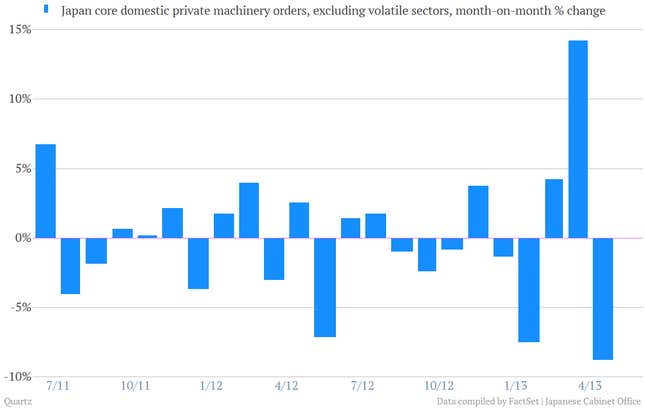 Foreign orders, a closely watched gauge of future Japanese exports, tumbled 19.9% in April. But, again, that followed a big surge of more than 52% in March.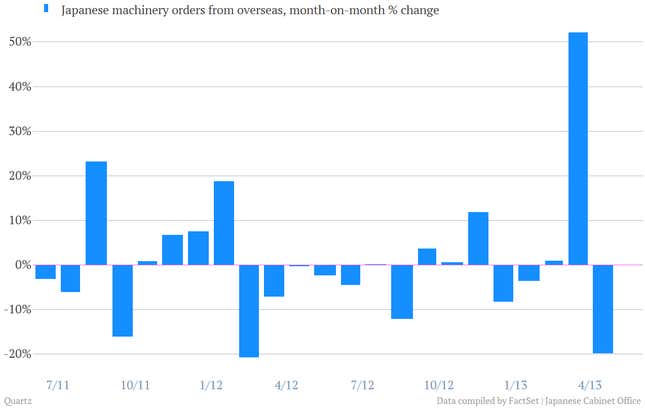 The data did little to dampen the excitement about Japan coming from Barclays economists. "The economy will likely continue to improve with 1) the trend of JPY depreciation, 2) the rise in share prices, 3) the implementation of economic stimulus measures, 4) the strength of private consumption and 5) improvements in the overseas economy," they said in the write up about the machinery numbers.