Fresh data from the OECD show that Germany's robust economy is attracting foreign workers in droves.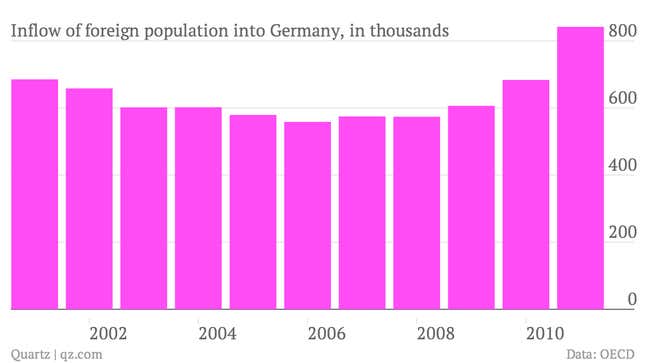 Where are these folks coming from? Take a wild guess.
Immigration of citizens of European countries with high unemployment increased considerably, with a 90% increase in flows from Greece and a 52% increase in flows from Spain. Comparing the first three quarters of 2012 with the same period of 2011, inflows of non-nationals from EU10 countries were about 31% higher, from Italy 38% higher, from Spain 48% and from Portugal 49% higher, and from Greece 64% higher.
The inflow of immigrants from heavily indebted European countries (Ireland, Spain, Italy and Greece) isn't as large as the migrations from countries such as Poland, Bulgaria and Romania. But it's still pretty striking. Here's Greek annual migration to Germany up to the preliminary data available for 2012, from Germany's Federal Statistical Agency.