Chinese consumers love luxury products, but they drink crummy tequila. At least until now. Earlier this month, China's President Xi Jinping and his Mexican counterpart Enrique Peña Nieto signed a bilateral trade agreement that will allow Mexican imports of 100% agave tequilas (Spanish link) into China for the first time since 2008.
China banned high-end tequilas in 2008 because of the relatively high methanol levels found in tequila made with 100% agave (methanol is a small byproduct of the agave distillation process). It was part of a bigger legislative move to address the rising incidence of methanol poisonings in the country, many of which had been caused by the consumption of fake alcohols, often made with toxic amounts of methanol. The country has, however, continued to let in lower-end tequilas, or tequila mixtos, which only contain 51% agave, and therefore less methanol.  

The influx of high-end tequilas into China could be a big win for the Mexican tequila industry, which has failed to penetrate the Chinese market partly because its consumers aren't aware of the product. At the moment, China imports less tequila than any other major spirit. "Most people don't even know what tequila is, and that's a big problem," Patricio de la Fuente Saez, managing director of Hong Kong-based wine importer Links Concept, told Quartz. Chinese consumers tend to go for luxury goods that boast global prestige, director of corporate communications at Patron Greg Cohen told Quartz. They appreciate "quality" and "sophistication," he says.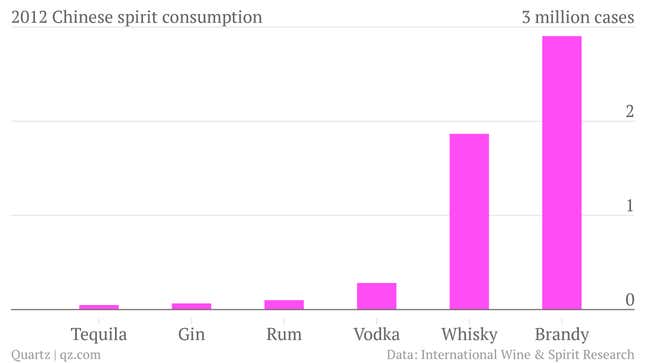 With a little consumer education, Chinese drinkers could become prime targets for the beverage. According to Patron's Cohen, Chinese tourists are already plucking high-end tequila from duty free shelves abroad. "Our duty free partners have told us that Chinese tourists are a huge part of our consumers." Chinese drinkers are also fans of hard liquor, which makes up 60% of the country's alcohol consumption. Ninety-five percent of that hard alcohol intake is baijiu, a locally distilled white spirit that, like tequila, is consumed in a shot.
Despite the long-held ban on high-end tequilas, low-end tequila exports to China have grown more than four-fold since 2008. And there's more room to grow. The country still only imports a modest 400,000 liters of tequila a year, but the president of Mexico's national tequila industry chamber Francisco Soltero believes they will grow to 10 million liters in five years, assuming China's wealthy latch on to 100% agave.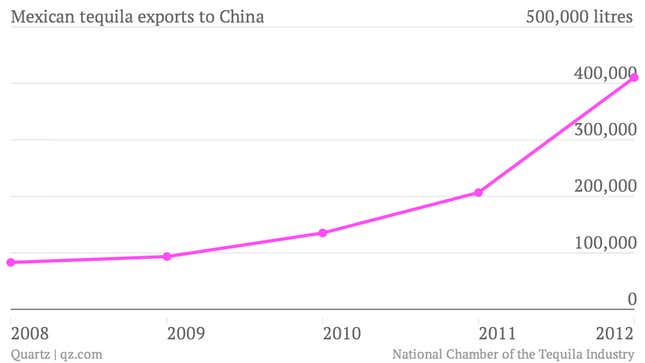 In that scenario, China would go from being the world's 23rd largest tequila importer to its second largest in five years. And tequila would supplant whisky and cognac (brandy) as China's hard alcohol of choice.
Even then, China would rank far below the world's biggest tequila guzzler: the US. Americans bought $625 million in Mexican tequila last year, nearly 400 times as much as China. Even quintupling China's tequila imports would only amount to a fraction of all those American tequila shots.