When Chinese president Xi Jinping and US president Donald Trump meet at the Mar-a-Lago private golf club in Florida this week, they probably won't play golf. And that's not only because they have a lot to talk about.
Xi often meets world leaders at golf courses—he met Barack Obama at Sunnylands in California in 2013, and in September he rode up front on a golf cart with Russia's Vladimir Putin in Hangzhou in China. But he doesn't play with them, a decision attributed to his crackdown on club membership freebies for party officials and the legacy of Mao Zedong, who called it a game for millionaires.
As diffidence about golf in the upper reaches of the Communist Party lingers on, the game itself has become ever more acceptable in China. The golfing industry certainly sees the country looking more hopeful for future growth than more longstanding golfing nations in Asia—such as Japan, where courses built during the 1980s bubble are now idle—as wealthy Chinese adopt it as part of a status-symbol-laden life.
China's cabinet included golf as among the sports to encourage in a statement it published in October about promoting the country's leisure sports industry (sports apparel makers are already doing well as gym going becomes commonplace).
Chinese golfers are also becoming more prominent. At last year's Rio Olympics, golfer Feng Shanshan won a bronze model representing China, its first ever medal in the sport. Now she plans to start a golf academy near her southern hometown of Guangzhou. On the professional golf circuit, 19-year-old Shi Yuting became a professional player in 2014 and won the first place in China's LPGA tour, established in 2008, two years later.
In a notice posted to its website late last month (link in Chinese), the China Golf Association solicited comments for a five-year plan to develop golf, hanging great hopes on the sport.
"The development of golf is conducive to satisfying the diverse sports culture needs of the masses," it said, adding that golf could help foster a healthy China as well as "economic and social development… national cohesion… and achieve the great rejuvenation of the Chinese nation and the Chinese dream."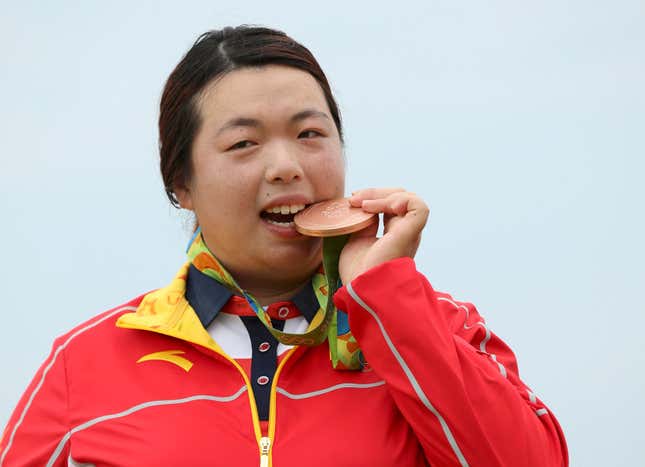 They certainly have their work cut out for them. While it's difficult to get concrete figures on how many people in China have ever tried golf, according to the International Golf Federation, the China Golf Association has less than 400,000 registered members. In the US, the number of golfers—measured somewhat expansively as anyone over the age of six who has played even once—is around 24 million, according to the Florida-based National Golf Foundation.
But according to the anthology Sport in American Culture, in America too, golf was an elite sport that could only be played at expensive private clubs until the development of a domestic tourism industry, particularly after the Second World War.  Resorts began offering tennis and golf to attract vacationers, turning the sport into a more mass hobby. Meanwhile, a circle of golf clubs retains their high fees—the Trump-owned Mar-a-Lago raised its joining fee to $200,000 after the US presidential election.
Left hand, right hand
In his 2014 book on golf in China, The Forbidden Game, Dan Washburn chronicled how a 2004 ban on the construction of new golf courses was accompanied by the building of more golf courses than ever.
"People unfamiliar with the way China works often express confusion as to how a country can experience a golf course boom during a moratorium on golf course construction," he wrote. " Those who've spent more than five minutes in China do not suffer from such confusion."
Usually, this happens by maintaining a low profile, often using the word "leisure" instead of "golf" during development. One golf club Washburn looked at for his book started life as the mysterious-sounding "Project 791," but is better known as the Mission Hills China resort now. The coyness of those early days appears to have disappeared, with the Mission Hills website describing its chairman, Ken Chu, as China's "Mr. Golf." The site also notes that he serves as a national committee member of the Communist Party's Chinese People's Political Consultative Conference. (Mission Hills didn't respond to an interview request for this story).
When golf course closures happen they often take place due to environmental reasons, said Xin Sun, a political scientist focused on China at Oxford University's Said Business School, but he added that the days of golf being associated with corruption aren't quite over.
"The party does pay attention to official corruption involved in golf, in the form of, for example, officials obtaining golf club membership as bribes at reduced prices," said Sun, who has studied the outcome of regulatory enforcements across the country against golf courses. "In my recent field work, the manager of a golf course told me that now there are less officials but more "white-collar" players."
Not all enforcement actions have the same outcome, he found, with some courses being dismantled while others continued to operate. Courses in more distant areas—Xinjiang and Inner Mongolia—were among those completely dismantled, according to Sun's research.
In January, media reports noted that China had shuttered more golf courses in what appeared to be a fresh crackdown on golf. In its statement, the country's top economic planning body said that as a result of the latest "rectification" program for golf courses, some 187 courses were closed, mainly for misappropriating farmland or natural areas. But, it said, another 496 were approved to keep operating.
New photo ops coming
Other Asian leaders have proven to be much more natural golf partners for US president. After a somewhat rocky start to relations, with Trump criticizing Japan for not paying enough for its own defense, Japanese prime minister Shinzo Abe went to Mar-a-Lago with his wife in February, and played a round of golf with Trump in Palm Beach. Abe earlier gifted Trump a high-end golf driver in November when they met in New York, with Abe the first foreign leader to meet with Trump.
Abe's friendly approach with Trump played well at home too. One poll conducted after the trip found that 66% of Japanese people approved of his visit, with support for his cabinet also rising, although some did criticize Abe's meeting with Trump as a throwback to the "gift diplomacy" (paywall) more suited to the boom years of the 1980s.
But protocol officials should expect to work in some golf when today's Chinese youth are in leadership roles. Mission Hills, for example, has been offering camps for the children of China's elite based around "golf, etiquette classes, personal development and survival skills training." Even if the game doesn't turn into a mass sport, their generation will be much more at home with the game than Xi ever could be.