The United States did not formally recognize the People's Republic of China until 1979, more than 30 years after its founding. But the first-ever official state visit between Communist China and the US actually took place several years earlier: In February 1972, then-president Richard Nixon visited China in a ground-breaking détente famously brokered by Henry Kissinger. Archival photos of the trip show Nixon shaking hands with Mao Zedong, and sharing a toast and a meal (using chopsticks) with China's first premier, Zhou Enlai.
Nixon's visit was the beginning of a thaw in US-China relations, noticeable in cheery photos of diplomatic meetings in the following years. The US was eager to exploit the massive Chinese market, while China was happy to gain an ally in the West. But recent shifts in the global economy have changed the economic and military balance for both, and it's become harder to find common ground on issues like North Korea, the South China Sea, and trade.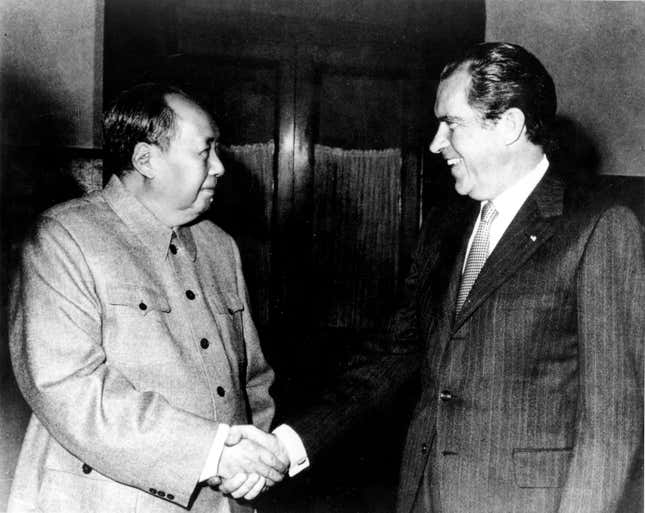 In January 1984, premier Zhao Ziyang made the first Chinese state visit to the US, hosted by president Ronald Reagan. Official photos from that meeting share the same chummy feel as those from Nixon's era. In one particularly friendly snapshot, Zhou is seen linking arms with Reagan during a rainy stroll at the White House.
A few months later, in April, it was Reagan's turn to visit China. Sharing a congenial handshake, Reagan and Deng marked an important change in US-China diplomatic relations. "We went to illustrate, by our presence, our sincere desire for good relations," Reagan said upon his return. According to a 1984 New York Times story, Reagan described the visit as "a breathtaking experience—in some ways, I think, a groundbreaking experience" that achieved "a new level of understanding" between the two countries.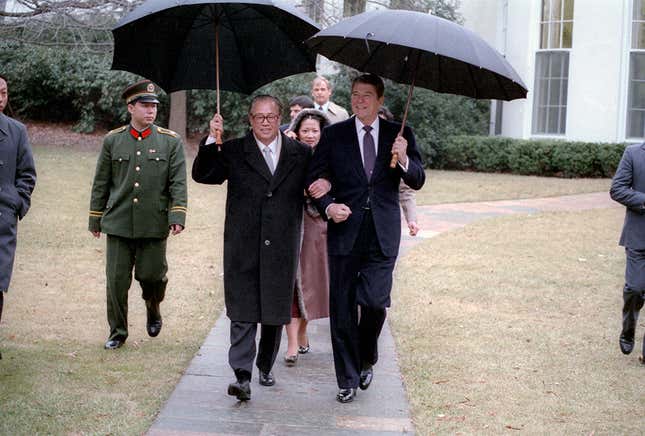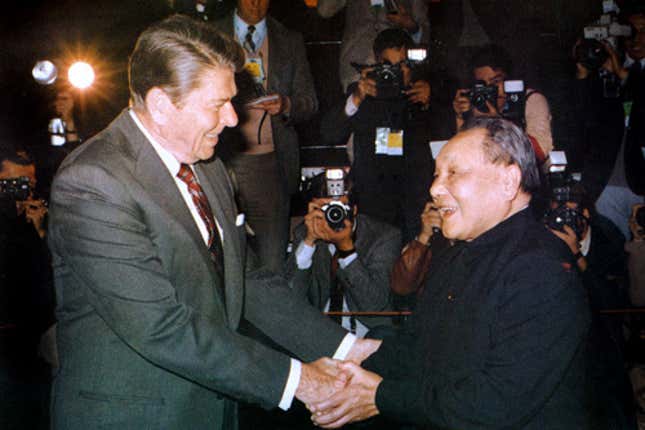 Photographs from the 1970s and 1980s revealed a series of US presidents eager to make friends—and appear friendly—with their Chinese counterparts. Like Nixon, US president Gerald Ford also gamely picked up chopsticks to share a meal with Deng in 1975. President Jimmy Carter was photographed giving the premier a big hug in 1987.
In contrast, photos from the first meeting between Chinese president Xi Jinping and US president Donald Trump yesterday suggest a changes in the relationship.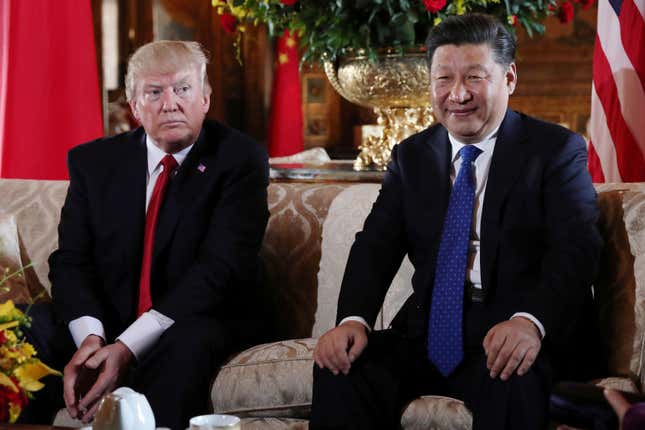 Trump and Xi sit far apart on the couch, with Trump in a closed posture and neither looking directly at the other. Any more warmth would be surprising; Trump has consistently attacked China during his presidential campaign, blaming it for keeping the yuan low and stealing American jobs. And just after his inauguration, Trump threatened to throw the cornerstone "One China Policy" out the window. In the days leading up to his April 6 meeting with Xi Jinping at his Florida estate Mar-a-Lago, he tweeted that "the summit would be "a very difficult one." Their body language at the summit so far would seem to confirm that prediction.